Story highlights
When you shop for wireless chargers, your phone's safety should be top priority
An affordable charger that keeps phones safe is Takiso's Qi Charger, now 30% off
CNN —
A charger is something every smartphone user needs. But you may not be using one that's right for your device.
When shopping for a charger, you'll want a design that's made with your smartphone in mind, meaning it can help ensure that your phone isn't vulnerable to any damage like short-circuiting. But then there are the extras, like design (if you want to display your charger around the home or on your office desk) and wireless capability, which allows you to charge your devices up simply by resting them on top of the charger, with no plug-in necessary. Once you try these extras, your standard USB charging will feel outdated and obsolete.
A charger that checks those boxes, both for safety and overall modern design, is Takiso's Walnut Qi Charger ($34.90; store.cnn.com). This device is a wireless charging pad that is compatible with a number of Qi-enabled devices such as the iPhone 8, iPhone X, Samsung Galaxy S6/S7/Edge, Note 5, LG G4 and more. Simply place your smartphone on the charging pad and let the Qi Charger do the work. You can keep track of your phone's charging progress through the attached smart light, which will let you know once your device is at 100%.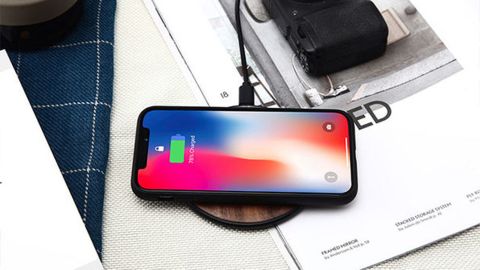 StackSocial
But besides the added convenience of having a wireless charger, the gadget also helps keep your phone's battery safe. Integrated smart technology helps ensure that your phone doesn't overheat or short-circuit and provides oversurge protection. The thought is that this will help your battery operate better long-term.
And while normally $49.90, Takiso's Walnut Qi Charger is now 30% off, for a discounted price tag of just $34.90. It will help keep your phone safe and make your space look good, and it won't break the bank. What more could you ask for?