Correction: It was then-acting FBI Director Andrew McCabe who Trump asked about his 2016 vote, not Deputy Attorney General Rod Rosenstein.
President Donald Trump demonstrated a unique ability during his first year: He can bend time.
Never before have more twists and turns been packed into each day of a presidency. Stories that would be GIANT news for weeks in another administration wind up being eclipsed by a tweet or an offhanded comment from the President. Every day is 50 pounds of news stuffed into a five-pound bag. And every day feels like a week – or longer.
Need proof? With the help of the terrific Brenna Williams, I've cataloged the major news headlines of Trump's first 31 days of 2018. I've added a few thoughts and bits of context where it makes sense. This is by no means a comprehensive list of everything that happened this past month. But even an impartial list like this one speaks to just how much news is being created by this White House every damn day.
Let's do it!
January 1
Trump to New Year's Eve guests: 2018's 'going to be something very, very special'
He's not wrong!
January 2
Sheriff David Clarke temporarily blocked on Twitter after violating terms of service
Trump again at war with 'deep state' Justice Department
Utah Republican Sen. Orrin Hatch to retire
The first of a LOT of wild days in January. The Hatch retirement – after he was being urged to run for an eighth term – would normally be a huge story. But Trump's tweet suggesting that the FBI was part of a "deep state" conspiracy aimed at undermining his presidency dominated the day. Also, Sheriff Clarke somehow got suspended from Twitter because, well, why not.
January 3
Trump unloads on former top aide Bannon: 'He lost his mind'
Bannon: 2016 Trump Tower meeting was 'treasonous'
Trump taunts North Korea: My nuclear button is 'much bigger,' 'more powerful'
How can you possibly top Trump calling his former top adviser insane? By taunting an unstable dictator, that's how!
January 4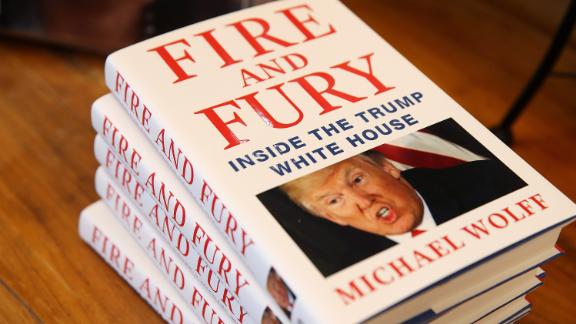 Justin Sullivan/Getty Images
Trump admin intends to roll back ban on offshore drilling
White House: It's 'disgraceful and laughable' to question Trump's mental fitness
Yale psychiatrist briefed members of Congress on Trump's mental fitness
Trump threatens to sue Bannon over Wolff book
White House bans personal cell phones from the West Wing
Trump lawyer sends cease and desist letter to Steve Bannon
Ivanka Trump, husband agreed she'd be the one to run for president, book says
Drilling! Mental state! Suing Bannon! Cell phone ban! Ivanka for prez!
This all happened in a single 24-hour period.
Also, the Ivanka for president – apparently she and her husband, Jared Kushner, have talked about it and decided she should be the one who runs – was the most ridiculous/best.
January 5
Feds actively investigating Clinton Foundation
Secretary of State Rex Tillerson: 'I intend to be here for the whole year'
The Rexit is off. I repeat, no Rexit. For now. Like, right this minute.
January 6
Trump: I'm a 'very stable genius'
Sure, it was only one big news story. But the President referring to himself in a tweet as a "very stable genius" is the mathematical equivalent of 100 news stories. Also, "Very Stable Genius" is going to be a hot costume for Halloween 2018.
January 7
Bannon: 'I regret' delay in responding to book
Oprah Winfrey: 'For too long women have not been heard or believed'
Oprah 2020! Will she? Won't she? Should she? Would she? Could she?
January 8
Republicans'$2 2018 talks 'grounded in reality' at Camp David
Bannon group shopped anti-Trump document in 2015
So, wait. You are telling me Bannon was more of an opportunist than a Trump loyalist from the jump? Whaaaaaa.
January 9
Joe Arpaio, controversial sheriff pardoned by Trump, enters Arizona Senate race
Trump holds meeting with bipartisan lawmakers over immigration
Sen. Feinstein releases Fusion transcript despite GOP objections
Robert De Niro unleashes profanity-laced rant against Trump
So. Much. News. The big headline of the day was Trump's kumbayah meeting with a bipartisan group of congressional lawmakers – and his pledge to sign a "bill of love." (Spoiler alert: He didn't!) But the top Democrat on the Senate Judiciary Committee releasing the transcript of Fusion GPS co-founder Glenn Simpson's testimony? BIG deal. Bannon pushed out of Breitbart after his anti-Trump comments to author Michael Wolff? BIG deal.
January 10
Rep. Darrell Issa to retire, handing Democrats another big pick-up opportunity in California
Trump hands GOP Florida governor a win on drilling but leaves other states hanging
White House corrects DACA meeting transcript
Trump uses 'no collusion'$2 7 times in a single Russia answer
The Issa retirement was the latest sign that House Republicans in swing seats – Hillary Clinton won Issa's district in 2016 – were heading for the exits rather than run the risk of losing in November.
On a totally unrelated note: No collusion No collusion No collusion No collusion No collusion No collusion No collusion
January 11
Trump's FISA tweets throw Washington into chaos
Trump decries 'people from shithole countries' coming to US, report says
Missouri Gov. Eric Greitens admits to affair but denies blackmail allegation
The "shithole" day. A massive moment and proof positive that Trump's pledges of bipartisanship from two days earlier were totally meaningless. Also, a sex scandal in Missouri!
January 12
Trump signs MLK Jr. proclamation amid cries of racism
US ambassador resigns, saying he can no longer work with Trump
2 Republican senators in Trump meeting say they don't recall 'shithole' comment
WSJ: Trump lawyer arranged porn star payment for her silence in October 2016
Even as the fight over "shithole" vs "shithouse" started to truly heat up, the Journal introduced Stormy Daniels into our lives. I mean, wow.
January 13
Missile threat alert for Hawaii a false alarm; officials blame employee who pushed 'wrong button'
This is fine! (Also, the person who did this was fired on Tuesday, January 30.)
January 14
This did not, um, put this controversy to bed.
January 15
Romney: Trump's comments 'antithetical to American values'
Flake: GOP should stand up to Trump's Stalin-like attacks on media
Paul Manafort, Rick Gates back in court to discuss trial date
Trump slams Durbin, who he says 'misrepresented' his immigration comments
The fight over what Trump actually said in that Oval Office immigration meeting on January 11 raged into its fourth day. Also, two of the most prominent anti-Trump voices within the GOP spoke out against him.
January 16
Durbin asserts Trump said 'shithole countries,' disputing Republicans' account
Lindsey Graham hits White House, says immigration fight a 's-show'
Tim Pawlenty says he won't run for Senate in Minnesota
Day 5 of the "shithole" fight – and an important one as the second ranking Senate Democrat went on the record to make clear that Trump made the derogatory comments about certain African nations. Even Graham, a supporter of Trump, urged the the President to put the controversy behind him.
January 17
Jeff Flake rips Trump: A president 'who cannot take criticism … is charting a very dangerous path'
Eric Trump: 'My father sees one color, green'
Bannon's Hill appearance reveals White House effort to restrict testimony
Eric Trump: Not helping things. Jeff Flake: Not a Trump fan. Steve Bannon: Still making headlines.
January 18
Senate passes FISA Section 702 reauthorization
House lawmakers unveil legislation to overhaul harassment on Capitol Hill
Pelosi: GOP bill like a 'bowl of doggy doo'
Supreme Court blocks court order to redraw North Carolina congressional districts
WSJ: Cohen paid porn star through private LLC created just weeks before election
The Journal takes the Stormy story even further – reporting that Trump's personal lawyer sent the six-figure donation to Daniels from an LLC he established for the purpose. The Supreme Court holds up a plan to re-craft North Carolina's congressional districts before the 2018 election. And the House reauthorizes domestic surveillance just days after Trump seemed to, accidentally, suggest they shouldn't.
January 19
Trump, Schumer meeting hours ahead of shutdown deadline
The meeting that was supposed to avert a shutdown! (Spoiler: It didn't.)
January 20
The government just shut down. What happens next?
One year later, Women's March returns
Rep. Pat Meehan removed from Ethics Committee after report he settled sexual misconduct complaint
And, shutdown! Also, another sexual harassment scandal – this one involving a Pennsylvania Republican House member in a suburban Philadelphia district.