Story highlights
Foles aims to become the first backup quarterback to win a Super Bowl since Tom Brady
He's playing in place of Carson Wentz, who suffered a torn ACL in December
Bloomington, Minnesota
CNN
—
Nick Foles is one game away from winning the Super Bowl, and not even he – the Philadelphia Eagles' backup quarterback – could have imagined he'd be in this position when the season started.
"It's really humbling just to be here," said Foles, who took over in December for an injured Carson Wentz. "If you had told me this a couple of years ago, being a part of the Philadelphia Eagles and being in this position with this group of men, this fan base – unbelievable. Very humbling."
However unexpected it seems now, this looked virtually impossible on July 27, 2016.
That's when Foles was released by the Rams, a far cry from when he was the Eagles' starter earlier in his career.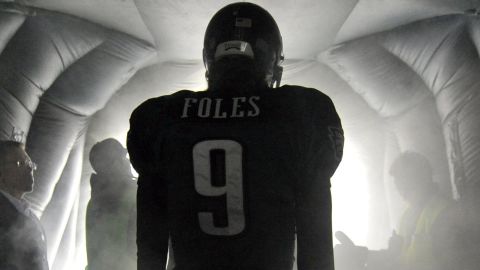 Indeed, Foles, now in his second stop with Philadelphia, said he once was "dead serious" thinking about retirement.
"I was 100% – probably going to do it," Foles said as he prepared for Super Bowl LII. "There's a lot of things that went on to lead up to that – I don't really want to get into detail – but strong enough where I thought about where my heart was at that point. And if my heart's not in it, I'm not going to do it."
That wasn't always his outlook. He loved playing football while growing up in Austin, Texas. Drafted by the Eagles in the third round (88th overall) of the 2012 NFL draft, Foles spent the first three seasons of his professional career with Philadelphia. He had his breakout season in 2013, leading the Eagles to the NFC East title and a playoff appearance.
But it didn't last. In March 2015, Foles was traded to the Rams for Sam Bradford and a 2015 fifth-round draft pick. That August, Foles signed a two-year extension through 2017.
Then came the slide. Foles was benched for Case Keenum. The Rams made Jared Goff the No. 1 overall pick in the 2016 draft, which led to Foles and the Rams working out his release.
Foles, then 27, had a decision to make. Was he done?
'Grateful to still be playing'
Foles said he took a few days to let the emotions settle. He went on a fly-fishing and camping trip with his brother-in-law. He talked to his wife. He talked with his family. He prayed about it.
"That was the greatest thing in the world for me, because it changed my perspective," Foles said. "It changed my heart, and I realize how grateful I am to be here."
Foles decided not to retire yet. Several teams called, but for him, there was only one real choice: He chose to sign as a backup quarterback with the Chiefs for the 2016 season, reuniting him with former Eagles head coach Andy Reid.
"He's a man that has always believed in me, no matter what has gone on in my career," Foles said. "He drafted me. I knew that if I played for him, I'd give it one more shot – that he could find the joy. If I had joy in there, he could bring it back out, and he sure did."
Foles rejoined the Eagles in March, signing a two-year contract to back up the second-year Wentz. Foles said that without Reid, he might not be in the position he's in today.
"With everything that has gone on in my career, I'm just grateful to still be playing, and I'm grateful to be part of a great organization like the Eagles," Foles said. "I was fortunate to play for the Chiefs last year. Playing for Coach Reid will be one of my favorite memories throughout my entire playing career on any level.
"But then to come back to the Philadelphia Eagles, the team that had drafted me, the team that I love, the city I love, never wanted to leave, is really special."
Things were looking up. The Eagles were rolling. Then came Week 14 at the Rams, when Wentz suffered a torn ACL.
'You just want to play'
Just like that, Foles became a starter again. And he was ready.
"You get those mental reps, and then, when you go in there, you just want to play," Foles said. "You just want to react. You really lean on the guys next to you.
"You don't try to do anything too crazy. You just let the game come to you. Trust your teammates, trust your protection. It really takes all the pressure off you. …This is the greatest team sport in the world. You don't have to be Superman. You just have to play."
And play he has. Foles completed 78.8% of his passes, going 26 of 33, for 352 yards and three touchdowns in the Eagles' 38-7 win against the Vikings in the NFC championship game. In this postseason, Foles has completed 77.8% of his passes for 598 yards with zero interceptions. His passer rating is 122.1.
Foles is just the fourth quarterback in the Super Bowl era to win two postseason games after making three or fewer starts in the regular season. The other three: Doug Williams (1987 Washington Redskins), Jeff Hostetler (1990 New York Giants) and Frank Reich (1992 Buffalo Bills).
Now, at age 29, Foles is trying to become the first backup quarterback to win a Super Bowl since Tom Brady did it in the 2001 season.
"He's one of the greatest to play the game," Foles said. "I'm excited for the challenge. When you play this game, you always want to play against the best, and you really want to play against the best on this stage. I'm excited to play on Super Bowl Sunday. I'm excited to go out there with my teammates."