Editor's Note: Rebecca Bodenheimer is a freelance writer and scholar with a Ph.D. in ethnomusicology. She writes on Cuban music and society, and race and identity politics in American popular culture. The views expressed in this commentary are solely hers.
(CNN) —
We're in the midst of awards season, and comparisons between awards shows are almost inevitable.
At the Golden Globes, held just a few weeks ago, the #MeToo and Time's Up campaigns were the theme of the show. Almost all of the attendees wore black to highlight the pervasiveness of sexual assault and harassment in Hollywood and elsewhere.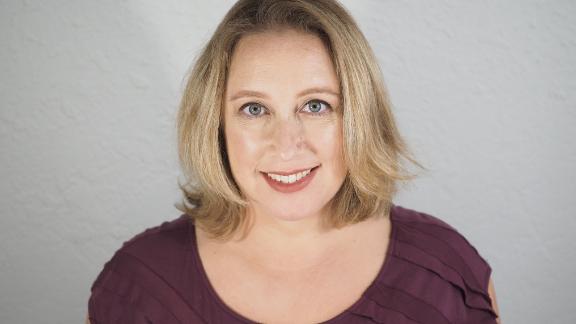 Some actors went beyond that largely symbolic gesture, bringing gender justice activists as their dates. Michelle Williams brought #MeToo founder Tarana Burke.
There were improvised moments calling attention to gender inequality – Natalie Portman's brilliantly saying "And here are all the male nominees" during the best director award and Debra Messing's on-air call-out of E! on the network's own red carpet show for not paying female co-host Catt Sadler as much as her male counterparts.
And even Seth Meyers, in his opening monologue, managed to skewer himself and the choice to have a man host the show.
While male solidarity with the Time's Up campaign was uneven – some wore pins and yet none of the winners verbally acknowledged the movement's importance – at the Grammys, the movement barely registered at all.
Most stars – both men and women – passed on wearing a white rose, the symbol of solidarity suggested by Voices in Entertainment. None of the nominees of record of the year or album of the year (Kendrick Lamar, Bruno Mars, Jay-Z, Childish Gambino, Luis Fonsi or Lorde) wore a white rose.
It is certainly true that symbolic gestures like wearing all black or a white rose to claim solidarity with a movement take minimal effort and don't on their own create change. They can also be hollow performances of allyship: the fact that two big winners at the Golden Globes – James Franco and Aziz Ansari – were wearing Time's Up pins and were accused just days later of sexual harassment/coercion is proof of this. Both men have denied the allegations against them.
But at the very least, there was an organized commitment by the Golden Globes to recognize the significance of this movement.
What felt distinct about the Grammys was how staged its political statements felt. The show's producers clearly decided to insert a "political segment" into a largely apolitical event, by cramming two main issues – sexual assault/gender inequality and immigration – into a half-hour block.
During a night of bland acceptance speeches mostly given by men (Best New Artist Alessia Cara was the exception), Janelle Monae easily gave the most powerful speech of the night, directly addressing the Time's Up campaign and stating: "We come in peace, but we mean business."
This was, of course, calculated to introduce Kesha's raw, heartfelt performance of "Praying," a song chronicling her journey of healing after the alleged sexual assault and abuse she faced at the hands of producer Dr. Luke (claims he has denied); a group of female artists performed with her in a moving show of female solidarity.
The #MeToo segment of the show was directly followed by a pro-immigration segment in which rising star Camila Cabello spoke in support of the Dreamers, stating: "I'm a proud Cuban-Mexican immigrant born in eastern Havana."
Cabello introduced a U2 performance in front of the Statue of Liberty warning about the current threat to democracy (presumably posed by the Trump administration). Sting's earlier performance of "An Englishman in New York" was also clearly designed to critique Trump's anti-immigration policies.
Nonetheless, one has to wonder why the two pro-immigration songs were performed by aging white stars from Western Europe, who have likely never faced a serious threat of deportation. Why not invite artists of Mexican, Central American, Haitian, African or Muslim descent, as these groups have been the primary targets of Trump's racist, xenophobic rhetoric?
There were other politically charged performances at the Grammys. Kendrick Lamar's provocative show-opening medley served as an indictment of American institutional racism and gun violence, though it must be said that Dave Chappelle's statement that "the only thing more frightening than watching a black man be honest in America is being an honest black man in America" reinforced the tendency to ignore the double marginalization of black women by focusing exclusively on the plight of black men.
Closing the show was Logic's performance of his suicide prevention song "1-800-273-8255," which he ended with a passionate rebuttal to Trump's comment about "shithole countries."
Notwithstanding these performances, there was a glaring ghettoization of the issue of gender inequality at the Grammys. This was highlighted by the fact that Ed Sheeran, who wasn't even in attendance, won best solo pop performance in the only category with a predominance (four out of five) of female nominees.
This lack of commitment was also evident in the treatment of Lorde, the only female nominee in any of the three major categories: unlike the male album of the year nominees (apart from Jay-Z, who declined), she didn't perform because the producers wouldn't allow her to do a solo performance.
It seems hardly coincidental that the handling of #MeToo and Time's Up by the Grammys was staged and hollow, as the larger music industry has been way behind the curve in addressing the issue. No established artists have denounced or expressed regret for working with R. Kelly – despite decades of allegations of rape, imprisonment and physical abuse of minors – or Russell Simmons, who has been accused of rape by several women. Both men have denied these allegations.
Get our free weekly newsletter
The list of artists Kelly has collaborated with is miles long, and included Grammy nominees Jay-Z and Lady Gaga.
Just as with Hollywood, the media world and other sectors, the music industry is due for a reckoning with the pervasive culture of sexual assault and gender inequality. It's a shame the Grammys didn't take advantage of this opportunity to adequately address the issue.