Story highlights
Wozniacki wins 7-6 3-6 6-4
Match lasted just under three hours
Wozniacki will be the new No. 1 in rankings
Halep loses third grand slam final
Often close but never the closer in grand slams, Caroline Wozniacki finally got the job done. Her wait is over.
Wozniacki won her first grand slam title Saturday when she beat Simona Halep 7-6 (7-2) 3-6 6-4 in an eventful, absorbing Australian Open final that lasted nearly three hours in the draining Melbourne heat.
Indeed the heat rule was implemented for the first time during the fortnight despite higher temperatures in week one. Both players took medical timeouts and a pair of games lasted longer than 10 minutes as the athleticism of the world's two highest-ranked players was on show at Rod Laver Arena.
Billed as a blockbuster battle in the buildup, no one would dare say it disappointed.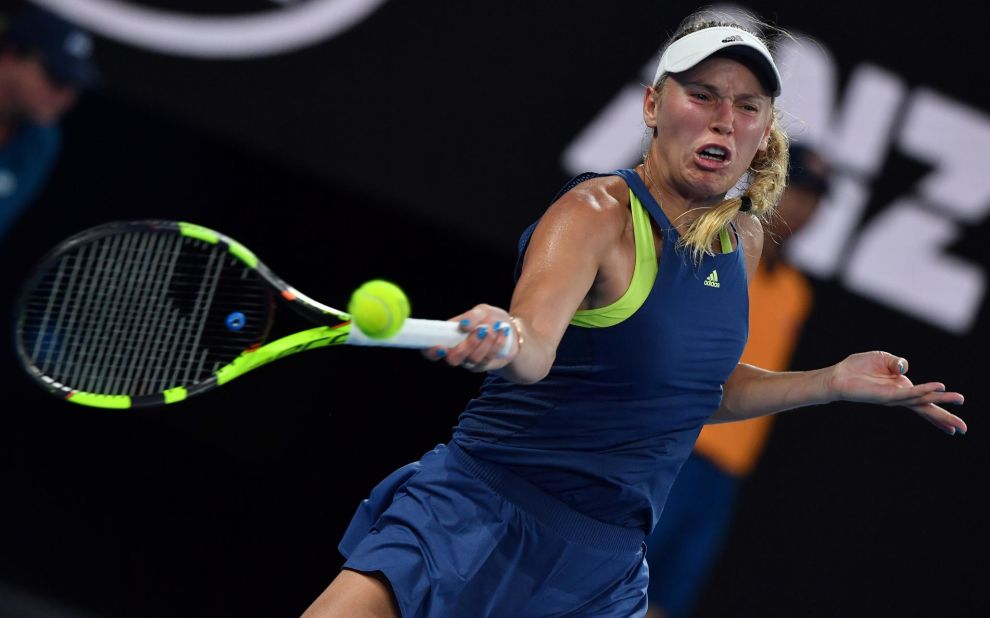 Wozniacki wins dramatic Australian Open final
The Dane admitted she was a "nervous wreck" hours before the encounter but now she will be forever labeled a grand slam winner instead of a player who held down the top ranking without landing the big one.
"I think that's one of the most positive things about all of this," she said. "I'm never going to get that question again. I'm just waiting for the question, 'When are you going to win the second one?'
"Right now I'm just happy I have this one, and I'm going to really enjoy this moment."
She will enjoy replacing Halep as the world No. 1, too, when the rankings are released Monday, six years after she was last atop the summit.
Nervous wreck
Wozniacki flung her racket into the air and sank to the court when Halep sent a backhand into the net and there were tears from the 27-year-old as she walked to the net to shake hands with the unfortunate Halep. She is her country's first grand slam singles champion.
She soon thanked those in her box, including new fiance David Lee – a former NBA all-star – and dad Piotr, who has been an ever present on tour with his daughter.
"My voice is shaking," said Wozniacki as she hoisted the winners' trophy. "I never cry but this is an emotional moment.
"I was a nervous wreck this morning because I wanted to win so bad.
"I dreamed of this moment for so many years and to be here today is a dream come true," added Wozniacki, who passed $30 million in prize money in her career.
One of her good pals, tennis legend Serena Williams, was quick to congratulate her.
Like Wozniacki, Halep contested a third grand slam final and desperately hoped to become Romania's second female grand slam winner following her manager, Virginia Ruzici. But her wait continues.
When she led by a break at 4-3 in the third, she was almost there. But having led for the first time in the contest, the dynamic suddenly changed. Now the front runner, Halep waned ever so slightly and it was all Wozniacki needed.
The exertions of Halep's long fortnight had taken a toll.
Halep so close again
All three of Halep's defeats in grand slam finals have come in three agonizing sets.
"I can still smile," Halep told reporters. "It's fine. I cried, but now I'm smiling. Is just a tennis match in the end. But I'm really sad I couldn't win it. I was close again but the gas was over in the end.
"She was better. She was fresher. She had actually more energy in the end."
One could argue that both players had destiny on their side in Melbourne, since they saved match points en route to the final.
Wozniacki was the first, fending off two against unseeded Croatian Jana Fett in the second round when she trailed 5-1 in a third set.
Halep saved three against another unseeded foe, Lauren Davis of the US, in the third round as part of a record 15-13 third-set victory and two versus the surging 2016 champion Angelique Kerber in the semifinals when she emerged with a 9-7 third-set win.
READ: Halep saves match points again
In the end, the tennis gods sided with Wozniacki.
She was flawless at the start, clean yet also aggressive, building a 5-2 lead. Serving for the set at 5-3 proved a pressure moment and Wozniacki made a pair of key unforced errors, missing a backhand volley and forehand long.
She recovered in the tiebreak in brilliant fashion, striking two winners and forcing Halep into four errors.
Halep took her medical timeout at 3-2 in the second set, having her blood pressure checked after feeling dizzy. This after rolling her left ankle in the first round.
It did little to stop her, though, as she became even more aggressive. Cramps to her left leg were setting in and Halep later said she would need MRIs to both feet.
Good numbers
Overall Halep registered 40 winners and 47 unforced errors, while Wozniacki struck 25 winners and 28 unforced errors. They were fine numbers for the duo considering the heat and their brilliant movement.
Halep forced a decider and the 10-minute break between the second and third sets through the heat rule – the final began in temperatures of around 32 degrees Celsius – was a boost for the 26-year-old though one could argue her momentum was halted.
Wozniacki led 3-1 in the third set, only to lose the next three games as the breaks piled up.
That's when Wozniacki called her medical timeout for a left knee issue. Wozniacki held for 5-4 – it was a rare, quick hold – to put enormous pressure on Halep and at 30-15, the world No. 1 contributed a double fault. It was her only one of the match.
If she donated that point to Wozniacki, it wasn't the case on the next one. Wozniacki ripped a backhand cross-court from outside the tram lines to bring up match point.
"That was a crazy point," said Wozniacki.
You'd be hard pressed to decide who has the better backhand. They are both stellar. But on the final point Halep's sailed into the net as Wozniacki got every ball back.
"I was really tired," said Halep. "I had so many problems at my feet, pain everywhere. But I think I did pretty well with all the things that were going on. After the first set, I just was out. I don't know what happened. No energy, no power. But then I just said that I have to hit all the balls, and then I could take the second set.
"I came back in the third set, but when I had to serve for 5-3, the gas was gone."
Who will the men's final at the Australian Open? Have your say on our Facebook page
Roger Federer tries for a 20th major in the men's final Sunday against sixth-ranked Marin Cilic in a rematch of the Wimbledon final won by the former.
But that tussle will have a hard time matching Saturday's women's finale.