(CNN) —
An attacker driving an ambulance packed with explosives detonated them Saturday in the Afghan capital of Kabul, leaving 95 people dead and 191 others injured, Afghan officials said.
Taliban spokesman Zabiullah Mojahid claimed responsibility for the attack, which comes a week after militants stormed a Kabul hotel.
The blast occurred around 12:45 p.m. local time after the vehicle passed through a security checkpoint, Interior Ministry spokesman Nasrat Rahimi told CNN.
Police identified the attacker at a second checkpoint, Rahimi said, but couldn't stop him before he detonated the explosives in a central area near the old Interior Ministry building, a hospital and diplomatic buildings.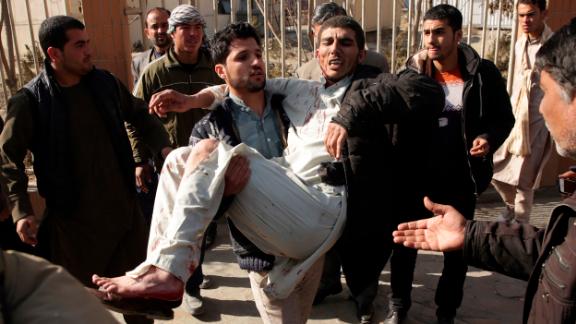 The injured have been taken to hospitals across the Afghan capital, said spokesman Wahid Majrooh of the Ministry of Public Health, who confirmed the casualties. He said those injured included nine women and 182 men.
The attack, in the heart of what's meant to be the securest part of the city, is likely to fuel doubts over the Afghan authorities' ability to keep people safe.
It comes a week after gunmen attacked the Intercontinental Hotel in Kabul, killing at least 22 people during a 12-hour standoff with Afghan security forces. Six gunmen were killed. The Taliban also claimed responsibility for that assault.
ISIS militants on Wednesday attacked the offices of British aid agency Save the Children in the eastern Afghan city of Jalalabad, killing at least four people and injuring dozens.
But Saturday's bombing was not just another attack in the Afghan capital, CNN senior international correspondent Nick Paton Walsh said.
Every time the so-called ring of steel in the city is penetrated, it undermines the government's ability to appear in control of even its most important sanctuaries, he said.
Strategy change for Taliban?
The Taliban's swift claim of responsibility also was in marked contrast to a March attack on a key military hospital in Kabul that killed at least 30 people, many of them doctors and injured soldiers, Paton Walsh said.
The Taliban denied it was behind the hospital attack, suggesting such targets were beyond the pale. ISIS eventually made a reasonably credible claim to that attack.
This time, the Taliban had no such qualms, Paton Walsh said. It's possibly a sign the Taliban doesn't want to lose out to its younger, nastier competitor insurgency in the extremism stakes. A year ago, medical facilities were off-limits; now, an ambulance can be used as a bomb.
'Insane, inhuman, heinous'
Afghanistan's chief executive, Abdullah Abdullah, described the attack as "insane, inhuman, heinous and a warcrime" via his official Twitter account.
He also called on the international community to "take further action" against "state-sponsored terrorism."
"Our priority and focus right now is to help those in need and provide the best treatment for those wounded," he wrote. "This is the moment when we all need to stand together and punch our enemy hard. This is enough!"
US President Donald Trump condemned the attack, saying in a statement, "This murderous attack renews our resolve and that (of) our Afghan partners. The Tablian's cruelty will not prevail. The United States is committed to a secure Afghanistan that is free from terrorists who would target Americans, our allies, and anyone who does not share their wicked ideology. Now, all countries should take decisive action against the Taliban and the terrorist infrastructure that supports them."
The head of the UN mission in Afghanistan said the attack was "nothing short of an atrocity" that targeted a civilian area.
"While the Taliban claim suggested the purpose of the attack was to target police, a massive vehicle bomb in a densely populated area could not reasonably be expected to leave civilians unharmed," Tadamichi Yamamoto said in a statement.
John Bass, US ambassador to Afghanistan, called it a "senseless and cowardly bombing."
"My government and I stand with the brave people of Afghanistan. Their work to create a peaceful, prosperous future for all the citizens of this country is the best response to terrorists and others who know only violence," Bass said in a statement.
US general was in Kabul
The head of US Central Command, Gen. Joseph Votel, was in Kabul at the time of Saturday's explosion, US military officials said. He was in meetings with Afghan officials less than two miles away.
"It was a large explosion that did not escape the attention of any of our people in Kabul," a statement from Central Command said.
"The general was never threatened and was not adversely affected by the explosion. We do express our condolences to those who were directly affected," the statement said.
The officials said Votel maintained his schedule and did not leave any meetings early.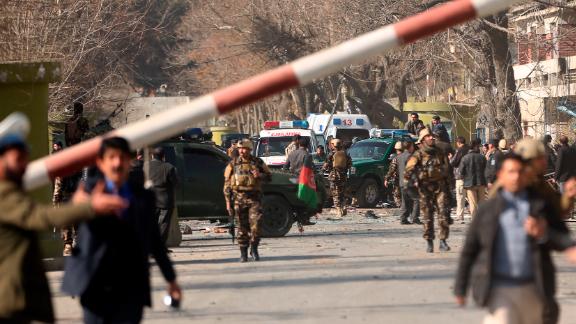 US Secretary of State Rex Tillerson condemned the "horrific" attack.
"The Taliban's use of an ambulance as a weapon to target civilians represents inhumane disregard for the people of Afghanistan and all those working to bring peace to the country, and is a violation of the most basic international norms," Tillerson said in a statement.
More US troops coming
The latest attack comes at a seminal moment in the 16-year Afghanistan War, Paton Walsh said.
Last year, US and Afghan officials accepted that things had not gone well – that territory was lost. This year, they insist, the Taliban will begin to lose territory again. Attacks such as this not only diminish morale but show strongholds as vulnerable, Paton Walsh said.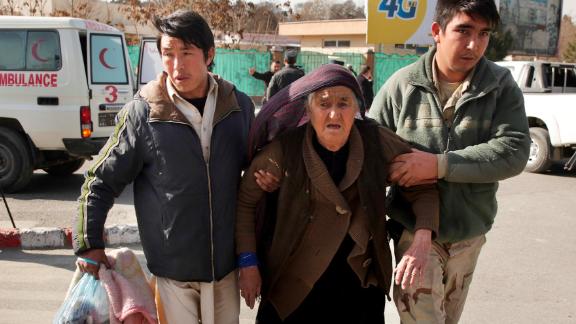 Hundreds more US troops are en route to Afghanistan to begin a much riskier mission: training Afghan troops outside the wire. There will be Americans on the front line who know that combat may be part of their mission and who may die, Paton Walsh said.
This is the one key foreign policy issue upon which Trump has made a specific policy pledge: to win.
At the same time, key indicators about how well the US and Afghan forces are doing – such as how many Afghan soldiers or police are killed or injured – are being classified, depriving the American public of simple ways of assessing the President's success, Paton Walsh said, noting that neither the Pentagon or White House typically hide it when they are winning.
CNN's Ehsan Popalzai reported from Kabul, and Laura Smith-Spark wrote from London. CNN's Sara Mazloumsaki and Marilia Brocchetto contributed to this report.