Story highlights
Critics say they have seen no relief to help with the opioid crisis
Patrick Kennedy blasts Congress, Trump lack of action
The Republican-led Congress has turned the work of the president's opioid commission into a "charade" and a "sham," a member of the panel told CNN.
"Everyone is willing to tolerate the intolerable – and not do anything about it," said former Democratic Rep. Patrick Kennedy, who was one of six members appointed to the bipartisan commission in March. "I'm as cynical as I've ever been about this stuff."
President Donald Trump declared the opioid epidemic a 90-day public health emergency in October, but did not make any new funding available. In November the president said he would donate his third quarter salary to the Department of Health and Human Services to help fight the crisis.
Critics say the declaration did virtually nothing to change the status quo and that overdose deaths have continued to mount in the months since. The public health emergency declaration was, in fact, set to expire on January 23, but as the government was headed toward a shut down on Friday, Acting Secretary of the Department of Health and Human Services Eric Hargan renewed the national public health emergency for another 90 days.
"This and the administration's other efforts to address the epidemic are tantamount to reshuffling chairs on the Titanic," said Kennedy. "The emergency declaration has accomplished little because there's no funding behind it. You can't expect to stem the tide of a public health crisis that is claiming over 64,000 lives per year without putting your money where your mouth is."
CNN sought to catch up with the six members of the opioid commission, including former New Jersey Governor Chris Christie who headed the panel, about their views on progress made and what more needs to be done. We also wanted to speak with Kellyanne Conway, the White House's point person on the opioid crisis.
Only Kennedy and Bertha K. Madras, a deputy director of the White House Office of National Drug Control Policy during the George W. Bush administration, agreed to speak.
With the recent government shutdown, Kennedy blasted Trump for "playing politics instead of pursuing solutions for issues that impact the lives of Americans."
"For people and families struggling with addiction in this epidemic, it's essentially been a government shutdown from the start," he said.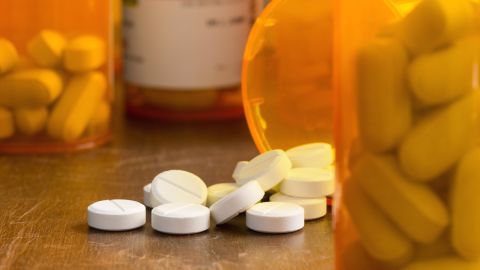 Photos: Opioids: Addictive painkillers
Photos: Opioids: Addictive painkillers
Photos: Opioids: Addictive painkillers
Photos: Opioids: Addictive painkillers
Photos: Opioids: Addictive painkillers
Photos: Opioids: Addictive painkillers
Photos: Opioids: Addictive painkillers
Photos: Opioids: Addictive painkillers
Photos: Opioids: Addictive painkillers