Story highlights
Tillerson said that Turkey had a right to protect its citizens
Turkey has been battling Kurdish unrest in the southeast of the country for years
US Secretary of State Rex Tillerson has expressed "concern" about Turkey's offensive against Kurdish militia in northern Syria, urging restraint but stopping short of demanding an end to the operation.
On a visit to London, Tillerson said that Turkey had a right to protect its citizens but urged "restraint" on both sides.
Turkey began airstrikes against the Kurdish YPG on Saturday, followed by a ground incursion into northern Syria involving Turkish special forces and factions of the rebel Free Syrian Army. The Turkish operation is targeting the Kurdish-held enclave of Afrin, to which tens of thousands of Syrians have fled from other parts of the country.
The offensive has strained relations between Washington and Ankara, two NATO allies. On Monday, Turkey's President Recep Tayyip Erdogan again blasted the United States for supporting what he called a "terrorist organization" on Monday.
Turkey has been battling Kurdish unrest in the southeast of the country for three decades, and views the the YPG as indistinguishable. But the US and other Western powers see the Kurds in Syria as crucial allies in the battle to defeat ISIS.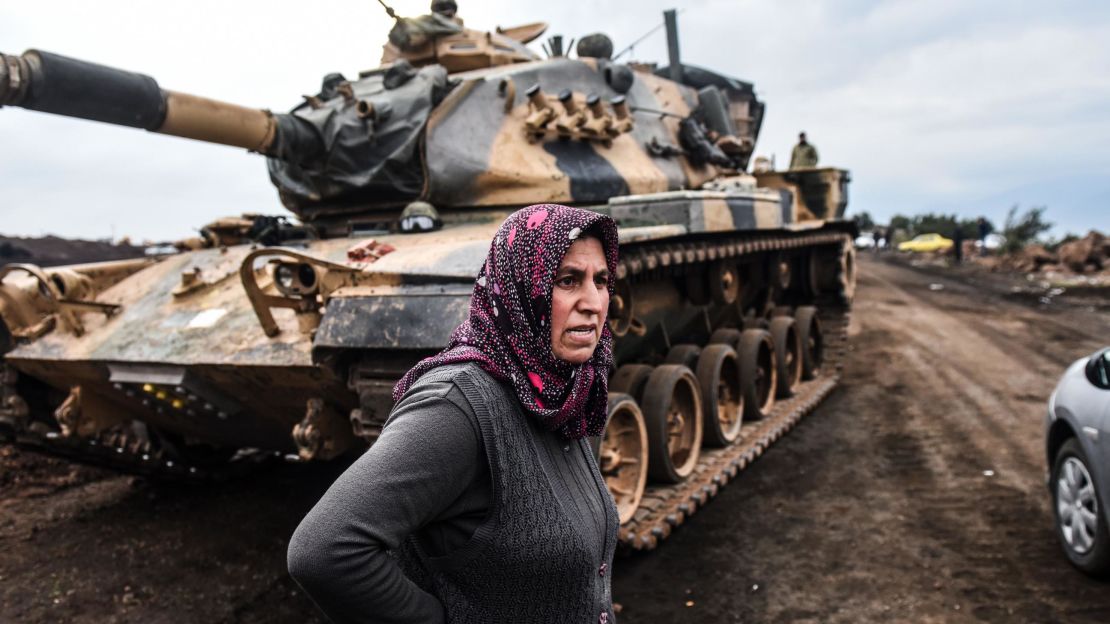 Pentagon spokesman Marine Maj. Adrian Rankine-Galloway told CNN on Monday that senior US defense officials are in Ankara to discuss security matters, including the situation in northern Syria.
"I can confirm that senior leaders from the Department of Defense are fully engaged in working with their Turkish counterparts to de-escalate tensions along the Turkish-Syrian border and to ensure that operations to defeat ISIS continue without interruption," said Rankine-Galloway.
Gen. Joseph Votel, the commander of US Central Command, was in Syrian city of Raqqa on Monday, along with US Agency for International Development Administrator Mark Green, on a previously planned trip, according to defense and USAID spokespeople. The YPG was instrumental in evicting ISIS from Raqqa last year.
The special presidential envoy to the anti-ISIS coalition, Ambassador Brett McGurk, was also in the region in recent days. His spokeswoman, Michelle Barton, told CNN that McGurk was there "as part of his regularly scheduled trips to the region to consult with senior leaders on the campaign to defeat ISIS," and stopped in Iraq and Syria.
The Turkish offensive appeared to have expanded Monday, with elements of the Free Syrian Army opening a second front from the north-east towards the city of Afrin. The FSA forces said they had captured ten Kurdish fighters.
The Turkish military has reported the death of one soldier.
Turkish officials say the YPG has fired rockets at several Turkish border towns, an accusation denied by Kurdish commander Siban Hamo and other YPG officials.
The YPG control a large part of northern Syria – some 24% of all Syrian territory, including hundreds of kilometers along the Turkish border. Both the Obama and Trump administrations have provided the group with training and weapons as the chief US ally against ISIS in Syria. But Turkey regards the YPG as a terrorist organization closely allied to Kurdish separatists inside Turkey.
Turkey agreed operation with Russia
Speaking in Ankara Monday, Erdogan asked the US: "Why are you fighting against ISIS with another terrorist organization? Why not carry it out with your strategic partner?"
He also dismissed the appeal by the US State Department at the weekend that the offensive be limited in scope, saying: "The US in particular says it should be time limited…You went into Iraq, have you got out?"
Erdogan added that the Turkish operation had been agreed with Russia, which along with Turkey and Iran is driving efforts to end the Syrian conflict. The YPG have bitterly complained about Russia withdrawing its modest presence in Afrin as Turkey prepared to attack. YPG commander Siban Hamo said Russia had shown it had "no principles" and it would one day "regret standing against the Kurdish people."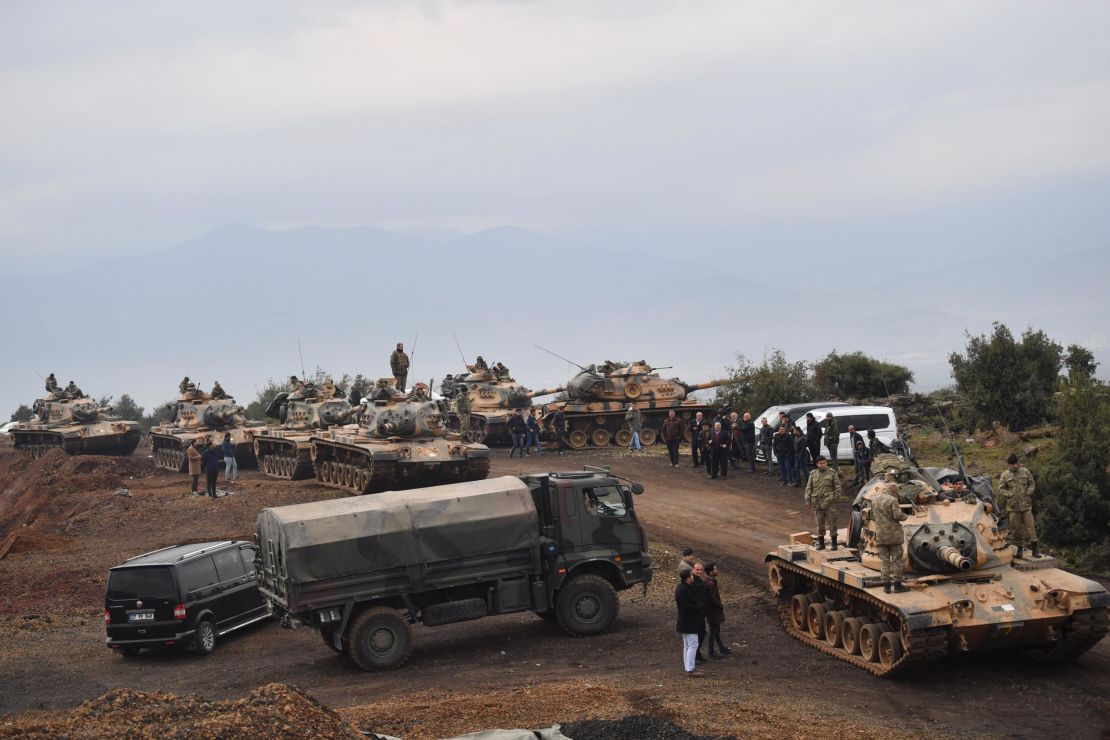 In London, Tillerson said he hoped casualties would be minimized. "We recognize and fully appreciate Turkey's legitimate right to protect its own citizens from terrorist elements that may be launching attacks against Turkish citizens and Turkish soil from Syria," Tillerson told journalists, alongside his UK counterpart Boris Johnson.
"We're engaged with Turkey, and we're also engaged with the leadership of our coalition and asking both sides to show restraint."
Earlier in the day, as he traveled to London, Tillerson was asked if the conflict was amounting to a clash between two NATO allies. "I don't think you're going to find two NATO allies facing off at all," Tillerson told reporters traveling with him.
There is growing international concern that the Turkish offensive could ignite yet another humanitarian crisis in Syria. Afrin is already crowded with internally displaced Syrians – up to 160,000 in November, local groups say.
Tillerson expressed concern about that on the plane. "This is a tough situation where there are a lot of civilians mixed in," the top US diplomat said. Because of those concerns, the US has asked Turkey "to just try to be precise, try to limit your operation, try to show some restraint, let us see if we can work with you to create the kind of security zone you might need," he said.
"So we're in discussions with the Turks and some of the forces on the ground as well as to how we can stabilize this situation and meet Turkey's legitimate concerns for their security," Tillerson said.
British Foreign Secretary Boris Johnson, speaking alongside Tillerson, recognized that the Kurds had been a key ally in the fight against ISIS but added: "Turkey does have a legitimate interest in protecting its own borders and own securities."
Erdogan has indicated the incursion could broaden, vowing on Saturday to "annihilate the terror corridor up to the Iraqi border."
Analysts say that could ignite a broader conflict across northern Syria, which could be exploited by jihadist groups including ISIS. ISIS fighters have recently appeared in the south of Idlib.
Turkey's NATO allies don't want an open-ended Turkish offensive that could spur another refugee exodus or give ISIS the opportunity to regroup. But for now they are not calling on Turkey to end the operation.
CNN's Nicole Gaouette and Laura Koran contributed to this report from Washington