Story highlights
Target home goods that are so trendy, you'd never guess they're affordable
Shop these storage bins, pillows, bookends, furniture and more
CNN —
If you're reading this article, there's a good chance you're a Target fan. And, it's easy to see why.
Many of us — including meme enthusiasts, high-profile designers and otherwise — have professed our love for Target's affordable (and often aesthetically pleasing) selections. There's even a concept referred to as the "Target Effect." This describes a Target shopper's tendency to enter the store with the intention of buying one item. Usually, though, that doesn't to work out and the customer leaves with many other purchases.
You see, for shoppers who appreciate fashionable home goods — but adhere to a strict budget — Target is basically paradise. That's because there are tons of budget friendly decor choices for every room in the home.
We carefully scoured the store's online home goods and decor department to choose trendy pieces that only look expensive. These items will help your home look chic and updated — without hurting your wallet.
Note: The prices below reflect the retailer's listed price at the time of publication.
1. Antwerp Desk in walnut ($129.99; target.com)
This walnut desk with gold accents is the perfect way to add a modern touch to your office. And, with two handy drawers, you can slip all your office supplies and knickknacks inside for a tidy workspace.
2. Marble & Gold Bookends — Set of 2 ($19.99; target.com)
A pair of luxurious bookends to display anywhere in your home.
3. Artificial Plant in Stand ($39.99; target.com)
If you have little access to sunlight or bad luck with plants, you can still incorporate green into your home with this chic freestanding artificial plant holder.
4. Stoneware Vase ($19.99; target.com)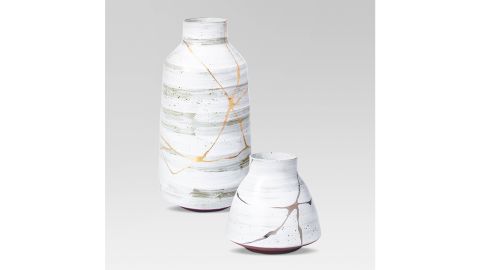 The perfect combination of rich and rustic, these artfully designed vases are the perfect accessory for holding flowers.
5. Round Wire Basket ($19.99; target.com)
Stow your stuff in style with this gold bin for blankets and other household items.
6. Jacquard Cotton Pouf ($49.99; target.com)
You can keep this cozy ottoman is most any room of the house. That way, you can kick up your feet, no matter where you're sitting.
7. Large Knit Throw Pillow ($24.99; target.com)
Large knitted blankets have been all over the Internet lately. Now, you can get a downsized version of the trend — that's equally stylish — in the form of a throw pillow.