Story highlights
The art of organization starts with having the right products on hand
Here, we have a key finder, intelligently designed umbrella, a sleek water bottle and more
CNN —
Looking to up your efficiency, get more organized and streamline your day? Look no further than this "life hack" product roundup. We scoured the Internet for problem-solving products that will add some ease to your day-to-day life. Keep reading to shop our favorites from around the Web that you can buy right now.
Tile Mate Phone and Key Finder (starting at $25; thetileapp.com)
Can't keep track of your things? This tiny tracker will have your back from now on. Created by Tile, these Bluetooth-enabled gadgets can be attached to any of your most prized possessions. Then, when looking for your lost belongings, you can use the Tile Mate app to see how far you are from your misplaced item. Should you lose your phone where you'd normally use the app, you can push the button on any of your tiles twice and your cell phone will ring — even if it's on silent. Other uses include tracking down your bike should it get stolen and finding your way back to your parked car if you've forgotten its location. And if you're constantly losing your TV remote, stick a Tile on there, too. You'll find it in seconds.
Memobottle Water Bottle ($36; amazon.com)
Now this is a super cool idea. The concept behind the memobottle was to make drinking water while on the go more environmentally friendly (since this bottle is reusable). The memobottle (available in two sizes) has a super slim design that closely resembles the dimensions of a piece of paper. With the bottle made this way, those who carry textbooks, laptops and other office or school supplies can conveniently slip their memobottles into their bags right along with their other belongings. Named an Amazon's Choice product, this is the new, stylish way to hydrate and help the environment — all in one.
Justick Electro-Adhesion Board ($80.26; amazon.com)
Say so long to taping and pinning things to your bulletin board. Half the time, we can't find a thumbtack when we need one anyway. With this smart electro-adhesion board by Justick, you can hang all your important papers, bills, wedding invitations, photos and more without any kind of adhesive. How it works? The 36 by 24-inch Justick board is battery-powered and has electrical energy flowing through its surface to hold items in place. That way, anything that you need to remember or have on display is right there in one visible place.
Vacu Vin Wine Saver Pump ($16.99; amazon.com)
A lot of people enjoy having a glass of wine in the evening. But the tricky part can be how to save the leftover wine once the bottle is uncorked. Luckily, Vacu Vin came up with this nifty contraption so that you can reseal your wine and save it for another time. With over 2,500 Amazon reviews from customers who rated this product an average 4.6 out of 5stars, we'd say this is a worthy investment for wine lovers everywhere.
Senz Umbrella ($45.73; amazon.com)
Few things grind our gears like an umbrella that turns inside out midstorm. As if whipping winds and rain weren't enough aggravation, having your one source of defense turn on you too is pretty much disaster. This innovative product from Senz offers a whole new take on the umbrella. The secret has a whole lot to do with its aerodynamic shape, which can withstand winds up to about 40 mph.
Master Pan Nonstick Divided Meal Skillet ($47.69; amazon.com)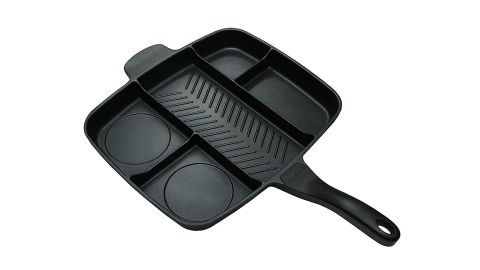 No more wasting time washing a ton of pans after dinner. With this kitchen appliance from Master Pan, you can cook different parts of your meal at once, all in the same pan. Another fan favorite from Amazon, this compartmental cooking device earned an average 4 out of 5stars from over 150 reviewers. With numbers like these, you can feel confident that your newest dinner prep tool has been tried and tested.
Note: The prices above reflect the retailer's listed price at the time of publication.