Story highlights
Sleep Number's 360 smart bed can detect your movement at night.
The bed then automatically adjusts based on where your body needs support.
The best smart devices are the ones that make life's little problems go away. There are trackers that help you locate misplaced keys and thermostats that can automatically turn off your heating or air conditioner off when you're not home. Now, there's even a smart bed than can adjust firmness based on how you're tossing and turning at night. This is the latest invention from Sleep Number, called its 360 Smart Bed.
We all know that getting a decent amount of shut-eye (about seven to 10 hours a night, depending on your age) is crucial. Sleep can influence blood pressure, the strength of the immune system and even your risk for certain diseases like diabetes or cancer. The US Centers for Disease Control and Prevention estimates that less than a third of us are getting our recommended sleep every night. The culprit for many people is tossing and turning uncomfortably in their beds. That's where the Smart Bed comes in.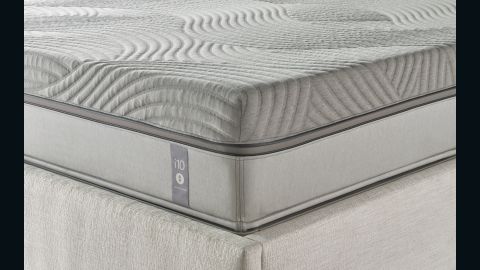 Sleep Number
This smart mattress can detect your orientation and movement during the night, automatically adjusting the firmness based on where your body needs support at that moment. The 360 Smart Bed does this using three unique layers. The bottom one can move you up and down, the second air chamber layer adjusts to your position, and a third cushion layer gives you maximum comfort. When the bed detects that your body has moved, the air chambers respond by reconfiguring to your new sleeping shape. The bed can even sense if you're snoring (based on the vibrations) and will tilt your head upward to try to prevent it.
Like most smart products, the smart bed hooks up to your devices, like your phone or tablet, through its integrated app. This will tell you your SleepIQ score — the Sleep Number ranking of your overall sleep score. The idea is that if you have a lower-than-average score, you can start pinpointing what it is that's keeping you awake at night and then hopefully remedy it.
Sleep Number
And as if that wasn't smart enough, if you sync up the mattress with your other smart home devices, like the Nest Thermostat, the bed can even change the temperature of the room based on its reading of your body temperature.
All these high-tech features haven't gone unnoticed; the 360 Smart Bed was the winner of multiple CES 2017 Innovation Awards, which honor outstanding design and engineering in consumer tech.
If you'd like to try out the 360 Smart Bed for yourself, when you order online there is a 100-night trial for you to jump into bed (literally) with the product. In addition, it comes with a 25-year warranty, in case it's not up to snuff after a few years of usage.
And while the bed doesn't come cheap — the i7 model starts at $3,299 and the i10 model starts at $4,599 —you do spend about a third of your life in bed. So if you're going to splurge on anything, a good night's rest seems worth it.
Note: The prices above reflect the listed retailer's price on the date this article was published.