Story highlights
Legendary female golf caddy speaks to CNN Living Golf
Swede made history as first female caddy to win a major
Sunesson worked with Nick Faldo throughout 1990s
She went where no other woman had gone before, muscling her way into the conservative, traditionally male-dominated clubhouse to become the first female caddy to win a major.
But to merely remember Sweden's Fanny Sunesson as the first is to overlook the fact she was also for a time the best.
Standing by Nick Faldo's side throughout the 1990s, Sunesson guided the legendary English golfer to four major titles.
The caddy went on to work with other European stars including Sergio Garcia and compatriot Henrik Stenson – guiding the Swede to the 2007 World Match Play Championship and 2009 Players Championship – before retiring in 2012.
She has inspired a whole new generation of women to carry the bag, from former professionals Meaghan Francella and Michelle Simpson, to Brittany Henderson – sister of 2016 PGA winner Brooke.
In at the deep end
After over two decades at the top, it's hard to believe a teenage Sunesson initially envisaged caddying for a matter of months, thinking of it "as a chance to see the world."
Everything changed in late 1989 when Faldo, one of the game's top players, decided he wanted someone by his side as single-minded as he was.
Sunesson, who had cut her teeth with Spaniard Jose Rivero and Englishman Howard Clark on the European Tour, jumped at the chance.
Just a few months into her new role, the girl born in Gothenburg was going to Augusta National for the 1990 Masters.
"It was like a fairytale, a dream for golfers," Sunesson tells CNN Living Golf in a rare interview. "The architecture and aura there – it was amazing to be there, and to caddy for the defending champion wasn't bad either."
Faldo went on to win a playoff against Raymond Floyd for his second Masters title, making Sunesson the first female caddy in the history of the game to win a major.
Just three months later, the duo added the Open Championship title at the home of golf, St Andrews.
And Sunesson chokes up as she recalls walking up the 18th with Faldo by her side.
"When we hit our tee shot on the 18th, we knew were going to win," says Sunesson. "I'm so grateful for what Nick did walking off the tee: he turned around to me and said 'savor this moment!'."
READ: Brooke and Brittany Henderson: Golf's sister act
'One of the best rounds I've seen'
Sunesson grew up in the Baltic port town of Karlshamn and was a keen amateur golfer who harbored dreams of playing professionally herself. Those ambitions may not have materialized but her winning partnership with Faldo more than made up for the disappointment.
Another Open victory came two years later, but the most iconic moment of all was still yet to come at the 1996 Masters – a tournament enshrined in golf folklore forever.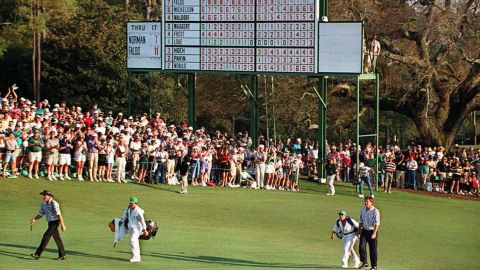 It all came down to Faldo against Australia's Greg Norman on the final day. And, as they began play on the Sunday, Norman had a seemingly insurmountable six-shot lead.
Sunesson never lost hope.
"History-wise, we had beaten Greg almost every time except once," she says, recalling the spectacular eventual 11-shot swing.
Norman's game famously fell apart – the Australian stumbled to a six-over-par 78 – while the ever-reliable Faldo posted a near flawless round of 67, birdieing the last to clinch his sixth and final major title by five shots.
"I was very focused on what we were doing. You couldn't miss what was happening with Greg, of course, but then you still have to do it. It's a long way back.
"To shoot 67 that day? I think Nick deserves more credit for that round. They said Greg lost the tournament but I think that's a bit unfair. It was one of the best rounds, if not the best I've seen."
Caddying for an all-time great
'A great caddy, a great girl'
Preferring to ignore gender, Faldo credits Sunesson for the most successful spell of his career.
"I didn't get the relevance of having Fanny Sunesson – a lady on my golf bag," Faldo tells CNN Living Golf. "I thought she was a great caddy, a great girl, good entertainment.
"You know, the most important thing is you've got to be able to communicate. She was very professional, did her yardage books which take eight hours to do, so you got every bit of information. We had a great relationship."
Earning a wage plus a significant percentage of prize money – reportedly worth between 5-10% – caddying has brought Sunesson well in excess of £1M ($1.35M).
But it's her unique relationship with Faldo she treasures most – one that endures to this day.
"I think that we were a fantastic team," she says. "We worked so well together; it was almost like we were one person thinking."
That inextricable bond was perhaps summed up best by the fact that Faldo and Sunesson got married on 28 July 2001 – though not to each other.
Many miles apart, wedding separate partners, Faldo addressed the coincidence at the time saying: "We're thinking of having an internet link for a laugh."
Visit CNN.com/golf for more news and features
For Sunesson, currently the only woman in the Caddy Hall of Fame, many more like her might one day walk the fairways, but one thing will never change.
"You know, we're still friends today," she says. "He's like a brother to me."