Story highlights
Williams gave birth to baby daughter in September
She played an exhibition match in December
American is defending Australian Open champion
Serena Williams is set to appear on court for the first time since giving birth after confirming she will play at the Mubadala exhibition event in Abu Dhabi, in the United Arab Emirates, next Saturday.
The 23-time grand slam winner returned to the court at the Mubadala World Tennis Championship in Abu Dhabi at the weekend, less than four months after becoming a mum, but playing that tournament has given the American pause for thought.
"After competing in Abu Dhabi I realized that although I am super close, I'm not where I personally want to be," the 36-year-old said.
"My coach and team always said 'only go to tournaments when you are prepared to go all the way.' I can compete – but I don't want to just compete, I want to do far better than that and to do so, I will need a little more time.
"With that being said, and even though I am disappointed about it, I've decided not to compete in the Australian Open this year."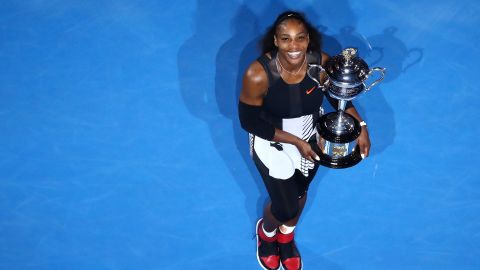 READ: Murray withdraws from Australian Open
READ: Serena opens up on race & power
When Williams won last year's Australian Open she was already two months pregnant.
"The memory of last year's Open is one that I will carry with me, and Olympia and I look forward to coming back again," added Williams. "I appreciate the support and understanding of my fans and everyone at the Australian Open."
Having broken Steffi Graf's Open Era record last January with a seventh title at Melbourne Park, Williams needs one more grand slam title to equal Margaret Court's all-time record.
Williams, now ranked 22 in the world, is not the only major name to withdraw from the Australian Open, which starts on January 15.
On Thursday, former world No.1 Andy Murray said he would not be competing in Melbourne because of a hip injury, while former US Open finalist Kei Nishikori has also withdrawn, saying he has not yet fully recovered from a wrist injury.
Visit CNN.com/sport for more stories & features
It is also yet not certain that six-time Australian Open champion Novak Djokovic will play in the year's first grand slam.
The 12-time grand slam winner said on Wednesday that he will make a decision on whether to participate after taking part in two exhibition events next week.