(CNN) —
For every good campaign, it seems like there are three bad ones. This past year was no different.
Below, I chose the absolute bottom of the barrel – the worst candidate in a year filled with mediocrity. I also gave a few dishonorable mentions for candidates who were bad, but not the worst.
WINNER: Roy Moore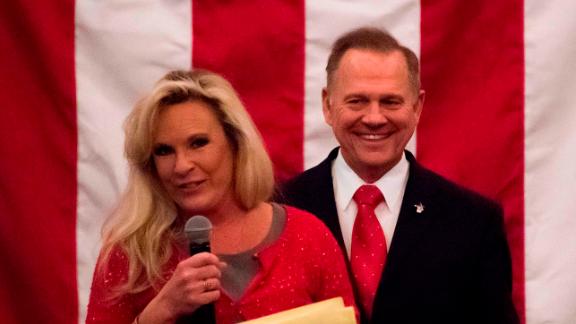 JIM WATSON/AFP/Getty Images
Many people will look back at Moore's loss in Alabama – one of the most Republican-friendly states in the country – as solely the result of a series of accusations from women that he had pursued sexual relationships with them whien they were teenagers and he was in his 30s. And, there's little question that the allegations – first published in The Washington Post – changed the race between Moore and Democrat Doug Jones.
But lost in that analysis is the fact that Moore was a weak candidate long before these allegations finally doomed him. In his long history of running for office in Alabama – wins and losses – Moore consistently underperformed the baseline Republican vote.
He had his hardcore supporters, without doubt, but he also turned lots and lots of Republicans off with the brand of in-your-face social conservatism he made his calling card.
And Moore refuses to compromise – on any position – or adjust his campaign strategy one iota. Every campaign he runs is the same campaign – no matter the office he is seeking or the election year in which he is running. He surrounds himself with a very small cadre of total "yes" men and women and refuses to take advice from anyone not in that tiny group.
That obstinance – and stuck-in-the-past-ism – doomed Moore this time around. In the face of very serious allegations against him, Moore simply said "I didn't do it" and dared anyone to not believe him. He offered zero proof to rebut the varying allegations from eight women – none of whom knew one another and all of whom told very similar stories about how Moore approached them and what he was after. For people looking for a reason to believe Moore, he offered nothing beyond his initial denial.
While Moore might have lost regardless, the relative narrowness of his defeat – 22,000 votes or so – suggests that an attempt to come to terms with the accusations in some sort of professional campaign manner might have made a difference. Short of acknowledging the allegations and offering up a mea culpa – which Moore would have never done – he could have sat for an interview with a major media outlet in the state. Or offered up a more fulsome explanation of why so many women accused him of pursuing relationships with them when they were teenagers. Or done almost anything other than what he did.
It's very, very hard for a Republican to lose a Senate race in Alabama – as evidenced by the fact that no one had done so in 25 years. Roy Moore did it. Which makes him a lock for the worst candidate of 2017.
Dishonorable Mentions
* Jon Ossoff: The Georgia Democrat raised more than $30 million for his bid to claim Georgia's 6th district. Then he lost. And he didn't just lose – he barely overperformed Hillary Clinton in the swing, suburban Atlanta seat. (Ossoff got 48%; Clinton got 47%.) The truth, which Democrats acknowledged even before Ossoff lost, was that he was a wooden candidate on the stump who let his residency – he lived just outside the district's lines – become the sole issue for lots of voters in the race.
* Greg Gianforte: Yes, I know Gianforte won the special election for Montana's lone House seat. But his body-slam of a reporter days before the election – and his campaign's attempts to cast blame on the reporter – speak to something more elemental (and concerning) about Gianforte's personality.