Story highlights
Here are the top memeable political personalities of 2017
From George W. Bush's #ponchoprobs to Kellyanne Conway's flashcards
2017 was the best of times, it was the worst of times, it was the year of covfefe.
President Donald Trump has not yet been in office for a full year but Sean Spicer's White House press briefings (and Melissa McCarthy's portrayal) already have a vintage feel, the firing of James Comey now reads like a chapter in a history book and Anthony Scaramucci's soap opera-like White House stint an italicized footnote.
And while the President has managed to be at the center of the drama — tweeting and retweeting, instigating and doubling down — several other personalities got meme-makers political and sent the social media world into a frenzy.
You may have laughed, you may have cried, but most importantly, you had something to bring up on those godforsaken Tinder dates.
Here are the top memeable political personalities of 2017:
1) Donald Trump
It's a trying task to have to pick only a few memeable moments brought to America by the President. But let's start here, at one of the first viral memes of his presidency.
The President's inclination to show the cameras what he has just signed after signing executive orders provided an immeasurable amount of inspiration for meme lovers and Trump trolls alike.
Another notable moment: As the solar eclipse lit up the sky (and Twitter), Trump joined in the fun, retweeting a meme of himself eclipsing former President Barack Obama. That retweet generated several other takes on the meme. Pictures of Trump staring into the sky without his protective glasses also went viral.
2) Sean Spicer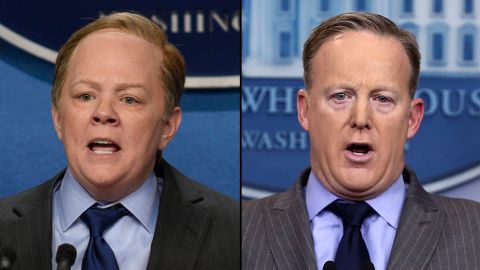 Soon after taking office, Trump lashed out at the media over reports about the size of his inauguration crowd size.
Enter Spicer.
"This was the largest audience to ever witness an inauguration — period — both in person and around the globe," Spicer lectured reporters in a speech that included several falsehoods.
His briefings were quickly dramatized and immortalized by McCarthy on NBC's "Saturday Night Live."
3) Kellyanne Conway
There are simply too many memes to pick from, so let's start at the beginning with the interview that made #AlternativeFacts go viral.
The President's adviser berated NBC's "Meet the Press" host Chuck Todd for criticizing Spicer over the crowd size claims.
"You're saying it's a falsehood. And they're giving — Sean Spicer, our press secretary — gave alternative facts," Conway said.
A clearly befuddled Todd responded: "Alternative facts aren't facts, they are falsehoods."
Another notable Conway moment is when she held up flashcards (note: props are always meme gold) during a July interview with Fox News host Sean Hannity when discussing Donald Trump Jr.'s meeting with a Russian lawyer in 2016.
One card read "conclusion" and "collusion" and the other, "illusion" and "delusion."
"This is to help all the people at home," Conway said. "What's the conclusion? Collusion? No, we don't have that yet. … I see illusion and delusion. Just so we're clear, everyone. Conclusion? Collusion, no. Illusion and delusion, yes."
#KellyCards became a national trend, putting meme makers to work.
4) Angela Merkel
The German Chancellor is one of the most powerful women in the world and her interactions with two of the most powerful men — Trump and Russian President Vladimir Putin this year — have made her a queen in meme world.
Exhibit A:
When Trump joked about the US wiretapping Germany at a joint news conference during Merkel's visit to Washington in March, the Chancellor's reaction ranged from bemusement to disbelief.
Standing by his claim he was wiretapped by Obama – a claim for which the Justice Department has said it has no evidence – Trump suggested that he and Merkel "have something in common, perhaps."
His comment was an apparent reference to a report that Merkel's cell phone was once tapped by the National Security Agency during Obama's presidency.
Exhibit B:
Merkel appeared to roll her eyes at Putin while having a conversation with the Russian leader at the G-20 Summit in July.
Some took the liberty to fill in the blanks, determining that Merkel was not amused by Putin's "mansplaining," as he pointed his index finger at her.
5) The Mooch
While Scaramucci's brief stint as White House communications director is the shortest in the position's history, The Mooch provided more inspiration for America's meme-makers in one week than his predecessors had provided in years of service.
Like his boss, The Mooch loved the spotlight and seemed to have an affinity for controversy, and his White House career was punctuated with a vulgar profanity-laced tirade shared with a reporter directed at then-chief of staff Reince Priebus and then-chief strategist Steven Bannon.
His quick departure prompted many memes inspired by Trump's former reality show, "The Celebrity Apprentice," in which he would eliminate a contestant each week.
6) Melania Trump
The first lady's trademark look defined by her oversized sunglasses sparked a ridiculous conspiracy theory that Melania Trump has a body double.
"The bizarre rumor grew out of a Twitter post from a California man, who, according to his bio, sells hemp syrup. The tweet implied the first lady standing beside President Donald Trump last week wasn't actually the first lady, but an imposter," CNN's Kate Bennett reported in October. "He compared an older image of the first lady to a tight shot of her – as though this provided evidence that there are two different Trumps."
Yes, absurd, but intrigue, humor and the asinine are the prefect recipe in memeland.
7) George W. Bush
The struggle was real for former President George W. Bush at Trump's inauguration, and while there was a lot of speculation that Bush was not pleased by Trump's win (especially after he took down his brother Jeb so aggressively), it was his poncho problems that generated an unending stream of memes.
George W. Bush talks Trump's inauguration, his poncho difficulties
A frowning, and then laughing, Bush could not seem to figure out how to position the plastic garment and these pictures were used throughout the year to express displeasure at anything from the political to the personal.
8) Michelle Obama
Michelle Obama's famous inaugural side-eye went viral, but months later, the former first lady explained that she was not throwing shade at Melania Trump after the incoming first lady handed Obama a Tiffany's box as a gift on Inauguration Day.
"So that moment of transition, right before the doors opened and we welcomed in the new family, our kids were leaving out the back door in tears, saying goodbye to people," Obama said in a May interview, adding, "I didn't want to have tears in my eyes because people would swear I was crying because of the new president."
But alas, that did not stop social media shade-throwers and crafters of golden memes from using Obama's sassy side-eye the entire year to express contempt toward anything from politics to relationship tribulations.
9) Louise Linton
Last but definitely not least is Treasury Secretary Steve Mnuchin's wife, Louise Linton, whose first viral moment came in August when she had a meltdown on Instagram and boasted about the large amount of money she and her husband pay in taxes.
In the now-deleted post for which Linton apologized, the photo shows a glamorous Linton stepping off an official government plane on a trip to Kentucky with her husband, who was there to discuss tax reform, dressed in white and carrying an expensive handbag.
The Scottish-born actress tagged a host of luxury designers, including Hermes, Roland Mouret, Tom Ford and Valentino, writing, "Great #daytrip to #Kentucky! #nicest #people #beautiful #countryside #usa."
"Glad we could pay for your little getaway. #deplorable" Instagram user Jenni Miller, a mother of three from Oregon, commented.
Linton fired back with a condescending message: "@jennimiller29 cute! Aw!!! Did you think this was a personal trip?! Adorable! Do you think the US govt paid for our honeymoon or personal travel?! Lololol."
She said Miller's "life looks cute" and told her to "have a pleasant evening" and called her "adorably out of touch."
Linton's response prompted some to refer to her as Marie Antoinette (a role she once played on screen), describing this as her "let them eat cake" moment.
All appeared to be forgotten months later, but it all came crashing back when Linton posed with a sheet of cash, striking the infamous duck face and looking thrilled that her husband's signature is now on the $1 bill.
"tfw you are a stock image for 'greed'" one Twitter user wrote.
Memeland never forgets.
For more on culture and politics, check out CNN"s #GetPolitical series.