Story highlights
Walter Macfarlane and Alan Robinson have been friends since childhood
DNA testing uncovered they are biological brothers
(CNN) —
Seventy-four-year-old Walter Macfarlane and 72-year-old Alan Robinson have been friends for more than 60 years. Born in Honolulu, they first met in elementary school, played high school football together and joke they could have married the same girl. They sent their children to the same schools they attended and vacationed together as families.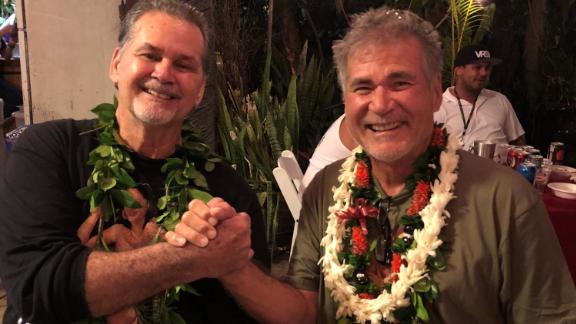 Courtesy Cindy Macfarlane-Flores
But it wasn't until Macfarlane recently began using DNA ancestry tests to search for his long-lost birth father that he uncovered an even bigger surprise: Robinson is actually his biological brother.
"I knew it when we compared hairy forearms!" jokes Macfarlane.
"That's true. How did we go for 60 years without knowing we were related?" adds Robinson with a chuckle. "It took those DNA tests and some really good sleuthing by our families to put it all together."
'It was a crazy time … '
Walter Macfarlane was born in 1943 in Honolulu. Still reeling from the aftermath of the attack on Pearl Harbor, Honolulu in the early 1940s was a turbulent town, full of air raids, blackouts and scores of military personnel.
For reasons the family does not know, Macfarlane's mother, Genevieve, was planning to give him up for adoption. Her parents found out and decided "to hanai" their grandson, part of a Hawaiian practice in which a family can adopt a person informally, with or without papers.
"It was a crazy time, and we have no idea what must have led to her decisions," says Cindy Macfarlane-Flores, Walter's daughter. "We still hold her in the highest regard and understand that the actions and decisions she had to make back then were for the best."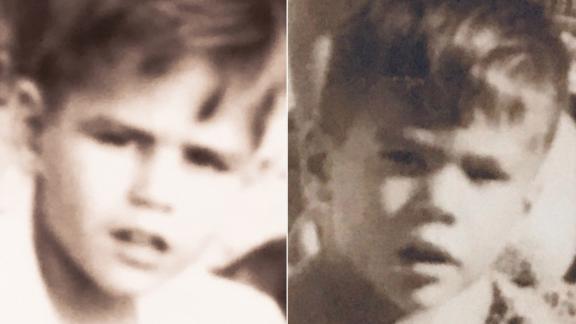 courtesy Cindy Macfarlane-Flores
Fifteen months after Macfarlane's birth, Alan Robinson was born in Honolulu, and was immediately given up for adoption. He never knew his birth mother and father.
"It was great for me," Robinson says. "I was raised by the best people you can imagine. But when I had my own two children I did wonder about family history, because I can never answer any health questions on official forms."
Macfarlane and Robinson met in sixth grade. It was the beginning of a long and enduring friendship.
"Walter used to live just down the road. His hanai mother was a good friend of my family," remembers Robinson, "and my mom was the school nurse. So every time he was sick or hurt, our families would talk."
Both boys went on to Honolulu's Punahou School, Barack Obama's alma mater, and played championship football together. After college and Vietnam, they ended up back in Honolulu, raising families and hanging out.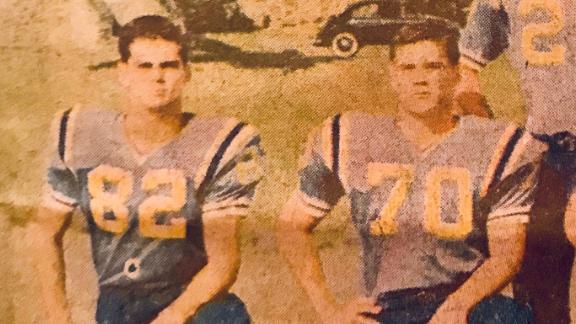 Courtesy Cindy Macfarlane-Flores
"I grew up calling him Uncle Alan," says Macfarlane-Flores. "Uncle Alan was my brother's idol growing up because he was an amazing pilot. I have a few pictures of us on his sailboat at 9 and 10, and his daughter Tara was about 4. When my brother Aldon and I were kids, they hung out a ton."
"We used to go skin diving, spearing fish, and camping out on Molokai," recalls Robinson, who like Macfarlane still lives in Hawaii. "Today, we play cribbage against each other and are fierce competitors."
"I beat him the last time we played," Macfarlane adds quickly.
A hunt for answers
A few years ago, Robinson received two birthday gifts: DNA tests from 23 and Me and Ancestry. He swabbed his cheek twice and sent in both samples. But he didn't fully share his data at the time.
Last year, at the urging of his daughters, Macfarlane also submitted DNA samples to both companies in the hopes of finding his biological father. The results, he said, were "sort of neat, telling you about 800 people you are related to." But nothing clicked until daughter Cindy took over and figured out how to sort the results to show the top matches.
"The strongest DNA relationship was Robi737, which the test said would be a half-brother," says Macfarlane-Flores. "My first thought is that they were related via the father. But when I looked at their X chromosome, which is only carried by the mother, it was an identical match. It hit me like a ton of bricks that they have the same mother!"
Reaching out to her parents, she quickly asked if they know anyone that might use a name like "Robi737." No, was the reply, but her mother, Martha, had an idea: "Have Dad ask Uncle Alan because he flew 737s for Aloha Airlines … and everyone called him Robby back then."