Story highlights
The storm has displaced more than 70,000 people in the southern Philippines
Tembin is the Philippines' second deadly tropical storm this month
A tropical storm that brought devastating flooding and landslides in the southern Philippines strengthened into a typhoon Sunday morning, according to the Philippine Atmospheric Geophysical Astronomical Services Administration.
Typhoon Tembin – known as Vinta in the Philippines – has killed at least 123 people, sweeping away residents and leaving communities buried in mud, authorities said.
After battering the southern island of Mindanao, Tembin slammed into another set of Philippine islands late Saturday.
At least 123 people have been killed and 159 are missing, Mina Marasigan, spokeswoman for the Philippine National Disaster Risk Reduction & Management Council said during a press briefing Sunday.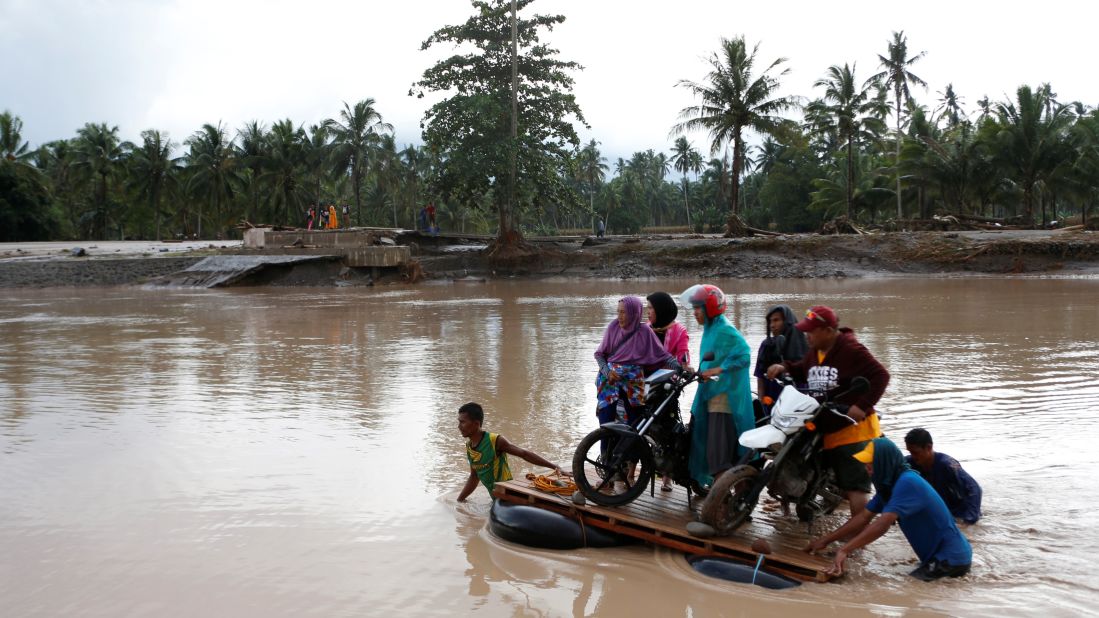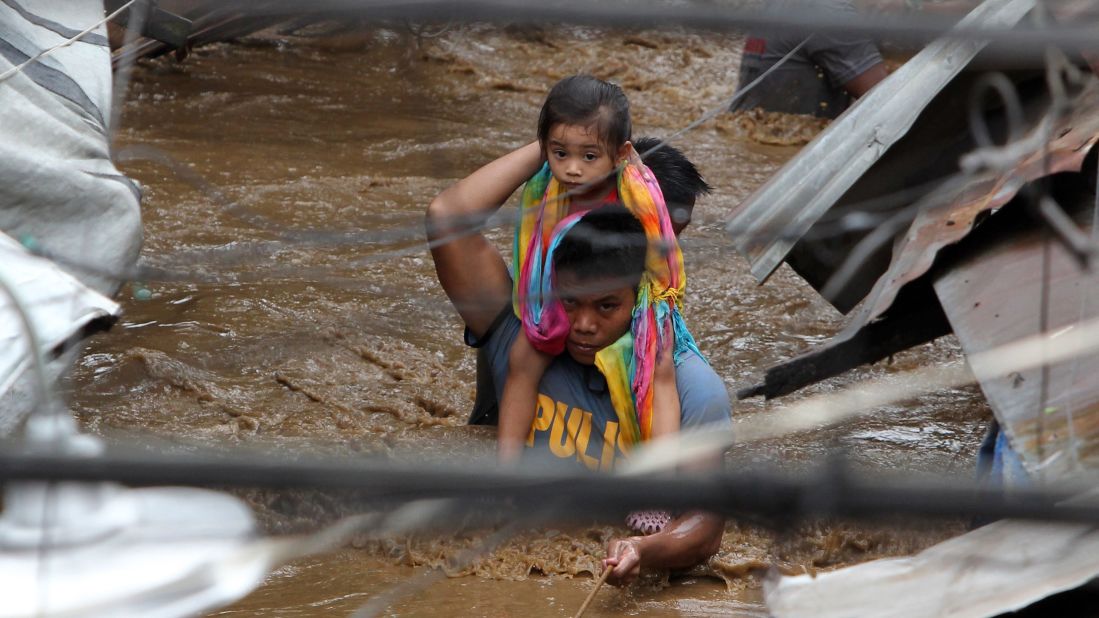 Philippines: Storm brings flooding, landslides
In addition to those killed, there are 159 people missing, spokeswoman Mina Marasigan of the Philippines' national disaster management agency said Sunday.
Earlier, the CEO of the Philippine Red Cross said on Twitter that 156 people have died since the storm hit Friday; the country's national disaster risk management council put the death toll at 75.
Tembin, also known as Vinta in the Philippines, made a second landfall Saturday night over Balabac Island, at the southern tip of Palawan province.
Forecasters warned residents to brace for high winds and heavy rain – conditions similar to those that devastated parts of Mindanao hours earlier.
Tembin initially struck Friday, dropping more than 140 millimeters (5.5 inches) of rain in some parts of Mindanao, overwhelming artificial dams and sending floodwaters from mountainous areas down to communities below.
The Mindanao province of Lanao del Norte was especially hard-hit. Video there showed people holding onto ropes Friday as they tried to cross a rushing, muddy river of floodwater that had crashed through a community.
Tembin is now approaching Ho Chi Minh City in Vietnam, CNN meteorologist Jennifer Varian said, and will reach the city within the next 24 to 36 hours. By that point, the storm will have weakened and will likely have been downgraded to a tropical storm.
Areas along the east coast of Vietnam through Ho Chi Minh City could see upwards of 100 mm (about 4 inches) of rain in the next two days, Varian said. From there, the storm will skirt the coast of Cambodia and move through Thailand and Myanmar.
The storm has displaced more than 70,000 people in the southern Philippines, 50,000 of which were staying in shelters, the International Federation of Red Cross and Red Crescent Societies said Saturday.
Philippine Red Cross CEO Richard Gordon said on Twitter that 291 people were missing and 86 were injured.
In a statement from his spokesman, United Nations Secretary-General António Guterres extended sympathies to families of the victims and offered UN support to Filipino authorities.
Burying the dead
Late Saturday, the center of the storm was heading west, roughly between Palawan and the Malaysian section of Borneo island, according to the Philippine Atmospheric Geophysical Astronomical Services Administration.
Tembin will bring moderate to heavy rain to Palawan province's southern end – a largely rural area with vast forests and palm oil plantations. Light to heavy rains also could continue to fall in the central and southern Philippines through Sunday.
The storm was packing maximum sustained winds of 105 kilometers per hour (65 mph) late Saturday.
Tembin is forecast to head out over the South China Sea, potentially getting close to Vietnam's southeastern coast by Monday.
Tembin is the Philippines' second deadly tropical storm this month. Last weekend, a storm known there as Urduja struck the central Visayas region, killing at least 27 people.
4-year-old among those killed
Most of the deaths resulting from Tembin on Mindanao were in Lanao del Norte province, with additional ones elsewhere on the island, including Payao and Lanao del Sur, CNN Philippines reported.
"(When) these artificial dams were not able to withstand the pressure anymore, flash floods came down from the mountains," said Mina Marasigan, spokeswoman for the Philippines National Disaster Risk Reduction and Management Council.
Carmen Golez, a teacher at Lala National High School, the biggest secondary school in the Lanao del Norte province, said she was thankful the storm hit when it did.
"We're still grateful that the tragedy happened at daytime because if it's happening at night there would probably be more casualties," Golez said.
The school's offices and classrooms were flooded, she added, and some properties were destroyed. Tembin, she said, had brought more destruction to the areas than storms in the past.
"We (have) experienced floods before but not like this," she told CNN. "Even old folks said that this is the first time that had happened in Lanao del Norte, particularly in the town of Lala."
Among the dead were a 4-year-old who was trapped in a landslide in Payao and a prisoner who was killed when the roof of a jail collapsed from strong winds and rains in Butuan City, CNN Philippines reported, citing the Philippine Red Cross.
Journalist Buena Bernal and CNN's Jason Hanna, Bijan Hosseini, Allison Chinchar, Stella Ko, Spencer Feingold and Euan McKirdy contributed to this report.