Story highlights
Australian PM Turnbull: Attack on Christmas shoppers a 'shocking, cowardly act'
Afghan refugee plowed car into crowd of pedestrians outside Melbourne's Flinders St station
(CNN) —
The driver of an SUV that plowed into a crowd of pedestrians in Melbourne has been released from hospital into police custody as officers investigate the motive for the attack.
The 32-year-old suspect was arrested Thursday after slamming a white SUV into a crowd of people on Flinders Street just before 5 p.m. local time, sending people flying into the air.
Nine of the 18 people injured were foreign nationals from South Korea, China, Italy, India, Venezuela, Ireland and New Zealand, Victoria Police said Friday. The youngest victim was a four-year-old South Korean boy who is now in a stable condition after suffering head injuries.
Three of the injured remain in a critical condition.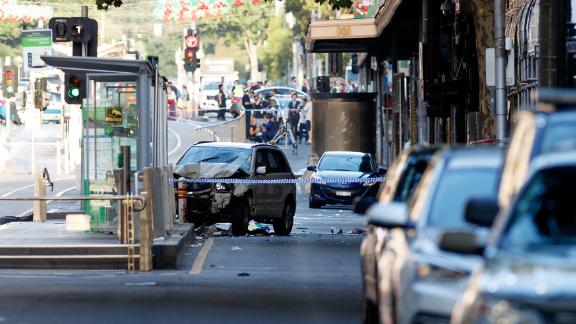 MARK PETERSON/AFP/AFP/Getty Images
Victoria Police said Thursday the incident was a "deliberate act" but said they hadn't established any link to terrorism.
Prime Minister Malcolm Turnbull on Friday called it a "despicable and cowardly act" and a "deeply shocking crime."
The suspect was an Australian citizen of Afghan descent, who had a history of mental illness and drug use. Turnbull said he arrived in Australia through a refugee program.
"He came to Australia as a refugee. He did not come with a people smuggler, he came through the appropriate refugee, the normal refugee, programs."
The Prime Minister also stressed that no link had been found between the suspect and any terror organization.
"I want to emphasize because investigations are continuing, apart from that statement, there are no known links to any political issues or any, certainly any links to extremist groups," he said.
Mental health issues
Victoria Police Shane Patton told the Australian Broadcasting Corporation Friday the man had been receiving treatment for a mental illness.
Patton said the man hadn't undergone psychiatric assessment or been formally interviewed, however officers had been able to speak to him informally in the hours after the attack.
"During those discussions he made some utterances in respect to a number of matters. He spoke of dreams and voices but also attributed some of his activities as well to the mistreatment of Muslims," Patton said.
"The significant flavor of what we're dealing with appears to be mental health, but nonetheless, given what he has said, we continue to explore, fully, all avenues," Patton said.
Police investigation
A Victoria Police spokeswoman told CNN police seized electronic equipment during two raids in connection with the incident.
The raids were carried out at addresses in the Melbourne suburbs of Heidelberg East and Oak Park and they found nothing to suggest any terror links.
"There was no evidence found of extremism," Victoria Police spokeswoman Alex Day said. "They may still be going through everything but there is currently no evidence that anything to do with extremism has been found."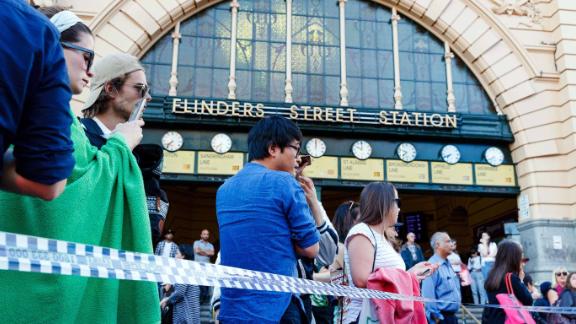 MARK PETERSON/AFP/Getty Images
A second man who was arrested at the scene has since been released. The 24-year-old man was seen filming the aftermath of the crash but had no connection to the incident, police said.
Thursday's incident comes almost one year after six people were killed when a car plowed into pedestrians along Melbourne's Bourke Street Mall in January, just a few streets north of Flinders Street station. Police said that incident was not terror-related.
CNN's Ben Westcott, James Griffiths and Yazhou Sun contributed to this report.