Steven Spielberg's new film "The Post" is many things.
It's the story of a woman navigating her role as a powerful leader in a male-dominated industry. It's a suspense-filled tale about commitment to the truth. It's a mirror in which, politically and otherwise, 1971 looks strikingly like the first cousin of 2017. It's what screenwriter Liz Hannah jokes is "the most gripping business school movie you'll ever watch."
But what it isn't, according to fellow screenwriter Josh Singer? A so-called "liberal movie."
That's because as Singer, already an Academy Award winner for penning "Spotlight," about the Boston Globe's efforts to expose decades of child sex abuse and systematic failure within the Catholic Church, thinks the documents at the center of "The Post" were damning on all sides.
"The [Pentagon] Papers were non partisan," he told CNN recently. "They were about a functioning democracy, and that's how we feel about the movie. I think a functioning democracy needs institutional journalism, needs a strong Fourth Estate to serve as a check on power."
This film, starring Meryl Streep as newspaper publisher Katherine Graham and Tom Hanks as editor Ben Bradlee, is a "reminder of that," said Singer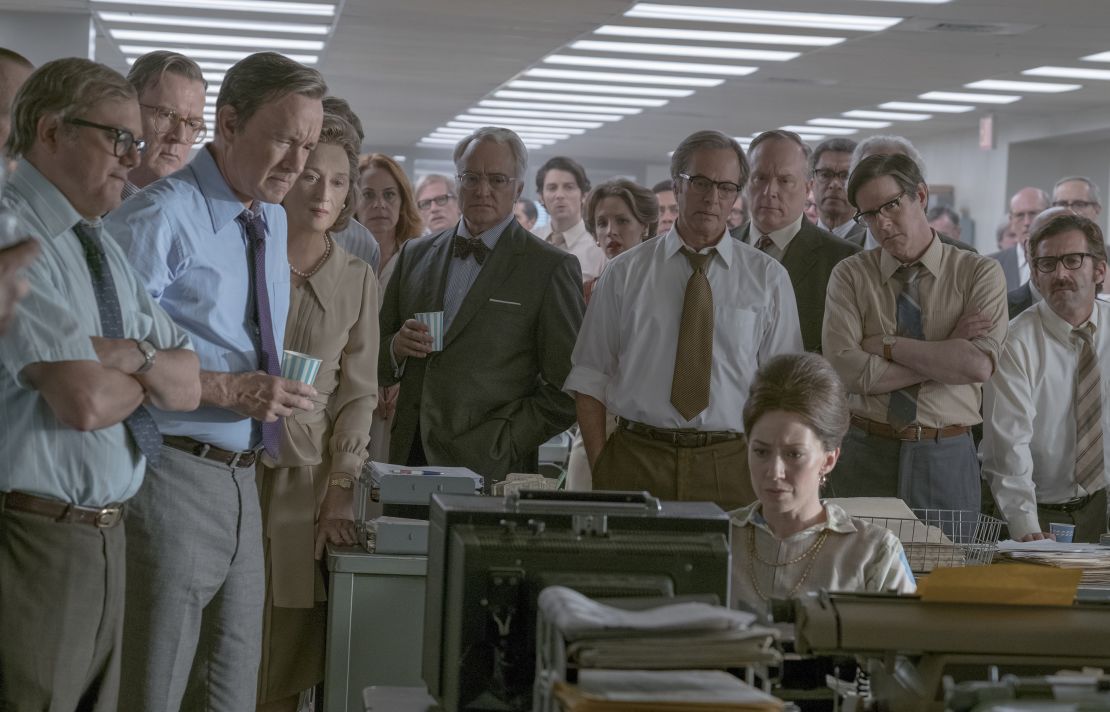 In some ways, "The Post" is a criticism of the media's failure in many respects, too.
"There was a much closer relationship and a trust between government and the press and this broke all of that," Singer said. "It was a bunch of people in the press looking at people who had been their friends and realizing those people lied to them, and realizing that the responsibility of the press is not to be friends with those in office but to hold those people accountable."
Hannah emphasizes, though, the movie is not a "condemnation of anything except the lies that four different presidents told and the lies that led to many, many, many American soldiers dying."
"It's about the truth," she said.
"The Post" started a labor of love by Hannah. An admirer of Graham, Hannah wrote the first iteration of the script in summer of 2016, having no idea if it would be purchased.
Not only would it serendipitously land on the desk of producer and former Sony film executive Amy Pascal, who bought the script 10 days before the 2016 presidential election, but her idea would turn into a high-speed train with Spielberg as conductor.
Spielberg has made it no secret that the rush to make "The Post" – he first read the script a little more than nine months ago – was fueled by his desire to release the film in a time when the smorgasbord of relevant themes would best resonate.
For Hannah, however, Graham's story is one that's evergreen.
"The story of a woman finding her voice and the story of a woman in a male-dominated industry and being the only woman at the table, that's relevant in 1971, that's relevant in 1985, and obviously it's relevant in any decade or year," she said.
It's hard for it not to feel especially so this year, however, as Hollywood continues to reel from a string of sexual misconduct allegations that have had a ripple effect, shattering years of silence over the issue and resulting in the public downfall of many high-powered entertainment figures.
Hannah and Singer call the reckoning a long-time coming, and the moment has shed a fresh light on their roles as creative voices.
"I think it's the responsibility of art and artists to reflect on the current climate, to reflect on what we're going through in the world because we have such amazing opportunities to reach so many people and so many groups of people," she said. "And we need to take that responsibility seriously and try to inspire some of these conversations."