Story highlights
From Xbox to Playstation, these are the best-selling video game consoles you can shop right now on Best Buy.
The video game console market is a challenge to navigate, especially for beginners. There's the Xbox One X, Nintendo Switch, Sony PlayStation, Nintendo 2DS — and that's just the tip of the iceberg.
For those not so familiar with video game consoles, there are a number of resources, starting with the best-seller lists from top electronics retailers, including Best Buy.
Best Buy has released its list of the top consoles to shop. It includes a number of Nintendo, Microsoft and Sony devices, as well as some limited edition consoles that customers absolutely love. These make the perfect gift for gamers, especially with the holiday season fast approaching.
Ahead, we've listed some of these top-selling devices you can shop right now.
Note: The prices below reflect the retailer's listed price at time of purchase.
Sony PlayStation 4 1TB Limited Edition Call of Duty: WWII Console Bundle ($299.99; bestbuy.com)
Best Buy
Microsoft Xbox One S 500GB Madden NFL 18 Bundle with 4K Ultra HD Blu-Ray ($229.99; bestbuy.com)
Best Buy
Sony PlayStation 4 Pro Console (399.99; bestbuy.com)
Best Buy
Sony PlayStation 4 1TB Console ($199.99; bestbuy.com)
Best Buy
Microsoft Xbox One S 500GB Forza Horizon 3 Hot Wheels Console Bundle ($229.99; bestbuy.com)
Best Buy
Nintendo New Galaxy Style New Nintendo 3DS XL ($199.99; bestbuy.com)
Best Buy
Microsoft Xbox One S 1TB Assassin's Creed Origins Bonus Bundle with 4K Ultra HD Blu-ray ($299.99; bestbuy.com)
Best Buy
Sony PlayStation 4 Pro 1TB Limited Edition Star Wars Battlefront II Console Bundle ($449.99; bestbuy.com)
Best Buy
Sony PlayStation 4 1TB Star Wars Battlefront II Console Bundle ($299.99; bestbuy.com)
Best Buy
Nintendo 2DS with New Super Mario Bros 2 ($79.99; bestbuy.com)
Best Buy
Nintendo 3DS XL ($199.99; bestbuy.com)
Best Buy
Nintendo 2DS XL Poke Ball Edition ($159.99; bestbuy.com)
Best Buy
Microsoft Xbox One S 500GB Console with 4K Ultra HD Blu-ray ($229.99; bestbuy.com)
Best Buy
Nintendo 2DS XL ($149.99; bestbuy.com)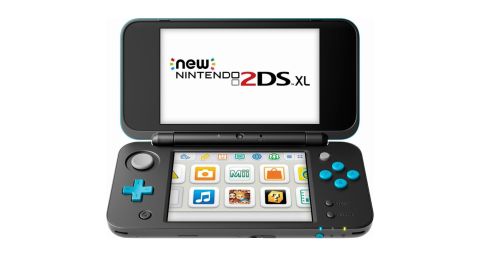 Best Buy
Nintendo 2DS Electric Blue 2 with Mario Kart 7 ($79.99; bestbuy.com)
Best Buy