Aaron Sorkin has told stories about presidents, dedicated news people and some of modern history's greatest technology innovators.
Molly Bloom, an Olympic-hopeful turned high-stakes poker maven, is none of those. But she is person with "a romantic and idealistic sense of integrity and character," and in that, Sorkin saw the opportunity to bring to the big screen "a unique movie heroine that we hadn't seen before."
"It was an irresistible story to me and I badly wanted to write it," Sorkin told CNN in a recent interview.
In "Molly's Game," Sorkin tracks the real-life story of Bloom, who at the start of the movie has fallen far from grace and is in big legal trouble, having been arrested for her role in a gambling ring.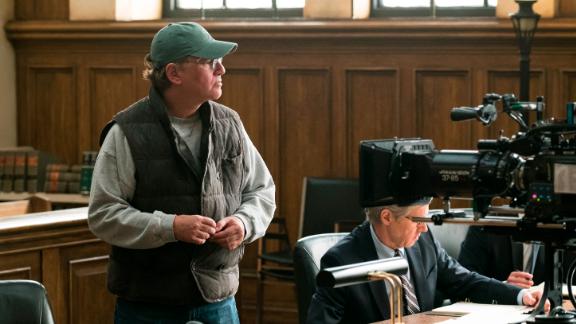 Michael Gibson/Courtesy of STXfilms
What unfolds is a story about a woman who seizes power in a world dominated by wealthy and powerful men and fights the patriarchy in all aspects of her life, according to Jessica Chastain, who plays Bloom in the film. From her complicated relationship with her controlling father, to her battle with the government, "she's trying to navigate how to survive in some way," Chastain told CNN.
"I find it very current, very timely, not just in Hollywood but in all industries," she said.
For Sorkin, who marks his directorial debut with the film, the challenge of writing the script was ignoring the "natural gravitational pull toward the shiny objects in the movie" – the glamor of high-stakes gambling, the money, the sex, the celebrities.
Though some of the characters in the film can be speculatively matched with their real-life counterparts, Sorkin chose not to emphasize that aspect.
"I said yes to directing it because I wanted to be sure that that initial feeling that I had after meeting [the real] Molly, the reason why I wanted to write it in the first place, the more emotional version of the story in which all those shiny objects, were simply the backdrop against which the story was set," he said. "I wanted to do everything I could to ensure that that happened."
The result is a film that is in contention for Oscar accolades.
Sorkin, meanwhile, was merely happy to have gotten through his first time pulling writer/director duty on a film with a result that may subvert expectations.
"I think people are going to be surprised that at the end of the movie you feel something that you are that you're actually uplifted by a movie that was about a woman runs a poker game," he said.
"Molly's Game" opens in theaters December 25.