Story highlights
Safety advocates have pushed for PTC for decades, but efforts have stalled over its cost
PTC installed but not operational yet on segment of tracks where train derailed
The Amtrak passenger train didn't have a safety technology called the positive train control activated at the time it derailed in Washington state, said Richard Anderson, the rail service's president and co-CEO.
Positive train control, or PTC, can automatically slow down and stop a train if it senses the locomotive is going too fast or could get into an accident. The Federal Railroad Administration has called the system the "single-most important rail safety development in more than a century."
Monday's train derailment killed at least three people and injured more than 100 others on a new route between Seattle and Portland, Oregon. The train was traveling 80 mph in a 30-mph zone, a National Transportation Safety Board member said. The crash again raises the question that has surfaced after other fatal rail disasters: Why isn't PTC used throughout all US rails?
For decades now, railroad safety experts have pushed for it, and Congress passed a law mandating it in 2008. But here's why that hasn't happened yet.
How does positive train control work?
It's a system that combines GPS, wireless radio and computers to monitor trains and stop them from colliding, derailing or speeding.
"We consider it an angel on our shoulders out there on the track, and it's our backup and our safety net," said John Hyatt, a former railroad engineer.
PTC was designed to prevent the human errors behind roughly 40% of train accidents by ensuring that it's being operated in accordance with signals, speed limits or other rules, rail safety experts say. It's an integrated system using tracks and train.
For example, if a train engineer doesn't see a curve coming or a spot where the train is supposed to slow down, signals are sent to the train and "it will begin applying the brakes on the train to get it down to that speed which is required, or stopping the train," Hyatt told CNN.
The NTSB has recommended the use of PTC for decades.
Why wasn't PTC activated?
PTC was installed on the segment of tracks where the Amtrak Cascades 501 derailed, but it wasn't operational yet, said Geoff Patrick, spokesman for Sound Transit, which owns the tracks where the derailment occurred.
The technology needs to be installed in trains as well, because a computer system knits both the car and tracks together, he said. The target date for having the PTC up and running for the segment of the track involved in Monday's derailment had been the second quarter of 2018.
Amtrak has equipped 49% of its locomotives and 67% of its tracks with PTC, according to Federal Railroad Administration data from the second quarter of 2017.
Why isn't PTC mandated throughout US?
Railroad companies have until the end of 2018 and possibly two more years afterward to implement PTC.
Advocacy for PTC has gone on for decades, but efforts have stalled over the costs.
In response to a 2008 head-on collision that killed 25 people near Los Angeles, Congress passed a law ordering the nation's railroads to adopt PTC by December 2015.
The railroad industry has opposed PTC because of its high cost and technological issues.
As 2015 came to a close, several railroad companies threatened to shut down services unless Congress gave them more time, maintaining the deadline wasn't realistic given the complex technology.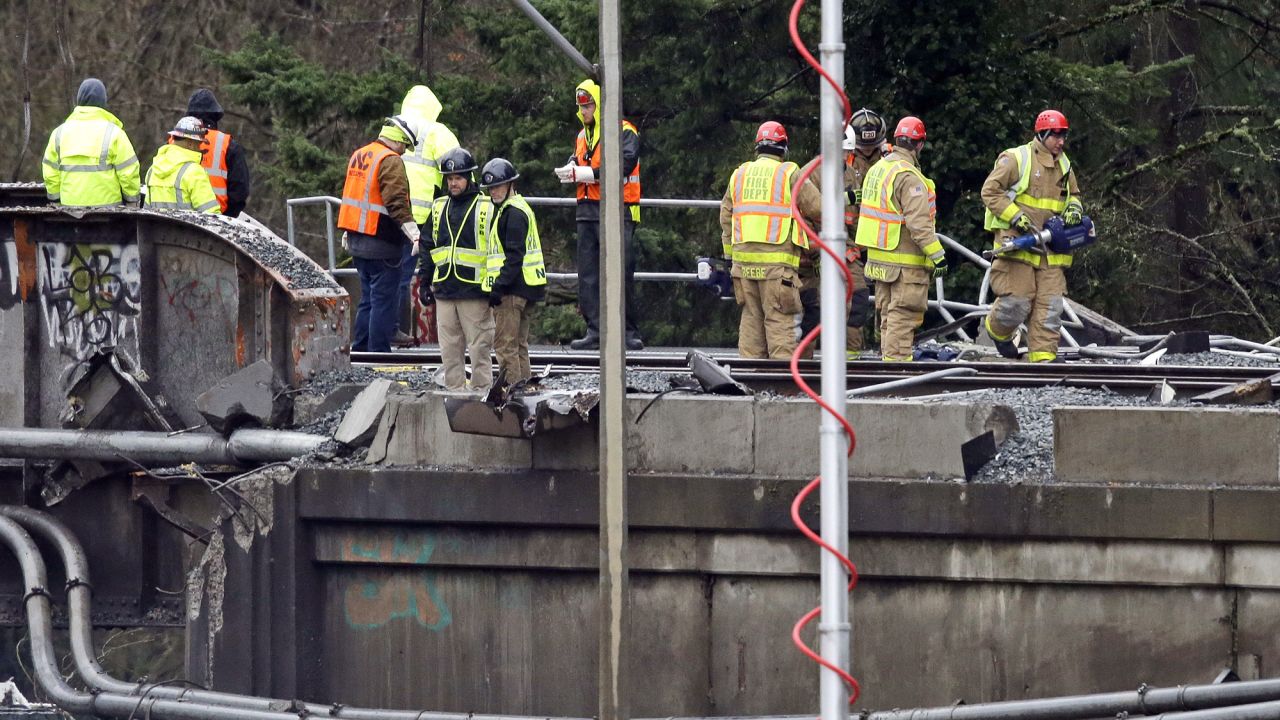 Amtrak train derails over interstate
So Congress extended the deadline, giving companies until December 31, 2018, with extensions up to 2020 if certain requirements are met. The delay left some safety advocates fuming.
"The reason why they've been given so many extensions has been money," said Mary Schiavo, a CNN analyst and a former Department of Transportation inspector general. "It is expensive to put it on tracks all over the country."
The Association of American Railroads estimated that freight railroads had spent $8 billion and passenger railroads $3.5 billion to meet the PTC mandate, as of March 2017.
Could PTC have prevented this derailment?
That remains to be seen as the investigation gets underway.
"PTC would prevent types of accidents such as this," said T. Bella Dinh-Zarr, NTSB board member. "Whether it will prevent this accident remains to be seen. We should remember that PTC can't prevent every accident. It does prevent certain types of derailments, overspeed accidents as well as incursions into work zones, for example."
PTC can't prevent accidents if there's trespassing onto the tracks or if a car moves through a railroad crossing, according to the Association of American Railroads.
Is there an example where it is known to have averted accident?
Since positive train control is not widely used, it's hard to say. But the NTSB has said that positive train control technology could have prevented numerous railroad accidents that involved human error.
The agency has given the example of the December 1, 2013, Metro-North commuter train derailment in the Bronx, New York, in which four people were killed and dozens injured. The engineer had fallen asleep and failed to slow the train from more than 82 mph to the maximum authorized speed of 30 mph as it entered a curve, the NTSB said.
In 2015, an Amtrak train in Philadelphia derailed after it hit a curve at 106 mph in a 80-mph zone. The wreck killed eight people and injured more than 200 others. NTSB board member Robert Sumwalt said then that the derailment would not have happened if PTC had been in place.
CNN's Javier de Diego, Natasha Chen, Catherine E. Shoichet and Ray Sanchez contributed to this report.