Story highlights
Trump privately seems less frustrated about the investigation
President tells friends and advisers that he expects Mueller to soon clear him of wrongdoing
There's no indication that the probe is in its final stages
(CNN) —
President Donald Trump is privately striking a less agitated tone on the Russia investigation, sources say, even insisting he'll soon be cleared in writing. But his new approach has some allies worried he's not taking the threat of the probe seriously enough.
Trump has spent much of his first year in office so enraged by the federal investigation into Russian meddling in last year's election that lawmakers who work with him tried to avoid the issue entirely and his friends worried that Trump might rashly fire the special counsel. But in recent weeks, Trump has privately seemed less frustrated about the investigation, according to multiple sources who have spoken with the President.
There's no indication from special counsel Robert Mueller or his team that the probe is in its final stages. A tipping point in the showdown could come as soon as this week when Trump's private lawyers and Mueller meet, sources familiar with the matter told CNN. Trump's team is hoping to get a clearer sense of Mueller's next steps in the investigation, an assessment that could either pacify Trump or inflame him.
Until those next signs emerge, Trump is boasting to friends and advisers that he expects Mueller to clear him of wrongdoing in the coming weeks, according to sources familiar with the conversations. The President seems so convinced of his impending exoneration that he is telling associates Mueller will soon write a letter clearing him that Trump can brandish to Washington and the world in a bid to finally emerge from the cloud of suspicion that has loomed over the first chapter of his presidency, the sources said.
This account of how Trump and his senior staffers are privately grappling with the Russia investigation is based on interviews over the past week with nearly three dozen White House officials, lawmakers, outside advisers, friends of the President and sources familiar with the Mueller probe. It depicts a president genuinely convinced of his innocence and advisers preparing for him to explode early next year if the probe doesn't end as neatly as Trump expects.
In private conversations, Trump still speaks dismissively of the Russia investigation, referring to it as "bulls—" and proclaiming "I don't know any Russians!" multiple sources told CNN.
But those outbursts are measured against Trump's belief that the investigation will soon wrap up favorably. That rosy picture has buoyed Trump's spirits in recent weeks, leaving him seemingly less frustrated and more even-keeled about the investigation even as Mueller's team landed a guilty plea and the cooperation of one of the President's former top advisers, retired Lt. Gen. Michael Flynn.
"The President's mantra is 'All this Russia stuff, it's all going to wrap up soon.' He repeats it as fact," said one source who speaks to Trump. "Part of me is like – 'Are you serious? You believe this?'"
The President, speaking to reporters at the White House Sunday evening, insisted he wasn't considering firing Mueller. But the pressure on Mueller from Trump's allies is growing. Treasury Secretary Steve Mnuchin told CNN's Jake Tapper Sunday on "State of the Union" that "we've got to get past this investigation."
"It's a giant distraction," he said. "Nobody has said that, in any way, this impacted the outcome of the election."
Meanwhile, lawyers representing the Trump presidential transition wrote to members of Congress accusing Mueller of obtaining unauthorized access to tens of thousands of transition emails, including what they claim to be documents protected by attorney-client privilege. Mueller's spokesman responded that, "When we have obtained emails in the course of our ongoing investigation, we have secured either the account owner's consent or appropriate criminal process."
Worrying about the deadline
Trump's legal team has told the President he will likely be cleared of wrongdoing in the coming months, according to a senior White House official and sources who have spoken with Trump. That optimism has left some of the President's friends and advisers worried the deadline could come and go, leaving Trump frustrated and more prone to rash behavior than ever before, including potentially firing Mueller. A number of Trump's allies have warned him that any attempt to fire Mueller could be a fatal blow to his presidency.
Three sources familiar with the President's recent conversations about the investigation said Trump has become convinced that he will receive a letter of exoneration, which would be unusual. One source worried Trump would have a "meltdown" if that doesn't happen.
"He'll try and fire Mueller and then be impeached," this person predicted.
White House special counsel Ty Cobb and Trump's personal lawyer, John Dowd, are trying to prevent Trump from lashing out over the investigation, said a source who speaks with the President. "What they are trying to do is manage Trump. That's what everyone tries to do."
But a longtime friend of the President's said he believes Trump's attorneys have "lulled him into a false sense of security" – which could be a dangerous game.
"I've known him long enough to know that disappointing him is a problem and they've built up a level of expectations for him that are unrealistic," the Trump friend said.
The assessment by the President's lawyers cuts against the grain of legal experts who believe the Mueller investigation is only ramping up, with Flynn's guilty plea and his agreement to cooperate with investigators signaling that Mueller is chasing even bigger fish. Lawyers for others involved in the investigation are also skeptical that Mueller is close to wrapping up his work.
Cobb insists the investigation is winding down and has said he expects the part of the probe that is scrutinizing the President and the White House will come to a close early next year.
"The special counsel has had the White House documents for some time now and has concluded all requested White House interviews. The President is confident based on the lack of evidence of any wrongdoing that he'll be treated appropriately by the special counsel and ideally in the near future," Cobb told CNN Sunday, though he acknowledged Mueller could request additional interviews with White House staff.
Cobb declined to speculate on how the President would be publicly exonerated. He said he and the President had never discussed a letter of exoneration and said he had "no idea" where Trump got the idea.
Privately, Cobb has sought to assuage Trump and White House staffers by touting his connections to Mueller and members of his team, whom he has known in Washington for years, sources familiar with the matter said. He also cites his familiarity with the thousands of documents the White House has provided to Mueller's investigators, the sources said.
But Cobb's timeline predicting the end of Mueller's focus on the White House has repeatedly shifted. First, he said the investigation would end by Thanksgiving. Then, he said it would wrap up by the end of the year. Now, he's predicting early next year.
Mark Corallo, a former spokesman for the President's legal team, said he doubts Mueller would deliver a letter exonerating Trump before he has fully wrapped up his investigation. But he said pressure is mounting for Mueller to conclude his investigation as a result of reports that several members of his investigative team (who have since been taken off the investigation) have privately expressed anti-Trump sentiments.
"If you're Mueller and you want to have any shred of credibility, you have to find a way" to bring the investigation to a close, Corallo said. "If you reach the conclusion that the President of the United States doesn't have anything to do with this…he's going to have to find some way to make that public. We're at that point now."
One senior White House official insisted that even if Cobb's timeline doesn't pan out, he has provided the necessary reassurance of a "light at the end of the tunnel" in a White House where the investigation sometimes seems to loom endlessly and where the President's mood has been affected by its topsy-turvy nature.
"If it's not totally on that timeline, do I think there's going to be a problem? No. I think that people are realistic that things change, stuff happens," the senior White House official said. "You cross that bridge when you get to it."
'Morale-crushing' investigation
While Cobb's words have reassured some White House officials who have become wrapped up in the investigation, many staffers continue to work under the assumption that the probe is intensifying, five sources close to the White House said.
The Russia investigation has become the backdrop for day-to-day life at the White House.
Officials insist it doesn't disrupt their work days, although the latest Russia developments and the President's own Twitter musings often send some in the communications shop scrambling to respond. But sources acknowledged the constant clamor of the investigation – and wall-to-wall media coverage – has weighed on the mood in the West Wing.
"The commotion around the investigation is morale-crushing to everybody," said one source familiar with the situation.
Senior staffers have borne the brunt of the anxiety. Many have hired lawyers and worked with them at length to prepare for their interviews with the special counsel's team.
Hope Hicks, the White House communications director and one of Trump's closest aides, missed several days of work in order to meet with her lawyer to prepare for her interview, two sources said.
"I feel for these White House staffers that are caught up in these interviews because it's nerve-wracking," said Scott Jennings, who found himself embroiled in a special counsel investigation during his tenure as deputy director of political affairs under President George W. Bush. "The thing that nobody really knows, having really lived through one of these, is just how much of a toll this can take on staff in terms of stress, anxiety, personal legal bills."
For now at least, White House staffers are paying their legal fees out of their own pockets, a significant expense for government employees.
One source who has spoken with the President said he seems to be unaware of the anxiety among staffers. "Everybody needs a pat on the back, some reassurances that the President is loyal to them, and he just doesn't do that well," the source said.
As the investigation creeps toward 2018, White House officials and former campaign aides remain adamant that there was no coordination or collusion between Trump's presidential campaign and Russian officials.
Some White House staffers have taken to dismissing the investigation as "fake news" and using it as grist for gallows humor.
"You getting nervous?" staffers would quip to former Trump campaign hands working in the White House.
Sarah Sanders, the White House press secretary, said the special counsel's investigation hasn't been a distraction.
"We have not missed a step, struggled to get our work done or been distracted," she said in a statement to CNN. "We have been focused on growing the economy, passing massive tax cuts, defeating ISIS, cutting regulations at a record pace and creating millions of jobs."
Trump's shift from angry to calm
While Trump may have temporarily adopted a more serene view of the special counsel's investigation, he remains irritated by the ongoing Russia investigations playing out on Capitol Hill. He has pressed some lawmakers for details about the status of the congressional probes.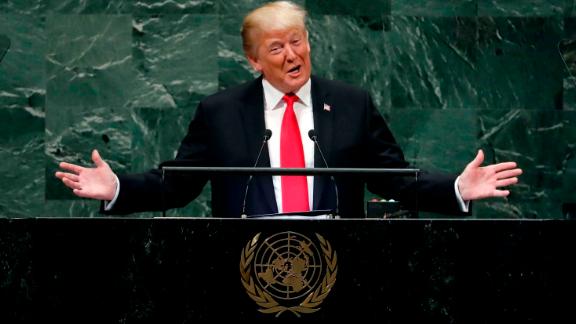 Now playing
02:17
Trump claim to world leaders met with laughter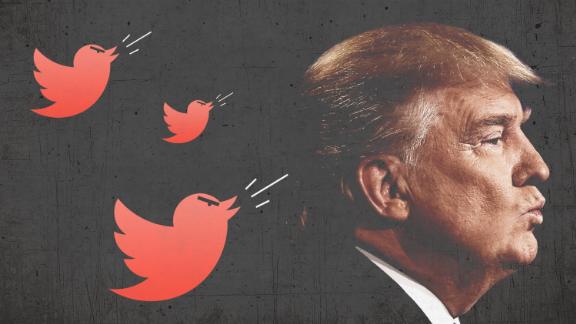 Now playing
06:22
How Trump's tweet sparked #WhyIDidntReport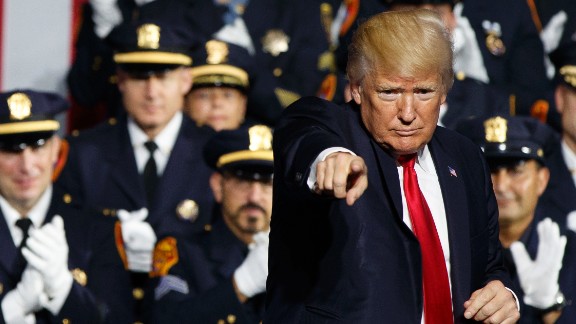 Now playing
01:46
Trump's I'm-joking-but-not-really strategy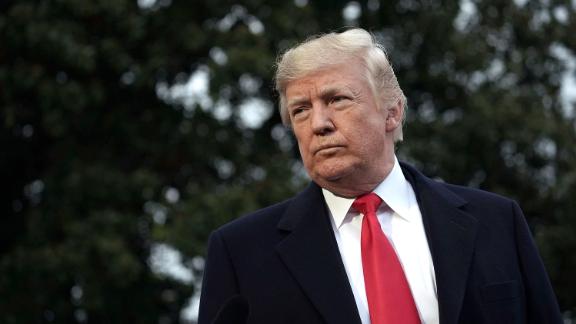 Now playing
01:20
Trump often says he's 'the least racist person'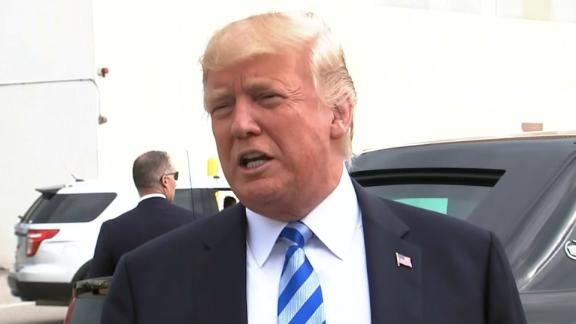 Now playing
01:00
Trump on Manafort: I feel sad about that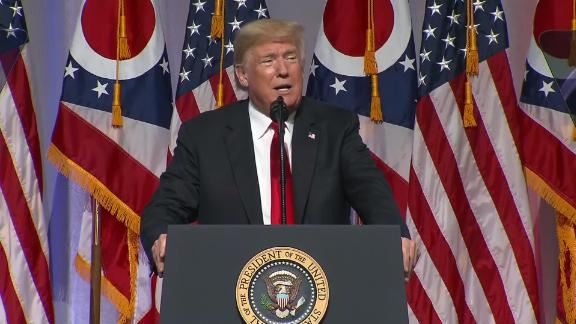 Now playing
01:22
Trump on Cordray: He was groomed by 'Pocahontas'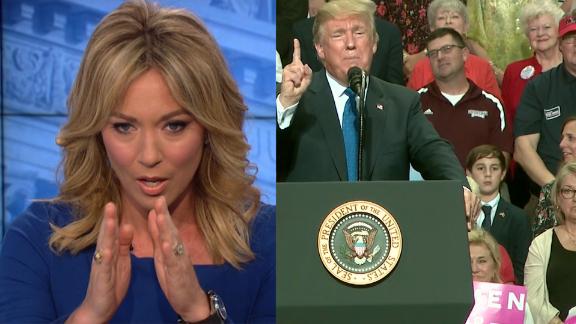 Now playing
05:58
Baldwin: This face behind Trump startled me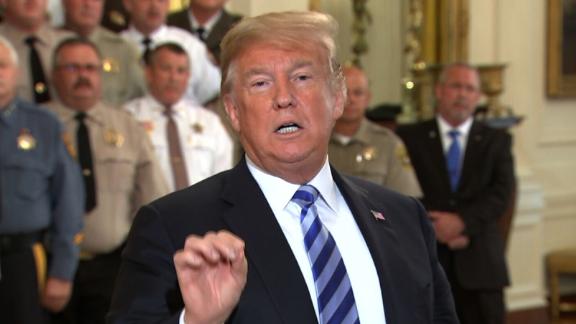 Now playing
02:01
Trump responds to op-ed: 'Gutless'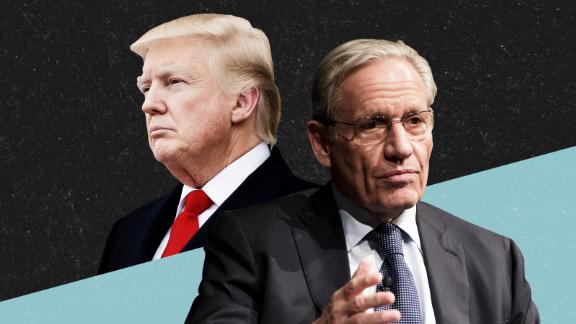 Now playing
03:18
Why Woodward's book matters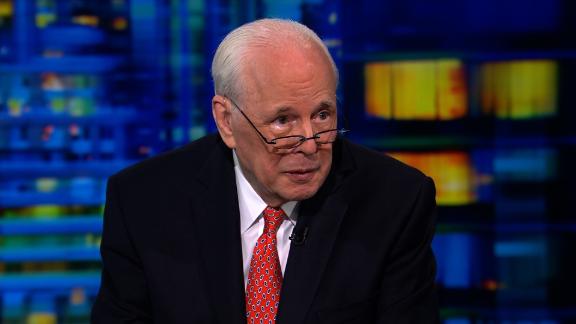 Now playing
01:13
Dean: Trump acts 'frighteningly dictatorial'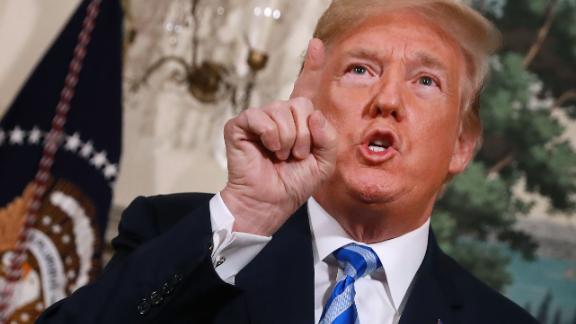 Now playing
02:31
Woodward book reveals 'crazytown' White House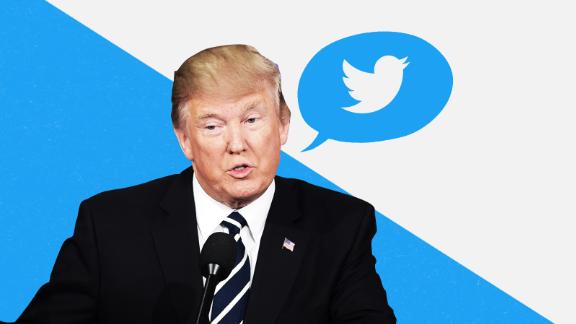 Now playing
03:03
Trump's latest Twitter tirade lashes at media