Story highlights
Current US kids least active generation ever
Former Team USA judoka helping get kids playing sport
The current generation of US children is the least active in American history.
Only one in three kids are now physically active every day, while the average child now spends more than seven and a half hours a day in front of a screen.
Several factors, including the increased cost of participating in sport and children turning to tablets and video games, are thought to be contributing – but one former elite judoka is throwing her heart and soul into bucking that trend.
Toni Geiger, a Team USA athlete at the 2010 and 2011 World Championships, is using the life lessons and "moral code" her sport taught her to educate a younger generation.
"More children are leaving sport than ever before," she tells CNN's Judo World.
"Our mission is to inspire as many children as humanly possible to believe in themselves through sport and physical activity."
READ: UAE officials apologize to Israel judo team following handshake snub
READ: Judo provides light for visually impaired athlete
One of the many places Geiger coaches at is Palisades Country Day School in New Jersey, teaching kids not only how to exercise but making them believe in themselves, too.
"I want you to say: 'I did do it,'" she encourages, punching her first into the air. In unison, the kids copy her.
The Olympic and Paralympic judo brothers
"I love judo so much," she says. "I love everything it has done for me. I was a preschool teacher and director of schools, so I understand their expectations of when they get to kindergarten.
READ: Rio pain spurs on judoka Soichi Hashimoto
READ: A guide to judo, 'the gentle way'
"Their physical fitness, the social and emotional development. So I took the life lessons from judo, along with judo's moral code, and designed a program specifically for children."
Judo is an anaerobic sport, meaning it provides both strength and cardiovascular training, and Geiger believes the values of her sport – respect and confidence – translate into real life situations.
"There's nothing I've faced in real life that was as intense or as intimidating as a woman standing across from me wanting to either put me to sleep or smash me into the ground," she says.
"There an inner warrior inside of me … I cannot escape that feeling. I want to win at everything I do and judo taught me how to turn losses into wins – and that's very beneficial to children and their development."
eSports
Anton Geesink: The man who changed judo
Less than half of children aged between six and 12 are currently getting the minimum recommended daily amount of exercise – 60 minutes of moderate activity – and are instead choosing to pick up mobile devices and video game controllers.
Geiger believes the eSport industry is gaining an advantage by doing something nobody in the sports industry is – listening to its customers.
"They're asking kids: 'What do you want? What do you like?'" she says. "And they're building their product directly around what children want – that's why they're getting so much return on investment from children wanting to engage in eSports.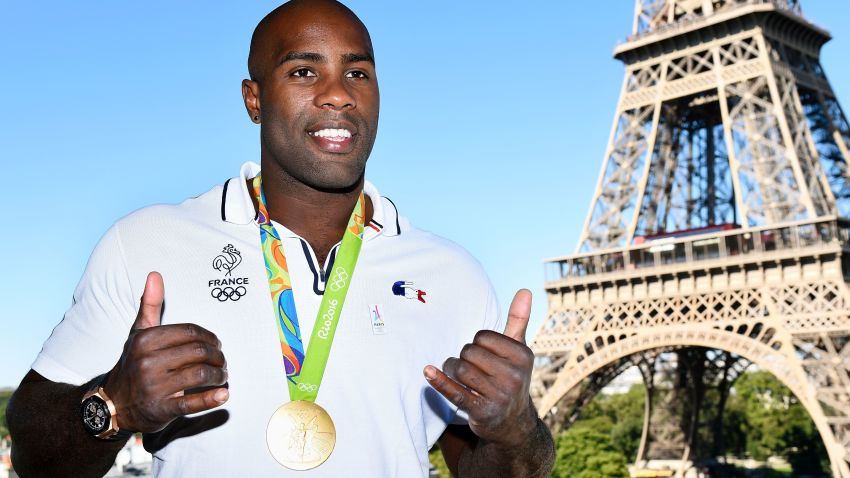 Teddy Riner: The greatest judoka of all-time?
"Nine out of 10 kids say fun is the main reason for participating in sports. So if 9/10 kids say it's fun, that's the reason we play sports, but the sport industry itself is not making it fun at a very young age."
Instead of just focusing on ensuring the kids enjoy participating in sport, Geiger says the current US sporting system is too heavily invested in elitism.
The fewer kids participating in sport because they no longer find it fun, the smaller the pool elite US federations will eventually have to chose from.
"We have a model that focuses on winning at a very young age and that's the least important thing for children in their mind when they're playing sports," she says.
Geiger calls is a "bad, broken" model and says that kids as young as seven are being dropped from teams, being forced to commit to one sport or pressured by parents to obtain scholarships.
She again returns to the three fundamentals of sport for kids – "social, emotional and physical development" – and the current system fails to tick any of those boxes.
Judo and nutrition
Sarah Asahina: Japan's rising judo star
Geiger's project, ChampFusion, aims to bring judo to kids in schools through after-school programs or winter camps.
Such was the success of her first year – Geiger's project reached 600 pupils – she is now expanding to create three judo academies, set to launch on February 1.
The kids, it seems, can't get enough.
"In one year we went from kids not knowing what judo is to opening three judo schools in three of their different centers," she says.
"They enjoyed it and they want more!"
Japan: Welcome to the home of judo
Geiger's role isn't restricted to the tatami either, she also works alongside schools to ensure they are providing kids with the correct nutrition, swapping canteen chips for fruit and veg.
She recognizes that tackling childhood obesity and inactivity will take a collective effort between schools, industries and communities – but she can do her bit by educating parents, staff and, of course, the kids.
"A little boy said to me: 'Toni, I love you so much I'm going to bring you a pop tart next week,'" she recalls. "I said thanks for the thought, but I'd rather have fruit!"