(CNN) —
2017 has been a turbulent and trying year for women.
Beginning with the inauguration of Donald Trump, the year saw an escalation of the Republican Party's attacks on women, including efforts to defund Planned Parenthood, undermine women's legal and reproductive rights and slash essential health benefits.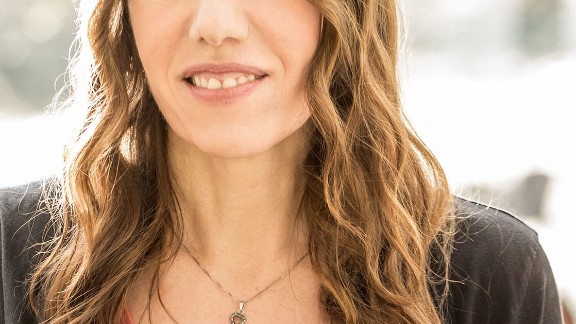 Franco Vogt
There were also threats to issues women care about: protections for children, civil rights and the environment, just to name a few. And then came the explosive epidemic of reports of sexual harassment and assault, exposing just how pervasive this problem is for women in all sectors of society.
With all that has happened, it's been hard for many women – and men – not to feel overwhelmed and discouraged.
And yet… there is an upside: women are rising.
In response to these attempts to diminish our power and silence our voices, women are harnessing their outrage. They are more engaged, energized and resolute than ever. Issues that were long ignored are finally coming to the surface, and women are beginning to speak up and use their voices and influence to demand real change.
As New York Sen. Kirsten Gillibrand, founder of Off the Sidelines, put it to me: "One of the only silver linings of the Trump presidency is that more and more women are feeling emboldened to raise their voices and fight for the issues that matter most to them, from sexual harassment in the workplace to paid leave. We saw that with the Women's March, and we saw it again on Election Day last month, when women all over the country got off the sidelines, ran for office, and won." (Editor's note: the author's daughter has interned for the senator.)
This fire now burning in women explains why, even after such a rough year, we have reason to hope. I'd like to offer these reasons to be optimistic about what 2018 has in store – to remind us that we are living in a watershed moment in our history, one we can broaden and deepen. A transformative moment.
1. Women everywhere are rising up, taking the women's movement into the mainstream. Women are protesting, marching, organizing and building power. From the millions who joined the Women's March to the survivors who have bravely come forward with their stories of sexual harassment and assault, to the millions participating in the #MeToo movement, it's become clear that women are not going to stay silent anymore. And these "silence breakers" – named as Time magazine's "Person of the Year" – are not only speaking out, but are being heard.
The "women's movement" has been swept into the mainstream and become more diverse, and social media has become increasingly effective at mobilizing younger generations of women and girls.
At the same time, men are becoming more vocal and aware of gender issues and finding ways to be active as allies. And, this week, the word "feminism" was named as Merriam-Webster's word of the year: It was the year's most-searched word on the dictionary's website.
As California Congresswoman Maxine Waters, who has been one of the most outspoken advocates of this new "resistance" told me, "When I spoke at the historic Women's March in January, I was extremely inspired and encouraged. Following the election of Donald Trump – a man who had defined himself as having no respect for women and who was prepared to use his office to turn back the clock on the progress that had been achieved by the women's movement, the civil rights movement, and the LGBTQ movement – a very diverse group of women organized the Women's March, which brought together thousands of women from all ages, ethnicities, religions, and walks of life, who showed up and gained the type of attention for our concerns that we haven't seen in many years.
She continued: "Since the march, I have been very pleased by the leadership and participation of younger generations of women, particularly the millennials, who are continuing what was started in January and are running for office at record levels, organizing their communities, and, as we have seen with #MeToo, are boldly speaking truth to power in order to fight for the change we so desperately need in this country. This is what the 'resistance' is all about, and these signs help me continue to be hopeful during this very tumultuous and chaotic period in our country."
2. Women's political power is growing. Women are running for office in record numbers, there has been a dramatic increase of women donors funding campaigns, and more and more strong women leaders are emerging. Parity for women in politics is being rightfully reframed as an essential component of a reflective democracy, and the need for women's input and voices in government has never been more clear.
Emily's List, an organization devoted to electing female candidates, has reported a huge surge in women interested in running for office, with more than 22,000 women contacting the organization since Trump was elected. Other groups offering training programs for women report similar increases and also note the trends of a more diverse and younger cohort of women candidates.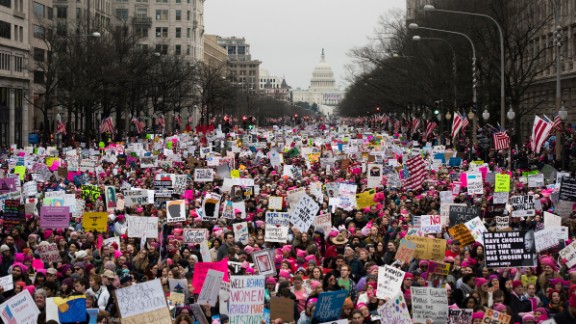 Photos: Women's March on Washington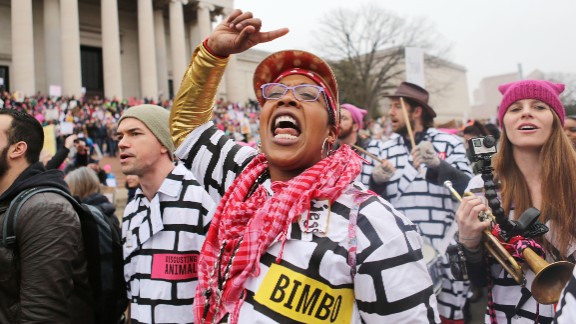 Photos: Women's March on Washington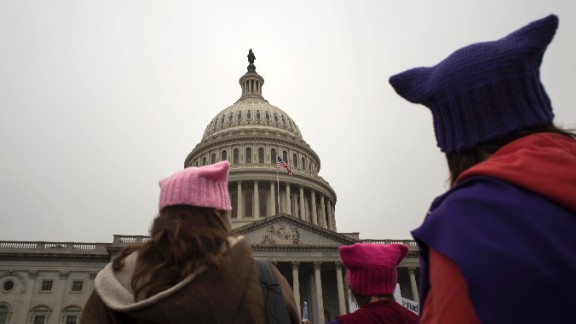 Photos: Women's March on Washington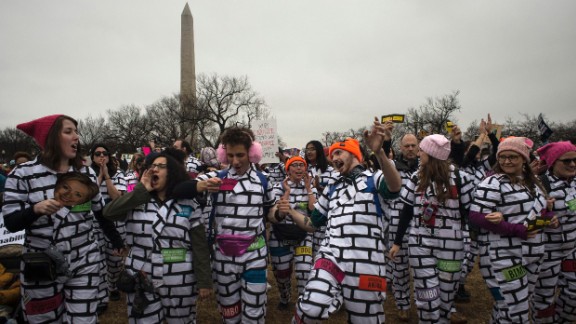 Photos: Women's March on Washington
Photos: Women's March on Washington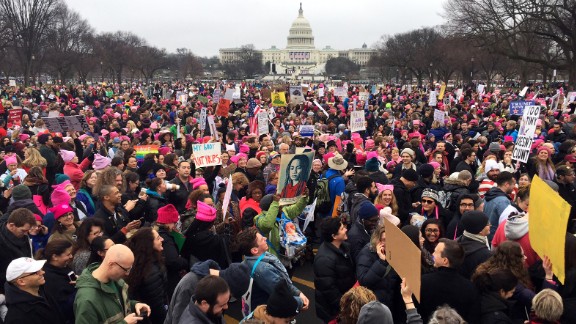 Photos: Women's March on Washington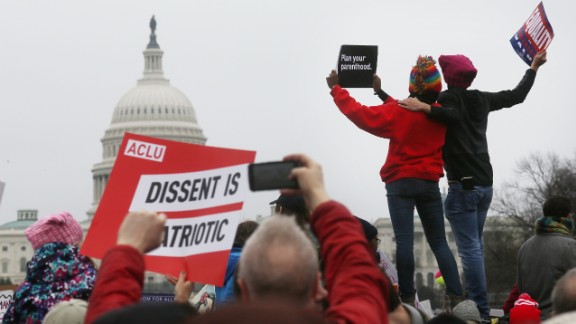 Photos: Women's March on Washington