Story highlights
From Samsung's Gear VR Headset to Ricoh's THATA V 4K camera, these are the best gear and gadgets to watch VR and 360 videos.
The future of video is here. Whether you're watching it on your smartphone device or through a Virtual Reality headset, 360-degree video is truly the most immersive way to watch content these days. For viewers, you can experience different locales up close and personal without leaving your home. For videographers, this gives you the ability to shoot hi-definition, interactive video content.
No matter how you choose to do it, 360-degree video is a real game-changer.
For many, this is a new concept that's tough to wrap your head around. If you fall into that bucket, here's a quick rundown. Unlike normal videos, 360-degree video is content that gives users a full, comprehensive look at the films and other content they're viewing. With 360-degree video, you can look up or down, side-to-side, you name it, to get the entire scope. Virtual Reality or VR content, ups the ante, by allowing viewers to feel as though they're part of the video content they're watching via renditions of 3D images. With VR, you can interact with the video or game you're watching. As you walk around and interact with what's around you, the images will change accordingly.
Both 360-degree video and VR require specific viewing devices. To help first-time users start from scratch, we're rounding up all the gadgets they'll need. This includes smartphones and video cameras that have the capability to shoot crystal-clear 360-degree video and the viewing devices to match.
We've broken down the devices you'll need to get the best 360 experience.
Note: The price below reflects the retailer's listed price at time of publication.
VR Viewer
Samsung
There's a few types of VR viewers you can buy. If you primarily will be watching and playing 360 content on your smartphone, there's a number of headsets that can work with any budget. At the lower end of the spectrum, you have cardboard iterations such as Google's Official Cardboard viewer ($15; amazon.com). Other best-selling devices include Google's Daydream View ($70; amazon.com), Smart Theater's Virtual Reality VR Headset ($17; target.com) and Samsung's Gear VR Headset ($39.99; samsung.com).
If you'll be using your headset primarily with a PC, Oculus Rift and Touch Virtual Reality Headset Bundle ($399; bestbuy.com) and HTC Vive's Virtual Reality System ($599; amazon.com) are both best-selling devices that fit the bill.
Phone
Samsung
Your smartphone can make all the difference when it comes to 360 video. That's because when viewing VR content, oftentimes your smartphone, quite literally, becomes the display. Certain devices require you to slide your Apple or Android device into the VR viewer to watch content.
Many of the latest models of smartphones, including Apple and Android devices, have 360 viewing capabilities. Samsung, however, in particular offers a smartphone that's practically made for VR. Its Galaxy S8 phone ($724.99; samsung.com) features a processor that can play 360 videos and games faster without overheating. The S8 is compatible with Google Daydream and Gear VR. Plus, if you pair it with the Gear 360, you can untap the camera's full potential.
Camera
BH Photo
For videographers and amateurs who want to capture 360-degree videos on their vacations, everyday adventures and more, a high-quality camera is a must. Clear video and audio quality and overall functionality are key to finding the perfect device. Another major factor to consider is price. For those willing to spend a bit more money on a camera we recommend the Ricoh THETA V 360 4K Spherical VR Camera ($426.99; bhphoto.com). This compact device does all the standard stuff you'd expect from a 360 camera, like capturing 4K video and audio. And like other models, the THETA V houses live streaming capabilities and impressive storage space — 19GB to be exact. But what sets this camera apart is the quality of the images. The device's twin-lens system and advanced software stitches together recordings for an end result of seamless video. As a bonus, the camera also supports underwater filming.
If that price tag is a bit high for what you're looking for, Samsung makes a 360 Camera — the Gear 360 (199.99; samsung.com) — that includes many of the same features as the THETA V. You can record in 4K, broadcast live or edit the recordings through the integrated app. The biggest thing to note though is that the Gear 360 is best suited for those with compatible Samsung phones. iPhone users, however, have much more limited capabilities with the device.
Laptop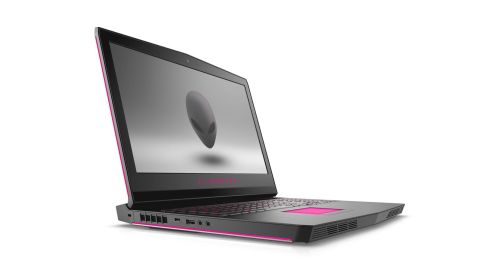 Walmart
Just like phones, certain laptops are VR-ready and can connect with compatible viewing devices, like the Oculus Rift. And much like phones, some laptops are better equipped to support VR and 360-degree gaming and videos. You'll want to be on the look out for some key features, including a powerful core processor and at least 8GB of RAM. A device that delivers on both fronts, as well as houses extra functionality making it perfect for 360 video, is Alienware 17 ($1,999; walmart.com). The Alienware 17 also houses an expansive LCD, anti-glare screen for optimial viewing and 1TB of storage space for all your large software needs. Once you've installed your VR software, simply attach your Oculus Rift or HTC Vive and get ready for a gaming experience that will blow your mind.