On Sunday, the US Ambassador to the United Nations, Nikki Haley, voiced her support for the many women who have publicly accused men of sexual assault – including her boss, the President of the United States.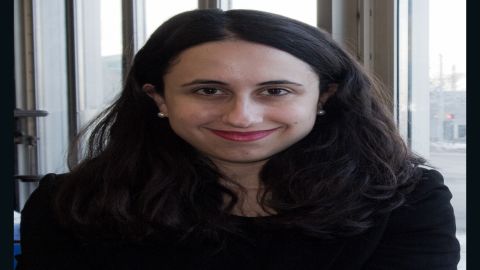 Courtesy of Kara S. Alaimo
In an interview on CBS's "Face the Nation," she said women who make such claims "should be heard and they should be dealt with. And I think we heard from them prior to the election. And I think any woman who has felt violated or felt mistreated in any way, they have every right to speak up." So far so good.
Haley continued that she thinks victims who have come forward are brave. "I'm proud of their courage," she said. "And I think that the idea that this is happening, I think it will start to bring a conscience to the situation, not just in politics, but in, you know, we've seen in Hollywood and in every industry. And I think the time has come."
Excellent: What's not to agree with there, Ambassador Haley?
But now what will you do? Saying these affirmative things isn't enough when you're working for a man who allegedly committed – and sometimes supports men accused of – sexual abuse.
What will you do?
At least 13 women have come forward to accuse Trump of such abuse – allegations he denies. All of the alleged incidents took place prior to his assuming the presidency
And on Monday, it was Democratic Sen. Kirsten Gillibrand who was the one to follow Haley's assertions to their logical conclusion: She called on Trump to resign. In an interview with CNN's Christiane Amanpour, Gillibrand said, "These allegations are credible; they are numerous. I've heard these women's testimony, and many of them are heartbreaking."
But it's not just his own conduct – including the 2005 "Access Hollywood" tape in which Trump brags about sexually assaulting women.
The President also has a history of supporting men who have been accused of sexual misconduct. President Trump is currently endorsing Alabama Republican Senate candidate Roy Moore, who is facing many allegations that he harassed and abused young women, which he denies.
The President claims he needs a Republican in the Senate seat. But he could have tried to get a Republican elected while disavowing sexual abuse by encouraging Alabamans to write a different Republican in on their ballots. Instead, he's directed people to "get out and vote for Roy Moore," the man accused of molesting a 14-year-old girl and sexually assaulting a 16-year-old girl.
It's not the first time the President of the United States has jumped to the defense of such men. Recall back in April when Fox News host Bill O'Reilly was accused of sexual abuse. Trump responded by calling O'Reilly "a good person." (Of course, the President has also criticized such men when it suited his aims, such as by blasting Democratic Sen. Al Franken when he was accused of sexual abuse).
Which brings us back to Nikki Haley. If Haley really believes sexual abuse shouldn't be tolerated, then, as a member of the Trump administration, she has a moral responsibility to try to change a few things. She's well-positioned to wield internal power in the administration – perhaps more than she even realizes.
Haley is widely viewed as one of the President's most effective appointees. She has proven that she's able to accomplish goals – like getting the UN Security Council to vote unanimously to implement new sanctions on North Korea in September.
She's also a great speaker and advocate, which is why the White House regularly puts her out to do media interviews to defend its positions – like the one she did yesterday, during which she made these remarks. In August, the conservative Washington Examiner called her "the finest US ambassador to the UN in over 50 years."
On top of all that, she's a woman. Females are in short supply in the President's inner circle.
The President needs Haley. So, if she demanded a meeting with him to discuss issues of sexual harassment, he'd realize he had to take it. And in that meeting, Haley should insist that Trump stop supporting men accused of sexual misconduct and that he speak out against sexual abuse.
As a woman who claims to believe that the issue should be taken seriously, Haley should refuse to continue serving in Trump's administration if he keeps supporting such men.
When it comes to fighting sexual abuse, words just aren't enough. If Haley really believes what she's claimed, she should demand that the administration she is part of lives by those values. It's time for the ambassador to put her money where her mouth is.