(CNN) —
It's Thursday, and here are five things to know for your new day.
1. North Korea
More than 100,000 acres have burned so far in the region. Tens of thousands of people have been evacuated. Nine miles of busy Interstate 405 were shut down as the fires got close. Many schools in LA are closed. And the wildfires are affecting Hollywood, too: Chelsea Handler had to leave her home, and the TV show "Westworld" temporarily stopped production as fire neared its set.
Meantime, California utility company Edison International has lost $3.3 billion in market value since the blazes began Monday. Wall Street fears Edison could be liable for damages if its power lines are found to have started the fires.
2. DACA
Russia has been banned from the 2018 Winter Olympics. The International Olympic Committee made the decision after it determined that the Russians have engaged in state-sponsored doping. It's the harshest punishment the IOC's ever handed out to a participating nation. Individual Russian athletes can participate in the upcoming Games in South Korea, but they have to prove that they're clean, and they'll have to compete under the title "Olympic Athlete from Russia." If they win medals, it'll be the Olympic – and not the Russian – anthem that will play at the ceremony. Some Russian officials have called for a total boycott of the Games.
3. Migrant crisis
President Trump's decision to recognize Jerusalem as Israel's capital – and eventually move the US embassy there – could temporarily derail the Mideast peace process, two White House officials told CNN. Others think it will destroy any chance for peace. Palestinian President Mahmoud Abbas said the move will only aid extremist organizations that want to wage so-called holy wars. The Palestine Liberation Organization called it the "death knell" of the peace process. Regional allies like Saudi Arabia and Jordan expressed disappointment. Trump's decision isn't playing well in Europe or Asia, either, with officials in France, Germany, China, Indonesia and other countries all expressing their displeasure.
The longest currently serving member of Congress is stepping down. But Michigan Democrat John Conyers had no choice, really. The pressure on him to quit was intense as multiple claims of sexual harassment against him – made by women who've worked for him – began to stack up. Conyers, who has denied the claims, is retiring and wants his son to replace him in Washington. Michigan's governor will have to call a special election to fill the seat.
4. Alabama Senate race
Same-sex marriage is now legal in Australia. The country's parliament approved it after a non-binding vote by Australians showed that 61% were in favor. Australia is now the 24th country to allow same-sex couples to marry. The first same-sex weddings there won't happen until January, at the soonest, though, because all couples in Australia must give a full month's notice before they can get married.
5. Tropical Storm Franklin
Santa Ana winds are expected to pick back up today, making it that much harder to fight the wildfires that are torching Southern California. More than 65,000 acres have burned this week, fueled by strong winds and dry conditions. There are at least five blazes burning right now, adding to a devastating year in California for wildfires. The largest blaze is the Thomas Fire, tearing through Ventura County, just north of Los Angeles. Almost 200,000 people have been evacuated across the region.
NUMBER OF THE DAY
100,000
The number of Democratic senators who have called on Sen. Al Franken to resign. Franken, facing multiple sex harassment claims and a Senate Ethics Committe investigation, is set to make an announcement today.
BREAKFAST BROWSE
People are talking about these. Read up. Join in.
#MeToo moment
People were thrilled to see "The Silence Breakers" named Time's Person of the Year. But social media wondered, what was Taylor Swift doing on the cover?
The great white hopes
Are you a person of color tired of fighting about racism on social media? Relax. Here are some white folks who have your back.
A little something extra
The nativity scene at Saint Susanna Parish near Boston is unlike any kind you've ever seen because it makes a can't-miss statement about gun violence.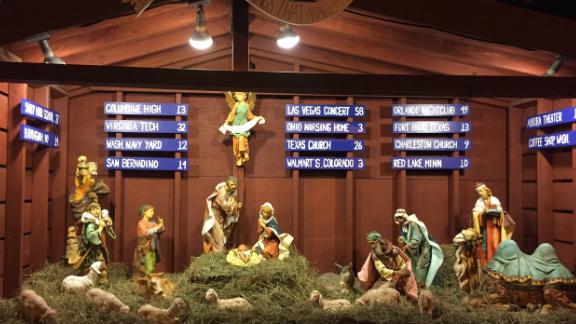 Roll that video
A masked man in an oyster costume singing a rap ballad. Sounds like 2017, alright. Here's what else we liked on YouTube this year.
WHAT'S FOR LUNCH
'Beneath the Skin'
Ralph Fernandez, attorney for the parents of the suspected Tampa, Florida serial killer, says parents shouldn't be forced to testify against their children. Suspect Howell Donaldson III's parents aren't cooperating with police and may be charged with contempt when they appear today before a judge.
AND FINALLY …
More than doughnuts
The only thing we love more than movies is movie trailers, so enjoy this mash-up of previews of 230 films released in 2017. (Click to view.)