Story highlights
David Perry: A fraudster stole my identity, hurt my credit rating and I couldn't get a home loan. So I called a federal agency for help
Perry: Consumer Finance Protection Bureau resolved the issue, I got a loan and a house. Now Trump administration threatens this important consumer agency
Editor's Note: David M. Perry is a freelance journalist covering disability rights, history and education. He writes regularly at his blog: How Did We Get Into This Mess? Follow him on Twitter. The opinions expressed in this commentary are his.
Late last May, I accepted a job offer in Minnesota, loaded my family in the van, and – two months ahead of the actual move – drove to the Twin Cities to start looking for a new place to live. But when it came time to get pre-approved for a loan, our best laid plans went awry.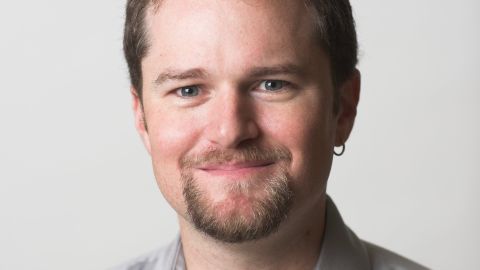 My credit score was hundreds of points lower than I expected, thanks to a $2,500 fraudulent Best Buy charge. Our identities had been stolen in 2013 and my wife and I thought we had cleaned it up, but here was this charge in my wife's name. A collection agency had bought the debt and not only trashed her credit rating, but illegally applied it to mine as well. No bank would give us a decent loan.
Enter the Consumer Financial Protection Bureau (CFPB) to save the day. I called. They fixed it. We bought a house.
We all know that we need government when disasters strike. There are no libertarians in floodplains. What I think is less clear to too many Americans is the necessity for large government agencies to handle the everyday, low-key stuff that keeps society working for the average individual – sometimes averting disaster in the process.
I'm telling you my little story about the CFPB because Donald Trump and his budget director, Mick Mulvaney, have declared war against the agency – beginning with a 2015 hearing, when then-Congressman Mulvaney commented that, "I don't like the fact that CFPB exists, I will be perfectly honest with you." Naturally, this statement qualified Mulvaney, in the eyes of Trump, to become the new CFPB acting director last week, replacing its outgoing chief Richard Cordray.
As you likely know, the CFPB was created as a result of the 2010 Dodd-Frank Act in direct response to the recession and financial crisis that struck almost a decade ago. The argument – led by Elizabeth Warren – for such a bureau was that we needed a government agency explicitly dedicated to protecting individuals like me.
Given that as many as 10 million people lost their homes during the 2008 Housing Crisis, the need for the government to figure out how to protect Americans from predatory lenders was obvious, though its necessity is still contested by the banking industry and its political allies.
The fight was bitter. The process of getting the bureau up and running was politically complex, but since 2011, the bureau has been quietly doing its work. For the first time, ongoing pro-consumer regulatory efforts were brought together under one roof, given a clear mission, and empowered to fight for the individual.
The bureau's oversight and ability to levy fines has helped change how we borrow money and how debts are collected. It has fought against arbitration agreements that strip consumers of their rights to sue, attacked payday lending, and obtained nearly $12 billion for consumers in the forms of refunds and canceled debts. That includes my $2,500.
Their system works, at least for me. When I ran into my credit problem, I endured long "holds" on the phone as I talked to the credit bureaus, the collection agency, multiple banks, and the retailer that tried to collect from me after they were swindled. Then I called the CFPB, talked to one person, filled out a form, and got a cheerful email confirming my information.
Two weeks later, a letter from the collection agency arrived via the CFPB website explicitly acknowledging that the debt was fraudulent. Copies went out to the credit bureaus and, critically, a credit union with a competitive interest rate. We bought a house.
I never knew I needed the CFPB, but was thrilled when they were both efficient and useful in my moment of need. What will people like me find a year from now? Mulvaney's first act at CFPB was to tell his new employees to cease any attempt to impose penalties on financial institutions. He also froze all hiring. Speaking as acting director on his first day, he called the agency "bureaucracy gone wrong" and vowed changes.
Trump's installation of Mulvaney at CFPB is yet another example of the President's pattern of appointing people to run federal programs who, either by word or deed, seem to wish to destroy or undermine them – from the Environmental Protection Agency, to the Education Department, to the Department of State.
Now we've got Mick Mulvaney at the CFPB. Based on his many statements, I fear he'll use that office to protect financial institutions from consumers, instead of the other way around. He should be replaced, immediately, by someone who believes in the agency's mission, who believes that government is here to help its people.
Last week, my family came to celebrate Thanksgiving in my new home. I felt blessed. I didn't pause to be thankful for the CFPB, but I probably should have. At a moment when I confronted powerful, complex systems, designed to strip me of my agency (and money), a government agency performed competently to protect my rights.
As parables go, it's no David and Goliath, but at least I know the CFPB is on my side. Trump is backing Goliath all the way.