Shopping for holiday gifts is no easy task. But for some reason, we find shopping for stocking stuffers even harder. There seems to be a lot working against stocking stuffers: size restrictions, a budget you're sticking to, or ensuring that the tiny product still has a "wow" factor. If you're stuck on what to buy, we suggest focusing on tech devices.
This year, many miniproducts that pack a punch are electronic goods and accessories — think indestructible iPhone cases, pocket-sized Bluetooth speakers, portable chargers and even wireless headphones. They're all practical gifts that your loved ones will appreciate, but that won't overshadow your main gifts.
We've rounded up 12 tech stocking stuffers, divvied up by budget, that are crowd-pleasers. These tiny devices are just as fun as they are practical.
Note: The prices below reflect the listed retailer's price on the date this article was published.
$20 and under
Smartphone Mini Lounge Chair ($12; urbanoutfitters.com)
Urban Outfitters
Smartphone holders are an easy way to make sure your devices are safe from falls or other everyday accidents around the home. This one from Urban Outfitters is especially appealing. The mini lounge chair features a wooden beach chair design that can cradle your iPhone, Galaxy or other smartphone. Simply run your charger through a gap in the back of the chair and let your phone kick back, relax and charge away.
Dodocool Wireless Mini Portable 33-Foot Bluetooth Speaker ($12.99; amazon.com)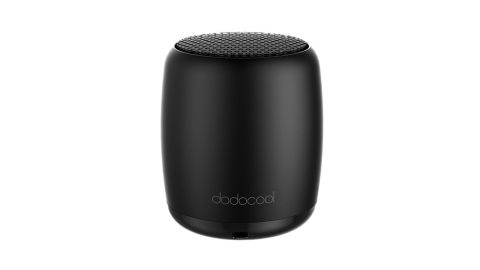 Amazon
Just because a Bluetooth speaker is pocket-sized doesn't mean it can't pack a serious punch. Take dodocool's mini portable speaker, which weighs in at a tiny 3 ounces. This device can play solid audio for up to four hours of playtime and connects to most smart devices up to 33 feet away. With it, you can take phone calls or blast your favorite playlists. We're not the only ones who are impressed by this minispeaker; Amazon customers have rated it 4.4 stars out of 5.
Game of Phones ($19.99; target.com)
Amazon
Even card games are getting a high-tech revamp. Enter Game of Phones, which uses a special deck of cards but also requires all the players to have their smartphones handy. One player picks a card from the deck and gets to judge that round. Everyone else has 60 seconds to respond to that card with the funniest or weirdest thing they can find on their phones (like the worst selfie they've ever taken or an embarrassing text message). It's great for techies who still want to sit around a table playing an old-school game from time to time.
AMIR 3 in 1 Camera Lens Kit ($11.99; amazon.com)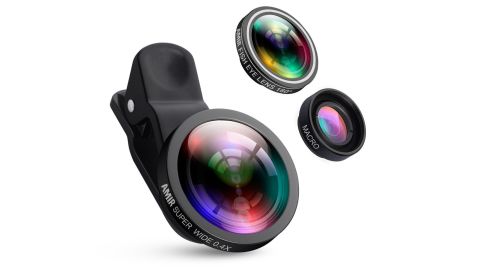 Amazon
We rely on our smartphone cameras on an almost daily basis. And while they're great for snapping Instagrams or Snapchats here and there, they don't cut it if you're looking to produce more professional-looking photographs. The easy solution is to invest in a camera lens kit like AMIR's No. 1 best-selling attachment, which includes a wide-angle lens, fish-eye lens and macro lens so you can get higher quality pictures without having to invest in a brand-new camera. At just under 12 bucks, it's an affordable gift for photography lovers looking to up their smartphones' capabilities.
Jackery Portable Travel Charger ($19.99; amazon.com)
Amazon
We're fans of practical gifts. A portable charger, for example, may seem pretty ordinary at first, but consider how often you'll use it. It will make sure your smartphones, tablets and other everyday devices can be powered up even when you're on the move – so you won't face having your phone die the second you really need it. This top-rated accessory on Amazon (almost 6,000 customers have rated it 5 stars) can juice up an iPhone 8 up to two full charges, or a Samsung Galaxy S8 for 1.6 charges or a Galaxy S7 Edge 1.3 charges. And because of its compact size, it can easily be stowed in your bag, glove compartment or desk.
$21-50
Senso ActivBuds Bluetooth Headphones ($39.97; amazon.com)
Amazon
Runners beware: Jogging while plugged in could hinder your form. The simple solution is to go wireless. Bluetooth headphones allow your hands to be completely free during your workouts while also letting you enjoy your favorite playlists. There are a number of buds that can deliver on audio quality and battery life, while also incorporating a sweat-resistant design – a trifecta for athletes. If you're looking to check off those boxes on a budget, we're fans of Senso's ActivBuds, which ring in at a wallet-friendly $39.97. The device has a lithium battery that can give you up to eight hours of playtime and flexible ear hooks to keep the headphones firmly in place. Getting tangled in wires while running will soon be a thing of the past.
Native Union Night Cable Lightning Cosmos ($40; needsupply.com)
Need Supply
We all need a phone charger. But that doesn't mean it can't look stylish. Take Native Union, for instance. The company's Night Cable Lightning Cosmos is an attractive spin on your traditional charger. Its braided design is also highly functional: the weighted knot helps prevent strain on your charger to reduce wear and tear and help the cable lie flat when you're juicing up. The 3-meter Apple MFi Certified cable is compatible with Apple devices such as iPods, iPhones and iPads. This will be your nightstand's new best friend.
Tile Mate Key Finder ($24.99; amazon.com)
Amazon
Misplacing our keys around the home happens more often that we'd like. An easy way to cut back on time spent searching is to add a Tile Key Finder to your keychain. This small tracker easily loops onto keychains, and once you sync the device up to your smartphone, you can pinpoint where your keys are at any given moment. Of course, Tile isn't just for people who are constantly misplacing their keys; it works just as well as a luggage tag or tucked inside a wallet to help you find your most important belongings.
$50-100
Otterbox iPhone 8 Plus & iPhone 7 Plus Defender Series Case ($59.95; otterbox.com)
Otterbox
Hoping to give somebody one of the newest crop of iPhones this season? Make sure you include a protective case to ensure the brand new phone stays in top condition. Our go-to for iPhone cases is Otterbox. The company, which specializes in protective designs for a variety of smartphone brands, takes extra precautions to make sure its accessories can stand up to life's everyday mishaps. Its Defender Series cases go through a minimum of 238 hours of tests which include drop, UV, heating, dust and other threats.
Fujifilm Instax Mini 9 Instant Camera ($69; urbanoutfitters.com)
Urban Outfitters
Nostalgic gifts can have a lot of charm. That's why we love the newer iterations of instant print cameras. They're more compact, more colorful and more high-tech than their predecessors, but still have that old-school feel. Fujifilm's Instax Mini is a breath of fresh air if you're used to taking photos on a point-and-shoot camera or a smartphone. With it, your film develops instantly into mini-images you can use in photo books or give as party favors. This iteration is set with a built-in selfie mirror and a close-up collapsible lens that helps you take high-quality images. And the variety of color options available for purchase means that you can tailor your gift to the personality of your friends or family members.
YoCam Versatile Waterproof HD Camera ($99.99, originally $199.99; stacksocial.com)
StackSocial
Compact cameras are usually one-trick ponies. They're great for either outdoor action filming, underwater adventures or home security, but often these functions are mutually exclusive. YoCam, however, has created a tiny device that can do the work of multiple cameras. Its Versatile Waterproof HD Camera can be submerged in up to 20 feet of water (hence the name) to take underwater videos. It also functions as a selfie camera and a security camera, and can be synced up to its integrated app to let you edit your clips and share on social media straight from your smartphone. This makes it a solid option for those looking for an adventure camera, a discreet security device or anything in between.
Sony SRS-XB10 Speaker ($58; dell.com)
Dell
If you have a little more wiggle room in your budget for a pricier portable speaker (as compared with the dodocool pick) and want a device that's a bit bigger, get ready to feast your ears on Sony's SRS-XB10 speaker. This ultraportable device is fitted with Sony's EXTRA BASS technology for an even deeper sound. Other notable features include its water-resistant design, 16-hour battery life and its ability to connect with other wireless speakers for a fuller sound. Weighing in at only 9 ounces, the speaker is truly portable whether you're looking to tote it around during outdoor parties or clip it onto your bike while you're on the move. Not too bad for 58 bucks.