(CNN) —
Investigators working for special counsel Robert Mueller are scheduled to interview additional senior White House officials in the coming weeks, adding to their list of high-profile interviews and pushing the investigation closer to President Donald Trump and his family.
On the slate are White House communications director Hope Hicks, White House counsel Don McGahn and Josh Raffel, a communications aide to White House senior adviser Jared Kushner. Other staff are also expected to be interviewed.
These three staffers have spent considerable time around the highest echelon of the Trump administration and campaign. Given their involvement in some key events under scrutiny by the special counsel, Mueller's interest in talking to them signals continued focus on Trump and the White House.
"It is my hope and expectation that shortly after Thanksgiving, all the White House interviews will be concluded," White House special counsel Ty Cobb told CNN on Thursday.
Mueller's team has already interviewed White House senior policy adviser Stephen Miller, Trump's former White House chief of staff Reince Priebus and former White House press secretary Sean Spicer. Spicer and Priebus left the White House over the summer, but they were still around when Trump fired FBI Director James Comey. Miller was also involved in the Trump campaign.
The special counsel is investigating Russian election meddling, potential collusion with Russians by the Trump campaign and potential obstruction of justice as it reacted to the probe.
Here is a breakdown of some of the interviews taking place soon, and how the White House officials facing questions might be of interest to Mueller's sweeping investigation.
Hope Hicks: The confidante
Hicks has long been seen as one of Trump's most trusted confidantes. She has served as a sounding board for the president – which could give Mueller's team insights on his thinking.
Her work for Trump intersects with the Russia investigation in a few distinct ways.
She first worked for the Trump Organization and was one of the earliest members to join his campaign team in spring 2015. She was almost always at his side on the campaign trail, and she now works from a desk just outside the Oval Office. Her profile has continued rising inside the administration, and she was elevated to White House communications director in July.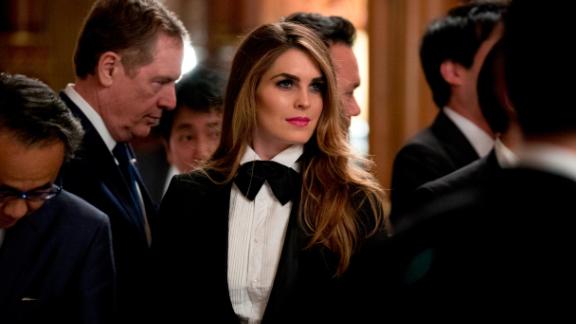 Andrew Harnik/AP
Donald Trump Jr. confirmed last week that he exchanged some private Twitter messages during the campaign with WikiLeaks, the anti-secrecy website that published damaging materials about the Democratic National Committee and Hillary Clinton's campaign during the heat of the election. After the first exchanges in September 2016, Trump Jr. informed a group of senior Trump campaign officials including Kushner over email. Kushner forwarded the email to Hicks, according to The Atlantic which first reported the story.
Trump, 71, does not use a computer, and Hicks would regularly print out articles and memos for him during the presidential campaign. Mueller's team will likely want to know if she shared Kushner's email with Trump and if there were any additional discussions about WikiLeaks.
On at least two occasions, then-Trump campaign chairman Paul Manafort emailed Hicks asking her to dismiss questions from reporters about his international dealings and his relationship with Russian oligarch Oleg Deripaska, according to the Washington Post. Manafort was indicted last month on charges stemming from his lobbying work before he joined the campaign for Russia-friendly clients in Ukraine. He has pleaded not guilty to the charges.