Story highlights
David Perry, a Minneapolis-based writer, says he can't support Al Franken any more after the recent allegations
He says Republicans may support alleged abusers in the GOP, but that's not enough reason for Democrats to back Franken
Correction: An earlier version of this article gave an incorrect date for the next Senate election for Al Franken's seat. It is 2020.
Editor's Note: David M. Perry is a freelance journalist covering disability rights, history and education. He writes regularly at his blog: How Did We Get Into This Mess? Follow him on Twitter. The opinions expressed in this commentary are his.
I was shopping for Thanksgiving with my wife in suburban St. Paul when the news came scrolling across my phone that Sen. Al Franken had been accused of sexual harassment. I saw the photographic evidence. I may have sworn. We had a quiet moment in the busy store, angry to learn that one of our favorite politicians had behaved so badly.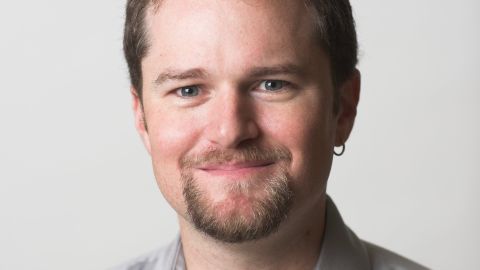 I've been a big supporter of Al Franken. He's so intelligent and sharp, and yet seemingly so compassionate to people in need. When facing down Trump appointees in the Senate or appearing on the media, he often says just what I hope to hear.
My family and I moved back to the Twin Cities this summer after a decade away. One of the last times that I voted in Minnesota, Paul Wellstone had died and Norm Coleman beat former Vice President Walter Mondale in 2004. I was eager to cast my vote for Al Franken, who holds Wellstone's Senate seat, in 2020. Now, I can't imagine ever voting for Franken.
There's been no unanimity on the left about how to respond. When I took to social media to say that I believed Tweeden and wanted Franken to go, I got pushback from fellow Minnesotans and other progressives. Some argued that because Tweeden had accepted his apology, we should wait to see what the ethics investigation recommended.
Others grabbed onto conspiracy theories, especially after it emerged that Roger Stone seemed to know the allegation was coming. I was told, with no evidence to support it, that the photo of Franken was electronically manipulated. More credibly, defenders acknowledged their disappointment in the senator's conduct, but called it an isolated incident. At the time, I sadly remarked that there's never just one incident.
Now a second woman has come forward. She alleges, with confirmation from her husband, that Franken grabbed her rear end during a photo op at the state fair. There could easily be more.
We are in a complicated political moment. Despite living in a glass house built by men accused of sexual harassment and assault, Republicans are eager to throw stones. They want to talk Hillary Clinton and Harvey Weinstein, the accusations against Bill Clinton, and now Franken.
The hypocrisy is staggering. Right now, there's a president, a Supreme Court justice (Clarence Thomas) and the GOP candidate for Alabama senator who face or have faced credible allegations of vile actions. The victims in these narratives were all vulnerable by reason of age, job, race or other forms of status. These men allegedly exploited their power to abuse and have never been held to account. The GOP doesn't seem to care, so long as they get their votes.
Howard Kurtz, on Fox News, questioned any call to talk about Trump because after the allegations came out, "We had an election … and he won." Alabama Republicans have effectively acknowledged that even if Roy Moore's accusers are believable, getting Moore's vote on GOP policies is worth electing another predator. As for Clarence Thomas, the only person being held accountable for his alleged abusive actions seems to be Joe Biden, who as a senator presided over Thomas' confirmation hearings. When even Donald Trump, of all people, dared to tweet about Franken's misconduct, I found myself shaking with anger at the President's smug audacity.
Get our free weekly newsletter
Sign up for CNN Opinion's newsletter.
In the face of the GOP resistance to taking responsibility for electing known predators, it's easy to want to circle the wagons around Franken. What Franken is accused of doing is not nearly as destructive as the allegations against Moore or Trump. What's more, being principled on Franken won't shame GOP members into changing their ways. Anyone who watched the "Access Hollywood" tape and supported Trump is likely beyond such shame.
I'm an American citizen, a Minnesotan, and I have one vote. When I look at the ballot in 2020, I won't use it to support Al Franken. Not now. Possibly not ever.
Over the next few months and years, as this era of exposé accelerates, we're going to have to do a lot of work around what happens next. In many cases, violence and damage may preclude any form of rehabilitation. In others, I hope we turn to the principles of restorative justice. I want to believe it's possible for individuals to join in community with those they've harmed, to humble themselves, and to seek to repair damage. I want to believe that Al Franken will do this.
Just not while remaining my senator.
Al Franken should resign.