Story highlights
HIIT (high-intensity interval training) boasts a myriad of health benefits. And luckily, the workout doesn't require a gym membership.
Ahead, we've rounded up some basic at-home equipment to help you train at home.
If you haven't gotten on board with HIIT (high-intensity interval training), it's time to change things up.
This workout, which combines short bursts of intense aerobic activity with a stretch of moderate exercises, has been shown to help stop the aging process. In a recent study from the journal of Cell Metabolism, results showed that HIIT was "highly efficient" when it came to reversing a number of age-related changes.
Just call it a modern-day fountain of youth.
And what's equally great about HIIT workouts is that you don't need fancy equipment or even a gym membership. As long as you have the right essentials — including a durable non-slip yoga mat, kettlebell and shock-absorbent sneakers — you'll be able to master the workouts without leaving the comfort of your home.
We've rounded up our favorite at-home gym equipment to help kick-start your anti-aging process.
Don't thank us, thank science.
Note: The prices below reflect the listed retailer's price on the date this article was published.
Daily Burn subscription ($14.95; dailyburn.com)
Daily Burn
Some people may need an extra push to get them through their HIIT workouts. If you fall into that bucket and don't want to brave your circuits solo, a workout subscription service, which can act like your own personal trainer, is a great option. Daily Burn functions as such, providing a list of over 700 workouts that you can filter by time, equipment, difficulty and more. You can stream the videos to your smart devices or your TV. This is ideal if you're not the biggest fan of planning your own workouts. Instead, you can rely on the likes of professional athletes and certified trainers like elite gymnast Anja Garcia or award-winning bodybuilder Ben Booker to craft your workouts. If you need more convincing, you can opt for a 30-day free trial to test their training sessions completely guilt-free.
Manduka PRO Yoga and Pilates Mat (starting at $87; amazon.com)
Amazon
You'll do a decent amount of floorwork during a typical HIIT circuit. This could include pushups, burpees, crunches, plank holds, you name it. Because of that, you'll want to make sure you're not on the receiving end of slippery hardwood floors or rough carpeting that could lead to bruises or rug burns. The simple solution is to invest in a yoga mat that's slip-resistant. Manduka's Pro Yoga Mat is top of its class, featuring a closed-cell surface that keeps moisture and sweat out. Its eco-friendly design also prevents bacteria from building up, so you can worry less and work out more.
Manduka eQua Mat Towel (starting at $8.45; amazon.com)
Amazon
Even though you'll get great protection with a yoga mat, you're going to be sweating a lot during your HIIT workout. As an added layer of protection, a lightweight mat towel will soak up excess perspiration. Manduka's eQua Mat Towel is made from a super absorbent and quick-drying microfiber material that not only keeps your mat dry, but also helps you gain a better grip as it gets wet. It's an easy way to stay focused and stable during your sweat sessions.
CAP Barbell Cast Iron Competition Weight Kettlebell (starting at $33.29; amazon.com)
Amazon
Kettlebells are a great way to get your heart rate up, fast. A study from the American Council on Exercise found that they can help you burn up to 20 calories a minute. That's comparable to an average cardio class. And since kettlebells involve both mobility and coordination (you'll often be switching the weight from one hand to another), they strengthen your motor skills and balance more than a traditional weight. With a near perfect 5-star rating on Amazon, CAP Barbell's Cast Iron Competition Weight Kettlebell is a solid choice.
AmazonBasics 20-Pound Dumbbell Set ($24.99; amazon.com)
Amazon
Squats are a cornerstone of HIIT workouts. That's because the simple move does more than just help build your leg muscles; they also trigger testosterone and human growth hormone in the body which helps promote body-wide muscle building. To up the ante, you'll want to hold on to a pair of free weights for an added dose of stability and resistance. AmazonBasic's Dumbbell Set is great for beginners who are looking to increase the intensity on their workouts. As a bonus, it comes with free Prime two-day shipping if you're looking to change up your exercise routine fast.
The Step Original Aerobic Platform ($66.78; amazon.com)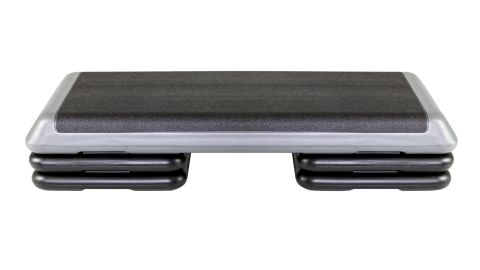 Amazon
Don't knock step workouts until you've tried them. Although they may remind you of an exercise straight out of the 1980s, you can still reap massive benefits from them. To keep things in perspective, aerobic stepping is known for being an intense cardiovascular workout that could help improve your coordination, agility and overall endurance. With the addition of more intense movement and a higher riser height, you can increase the difficulty of your workouts. The Step Original gives you that ease with the inclusion of a customizable riser height, ranging from 4 to 8 inches. It also scored high customer satisfaction marks thanks to its protective design, which allows the step to be used on any type of flooring without skidding or scratching. At just over $65, it might not be the cheapest piece of gym equipment, but it is one of the most versatile.
Asics Gel-Fit Tempo 3 ($70; asics.com)
Asics
Not all sneakers are created equal. When it comes to HIIT workouts, you'll need a pair that delivers on shock reduction and comfort. An ideal design, like Asics' Gel-Fit Tempo 3, features gel cushioning instead of solely foam. That helps provide extra protection in more sensitive areas of the foot and can extend the life of your sneaker. Asics' gel support does both, as well as attenuates shock during high impact movement. And at $70, it's one of the most functional and economically sound HIIT sneakers we've seen.
Nike's Pro Rival ($54.97; nike.com)
Nike
Like sneakers, sports bras are created for different activities. Studies have shown that designs that feature both compression and encapsulation offer the most protection and support for women of all sizes. Nike's Pro Rival fits the bill, offering a bra that delivers on this scientifically proven design while also incorporating wider set straps for more coverage.