Story highlights
Natural disasters pose risks to mothers-to-be, including cutting them off from hospitals
Expecting mothers can prepare a birthing kit in case they can't get to a hospital
(CNN) —
New Orleans resident Rosezina Jefferson went into labor during Hurricane Katrina – so she leaped out a window to get help. She had contractions while she swam.
As she jumped, she told her 5-year-old son, who had suffered an asthma attack, that she would be right back.
She's still haunted by that moment.
"I always think about being in labor and leaving my son," she said now, more than 12 years later. "I probably would never do that again. I was in labor, and it was a drastic decision."
When CNN met Jefferson, she had just given birth. She swam for nearly half an hour until she reached a bridge, where the Coast Guard found her and airlifted her to Woman's Hospital in Baton Rouge.
At that time, she had no idea where her older son was. The friend she left him with didn't know how to swim.
"I know God didn't give me one child to take another away," she said.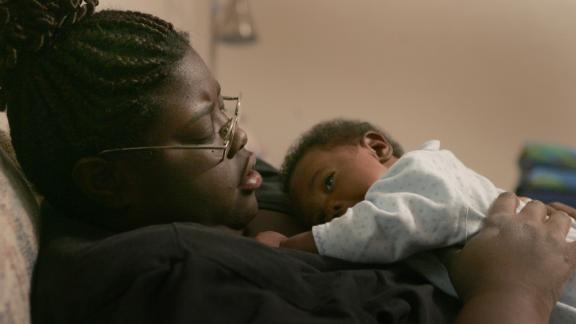 Loose ends
Robbie Prepas, a Disaster Medical Assistance Team nurse-midwife, remembers women whose stories mirrored Jefferson's during Katrina. Those women were also cut off from their families, with no idea of how or when they would see each other again.
"That's always been a loose end for me," said Prepas, who also co-chairs the Disaster Preparedness and Response Caucus for the American College of Nurse-Midwives. "I've always wondered what happened to them."
Prepas returned this week from Puerto Rico, where power outages and lack of clean water continue to affect parts of the island after Hurricane Maria struck in September. For pregnant women, this could mean not having access to oxygen or ways to resuscitate a baby who isn't breathing, especially if they give birth outside of a hospital, she said.
Maternal and infant mortality become a growing concern during disasters, according to Blanche Greene-Cramer, an officer with the US Centers for Disease Control and Prevention's Epidemic Intelligence Service.
"The main cause of maternal death … is postpartum hemorrhage, which is highly preventable with the right resources," said Greene-Cramer, who works with the Emergency Response and Recovery Branch of the CDC's Center for Global Health.
But mothers may have trouble getting to the hospital through heavy winds, floodwater or rubble. Even when both mother and baby survive birth, a number of other problems can arise, such as low birth weight and infection, Greene-Cramer said.
The places hit hardest, she added, are often developing countries plagued by cyclical disasters like the floods that have ravaged Nepal even as it continues to recover from a massive 2015 earthquake. These countries "never really get back to a stable place before something else disrupts them," she said.
But many of the obstacles that pregnant women face after an earthquake, flood or hurricane – like impassable roads, power outages and contaminated water – can crop up just about anywhere.
"It could be in the US, or it could be in Liberia, or it could be in Nepal," Greene-Cramer said.
'I delivered my own baby'
A recent spate of natural disasters in the United States – including hurricanes Harvey, Irma and Maria this year – have put many health workers on alert for expecting mothers.
Some hospitals have tried to get out ahead of disasters. Before Irma hit in September, Baptist Health in Miami was taking in women about to give birth and other patients with looming health needs.
"Those patients have a tremendous amount of anxiety, and they want to be in a hospital facility during a storm," Wayne Brackin, executive vice president and chief operating officer of Baptist Health South Florida, previously told CNN.
But in many cases, natural disasters have led to many women giving birth before they can reach a hospital.
During Hurricane Irma, Florida resident David Knight had no other choice than to deliver his own daughter.
It was too windy for an ambulance to reach them, so an emergency dispatcher told Knight to gather a paper clip, string or shoelace, and clean towels. The paper clip was in case the baby was born inside the amniotic sac and he needed to pop the sac. The string or shoelace was to tie off the umbilical cord and the towels to wrap the baby.
Prepas said that a number of aid groups give out birthing kits around disasters, and some families can make their own with simple tools – for example, a bulb syringe to suction the baby's airway, scissors to cut the umbilical cord and warm blankets.
"Women are going to have babies out of place," especially during disaster, Prepas says. "We have to be prepared for that."
But these kits don't necessarily prepare mothers-to-be for complications down the line.
Even after Knight's baby was delivered, a potentially serious problem arose: The placenta wouldn't come out. If it remains embedded in the uterus, it can cause severe blood loss for the mother.
Dr. Kendra Anderson, a young obstetrical resident, was working at Jackson Memorial Hospital that night when the call was patched through to her. She told Knight how to cut the cord.
"I had to make sure he cut in the right place, because dads often want to cut it in the wrong place, and the baby can bleed out," Anderson previously told CNN.
The placenta finally did come out, much to Anderson's relief – but so did uncontrollable screams from the father.
"I was worried I might have two patients on the phone," Anderson said.
"I just can't believe it. I delivered my own baby," Knight said at a news conference a few days later.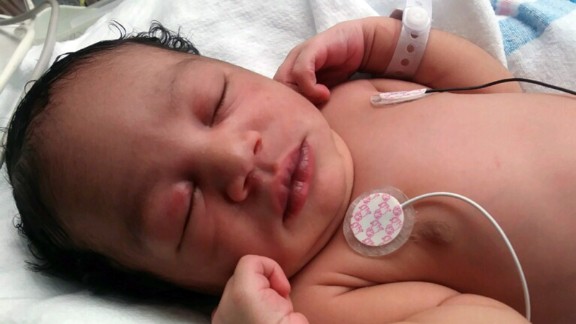 'Losing my mind'
Although bleeding and infection may be the most common birth complications that come to mind during disasters, Prepas said, people rarely think about the psychological impact that disasters can have on people, including mothers at risk of postpartum depression.
"In the beginning, I actually thought I was losing my mind," Jefferson said of leaving her oldest son while in labor during Katrina.
She later learned that her son had evacuated to the Astrodome in Houston. When he was brought back to Louisiana, CNN captured their tearful reunion, which came as a complete shock to Jefferson, in September 2005.
"It was a surprise," she said. "I would have never in my life thought they would have been down there."
Her home destroyed, Jefferson would spend the next few months at a church that opened a temporary shelter for Katrina victims. While the church welcomed her with open arms, this posed a number of challenges for Jefferson, then a mother of two.
"The hardest part was not having all the things that you needed," she said, referring to infant staples like milk and diapers. Though she was able to breastfeed her new son, this can be tough for new moms who lack the lactation support and privacy to breastfeed during a crisis, officials say.
Disasters may also widen existing health and economic disparities, according to experts.
"The people that really suffer in these disasters are the people that don't have a lot," Prepas said.
Jefferson's home state of Louisiana has ranked among the worst states for income inequality and women's health, according to the Center for Reproductive Rights. Black women make 48 cents to the dollar compared with white men, and about eight in 10 women in the state go through at least one stressful event while pregnant.
"It's a hardship. You don't even know where you're going to get your next meal from. You don't know where you're going to get your next dollar from. You don't know where you're going to lay your head. To have a newborn baby" is another challenge on top of that, Jefferson said.
Follow CNN Health on Facebook and Twitter
Today, Jefferson has three sons. Her middle child, 12-year-old Keith, is an active kid who likes to play basketball. He's affectionately known in the family as "the Katrina baby."
The experience of giving birth during Katrina has remained with her. Jefferson still keeps in touch with others she met in the shelter – including women like her who gave birth around Katrina.
"We all kind of became family," she said. "We came closer because it was a situation where you wasn't around your actual family."
CNN's Elizabeth Cohen and Wayne Drash contributed to this report.