Story highlights
Sol Ryan had an arm amputated as a baby
His father Ben set out to create a movable prosthetic for very young children
He has begun trialling his design on other children
Sol was born two years ago on the day of a solar eclipse. But for his parents, the joy of his birth was clouded by news of a severe blood clot in his left arm.
Sol's mother and father had to wait 10 days as his arm slowly decayed before the doctors could amputate it.
"It was a massive relief seeing this hideous thing that was attached to him and dying suddenly gone," Sol's father, Ben Ryan, tells CNN.
But the family from North Wales was told Sol would need to wait a year to be issued a prosthetic arm from the United Kingdom's National Health Service (NHS). What's more, he would likely have received a standard issue prosthetic arm with a rigid socket and a rubber or silicone hand, with no hand movement, Ryan explains.
While there are options for babies to be fitted with such "passive" devices, there are no functioning prosthetic arms on the market for children younger than three, says Ryan. This is owing to the small or electrical parts, as well as the costs involved, because young children regularly outgrow their prostheses.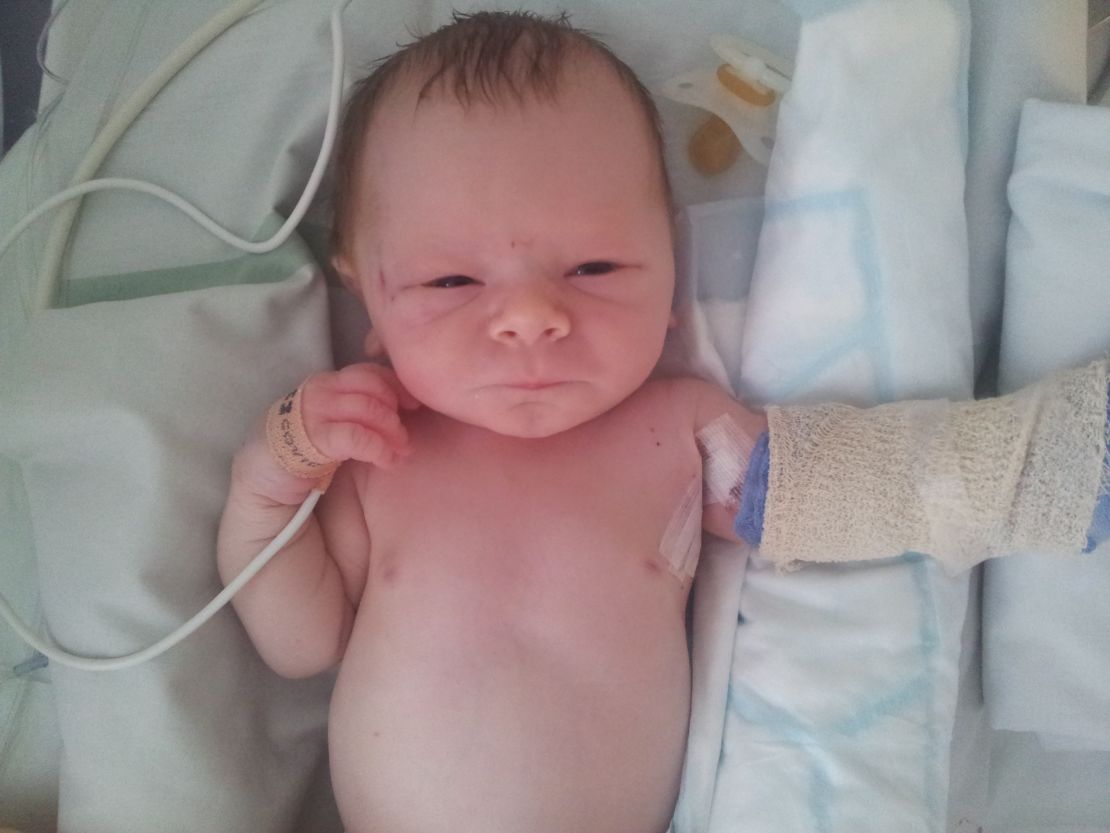 A new arm for Sol
So Ryan, a former psychology teacher, buried himself in research to find an alternative.
He came up with a basic design for a 3D-printed prosthetic arm that would let his son grip things.
The design includes a bulb of fluid – or actuator – under the armpit which, when squeezed, creates fluid pressure to open or close the prosthetic thumb.
"It's only the thumb that moves, so that it can be robust enough to crawl on and put weight on," says Ryan. "It had to be something that could withstand a tantrum."
Although the arm is still to be perfected, Ryan has had inquiries from 160 families to print prosthetics for their children. He has since established an online prosthetics service, Ambionics, and plans to trial his device by working with 20 families around the world.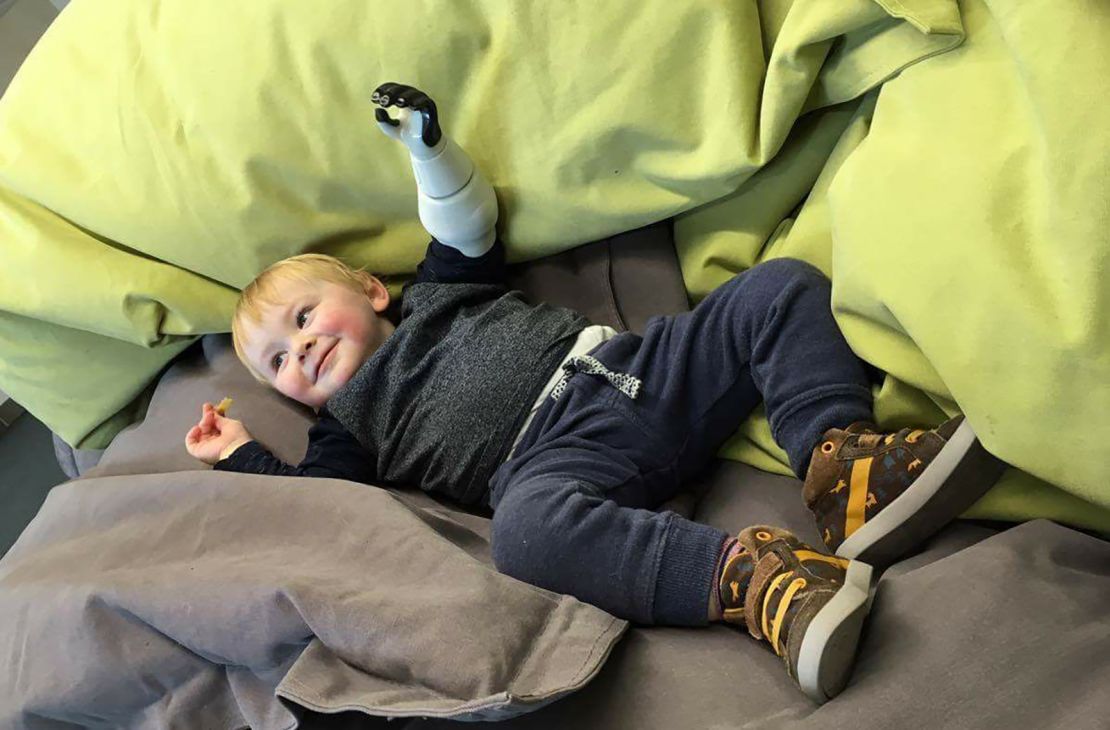 Lending hands to children around the world
Ryan uses an Xbox scanner to create digital scans of the residual limb, so that he can 3D print the socket. The families working with Ryan will send him scans that he will use to model and 3D print their prosthetics.
Ryan's beta trial began in October when he fitted his first prosthetic on another child in Wales.
"The trial is really to test that basic assumption – can a family send me a scan from Ecuador, Australia or Africa and then can I model a socket that will fit?"
Ryan says he can make a whole arm system for between $150 to $250-worth of materials and time.
Added to that, he says it would take less than a week to model and print a new socket for a child if they outgrew or misplaced theirs, compared to a few months wait for an NHS prosthetic.
A much more advanced myoelectric arm – which uses muscle signals in the arm to open or close the fingers – costs approximately $7,800 on the NHS, according to Ryan.
High-tech prosthetics with controllable fingers can cost anywhere up to $100,000.
Right now Ryan can give away his prosthetics, but to sell them he would need to certify them as a medical device.
"If we go down the regulation route that's going to hugely increase the price," he explains. "I don't want that, I want children to have these for as cheaply as I can make them."
Network of 'helping hands'
Ryan is considering the legalities of making his design free for anyone to use, much like Enabling the Future (e-NABLE), a global network of volunteers 3D printing colorful plastic prosthetics for children.
Instead of patenting and selling its prosthetics, e-NABLE provides designs for volunteers around the world – including school children in science classes – to download, 3D-print and fit together.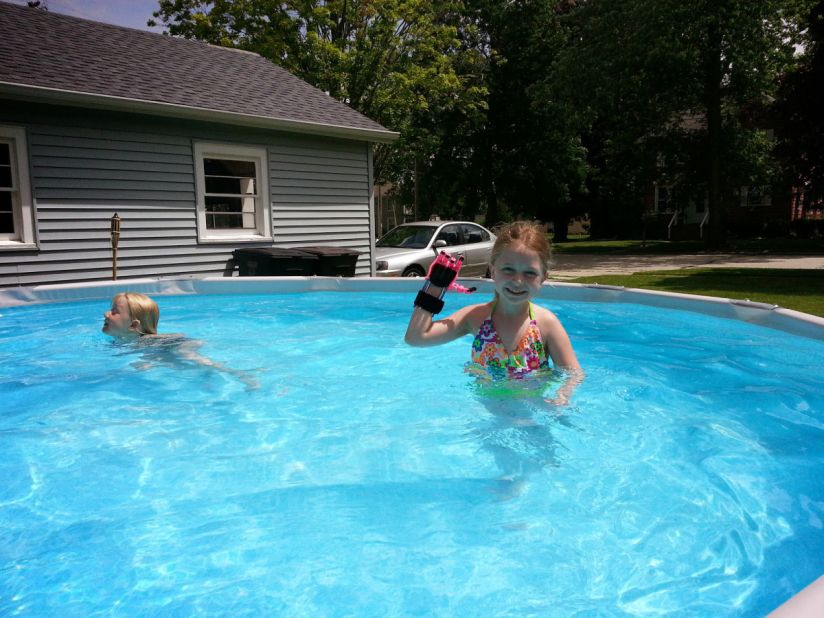 Prosthetics made by 3D printers
"There was never any question as to what to do with the design," e-NABLE co-founder, Jen Owen tells CNN. "The whole reason the project came to be was because there were no affordable options for prosthetics, especially for children in underserved areas and who also outgrew their devices as quickly as they outgrew their shoes."
There is no need for e-NABLE volunteers to meet with patients; all they need is a photo of the arm with a few measurements.
The hands are made of plastic and have elastic cords extending from the wrist to each finger. The elastic keeps the hand open and when the wrist is flexed the cords pull and the hand closes.
There are alternative designs available for patients who may not have a wrist but still have a functional elbow.
Since starting in 2013, e-NABLE has amassed thousands of volunteers in 100 countries. Owen estimates they have built up to 3,000 devices at an average cost of approximately $150 per hand.
However, the devices are only suitable for children above the age of four, as there are many small parts involved.
Owen believes that children younger than this should learn how to accomplish basic tasks without prosthetics.
But for Ryan, giving younger children the chance to grow accustomed to functioning prosthetic arms is key.
"My rationale is basically, if you haven't mastered a prosthetic by the age of two and a half, it will be very cumbersome to do so."
He hopes his device will let children as young as eight months navigate life with a functioning prosthetic, until they are old enough to use a more advanced device.