Thanksgiving is right around the corner. For many, it's a great excuse to cheat on portion control standards with plates full of turkey, mashed potatoes and all the other typical holiday fixings. But that doesn't mean you should do it.
The American Council on Exercise found that the average American eats a whopping 3,000 calories and 229 grams of fat during the Thanksgiving day meal. To keep things in perspective: If you weigh 160 pounds, the ACE estimates you'd have to walk 30 miles just to burn that off. And it gets worse if you're the kind of person who snacks throughout the day before you sit down to a huge meal. You could be taking in upward of 4,500 calories in that case.
But that doesn't mean you have to scrap all your beloved Thanksgiving foods. So long as you're conscious of the types of foods and how much you're putting into your body, you can enjoy meals in moderation. A few healthy swaps to your traditional sides and desserts can cut back on calorie and fat intake drastically.
To prove that, we've gathered a list of seven tools (and a few tricks) that can help lighten up your Thanksgiving meal – because no one wants to have to run a marathon the next day to burn up all those excess calories.
Note: Prices below reflect the retailer's listed price upon publication.
Hamilton Beach's 5.5-Quart Steamer ($29.47; walmart.com)
Toss the green bean casserole and instead opt for steamed green beans. Better yet, find other ways you can turn your more caloric veggie sides into steamed ones. Steaming vegetables is one of the healthiest cooking methods out there. According to a 2009 study, steaming retains the most nutrients compared with other cooking methods like boiling and stir-frying. Steaming also allows your vegetables to be tender without the use of oils. A light sprinkle of salt and herbs can pack a punch, so you're not compromising on flavor.
In terms of tools, we're fans of Hamilton Beach's 5.5-Quart Steamer ($29.47; walmart.com). With it, you can stack two steaming bowls to whip up larger quantities of foods. Simply fill up the device with water, add your choice of foods to the steaming compartments and set the cooking timer. Then you can forget about the veggies; the appliance will automatically turn off the steamer and set to "warm" mode once the cook time is done. You'll be free to focus on other dishes like the turkey.
Cuisinart's 11-Cup Pro Food Processor ($129.99; macys.com)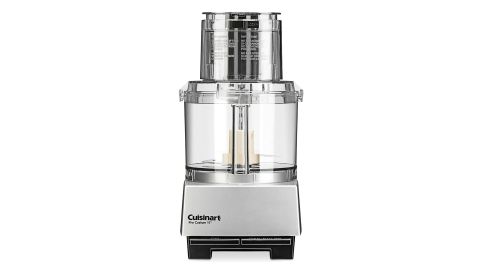 We love mashed potatoes as much as anyone. But the starchy standby is often full of butter and cream, making it not the most ideal side. A hack that we love is swapping out potatoes for cauliflower. This doesn't compromise on flavor, but usually cuts back about half the calories. Not to mention, cauliflower is chock full of good-for-you nutrients like vitamin C, vitamin K and omega-3 fatty acids.
To do this, you'll need a food processor, which will help blend the cooked cauliflower smoothly to resemble the consistency of mashed potatoes. Plus it's a great kitchen tool to have if you don't already own one. Take Cuisinart's 11-Cup Pro Food Processor ($129.99; macys.com). Its stainless steel blades can chop tough vegetables with ease, cutting down on your prep time in the kitchen. More than 200 Macy's customers have rated the device an impressive 5 stars. And since it can be used to create anything from salsas to salad dressings, you'll be using this appliance far beyond Thanksgiving.
Zwilling Madura Plus Nonstick Pan (starting at $40; food52.com)
We've waxed poetic about how essential a nonstick pan is — especially the Zwilling Mandura Plus Pan. This ultra nonstick pan requires very little (if any) additional oil to cook meats or veggies. That means if you want to pan roast any side dish or main, you won't need to be overloading your food with butter or olive oil to keep it from sticking to the pan. During our testing of the product, cleanup was a complete breeze, even with the seemingly most stubborn caked-on grease. A solid nonstick pan can save you tens of additional calories in your dishes, which can really add up in the long run.
Wilton Silicone Mini Pie Molds ($10.18, originally $11.99; amazon.com)
If you've got a major sweet tooth, it's not so much the turkey and potatoes that tack on the calories as all the slices of pumpkin pie. A simple solution to keeping your dessert portion control, well, under control, is making mini-pies. This can give you all the satisfaction of having your pie (and eating it too!) while cutting down on how many calories you're taking in during your feast. Of course, to create these smaller treats, you'll need pie molds that can help create the perfect shape.
Wilton's silicone molds are a solid option to make mini-pies. The molds are oven-safe up to 500 degrees as well as microwave- and freezer-safe. Once you're done baking, simply pop the molds into the dishwasher for an easy cleanup.
Cuisinart SmartStick 200-Watt Immersion Hand Blender ($89.99; amazon.com)
The traditional Thanksgiving spread doesn't usually involve soup, but if you're hoping to cut back on calories, consider it. Researchers have found that when eaten as an appetizer, soup can increase fullness and reduce your overall calorie intake for the entire meal. Root vegetables like squash and carrots are in season and will make for a fresh and delicious appetizer to kick off your dinner.
If you don't want a chunky soup, you'll need a hand blender to make sure all the ingredients are pulverized smoothly and evenly. Cuisinart's device is one of the top options out there, garnering 5-star ratings from over 2,200 Amazon customers. It has a sharp blade, a heavy-duty motor and a protective guard, so you can whip up soups easily without a mess.
Porcelain Gold-Rimmed Salad Plate Set ($68; food52.com)
Although the jury is still out on whether eating off smaller plates can really reduce food consumption, research in the Journal of the Association for Consumer Research, which analyzed over 50 prior studies on this topic, might help. The study found that smaller plates led to a 30% reduction in the amount of total food consumed on average. This, however, depends on whether you're self-serving. If you are helping yourself, as often happens during Thanksgiving dinners, you might serve yourself less food.
Giving yourself and your guests salad plates, which of course are smaller than your traditional dinner plates, could help everyone cut back on excess calories. We love these gold-rimmed options from Food52. They're minimalist and can match most dining setups, but also feel like a perfect fit for more upscale dining setups.
"Danielle Walker's Against All Grain Celebrations: A Year of Gluten-Free, Dairy-Free and Paleo Recipes for Every Occasion" by Danielle Walker ($25.64; amazon.com)
Tools are great, but if you don't have meals in mind that utilize them, they're pretty much useless. So for the ultimate healthy Thanksgiving meal, you'll want a cookbook that you can rely on in preparation for the big day. This New York Times best-selling cookbook by Danielle Walker showcases 125 special-occasion recipes that are grain-free, dairy-free and gluten-free. In the book, Walker outlines a full Thanksgiving spread, complete with turkey, stuffing and pies that are made with good-for-you ingredients. It's a great resource to have if you're inviting friends over with specific dietary restrictions or food allergies, or if you just want to lighten up your Thanksgiving meal.