A solitary figure lurked in the distance outside the village of Golat in the Sinjar region of northern Iraq. Kurdish troops spotted the man at 4 a.m., shining projector lights across a field while patrolling the area on a late winter morning. They fired six warning shots overhead. The person hid in the tall grass until the Kurds approached at dawn.
One of the Peshmerga soldiers, a captain, told the troops to stay back as he began walking towards the person, fearing a possible suicide bomber from the ISIS-controlled town of Tal Afar nearby. The soldiers fired more warning shots and the man rose to his feet.
"No," he said to the captain. The man wasn't strapped with a suicide vest and he didn't have a gun. His pockets were stuffed with Turkish and Iraqi cash. He had three phones, a couple of bank cards and a Virginia driver's license.
He asked the Kurdish soldiers for a cigarette after they cuffed him.
Mohamad Jamal Khweis, a 26-year-old a former bus driver from the suburbs of Washington, DC, claimed that he had fled an ISIS safehouse. He said his ordeal began during a vacation in Turkey. There, he met a woman from Mosul who convinced him to sneak into ISIS territory with her.
The two were separated before they reached Raqqa and he found himself trapped in the terror group's caliphate, fearing he would be killed if he raised suspicions. He spent more than two months living in squalid safehouses with foreign fighters, trying not to attract attention as he plotted to slip away.
That's what he told the Kurds, at least.
Upon learning that an American had been captured near ISIS territory, the FBI dispatched agents to interview Khweis at the Kurdish detention facility in Erbil, Iraq. His story changed over the course of 15 meetings, according to court records. The story he ultimately told agents after weeks of interrogations is much darker.
There was no woman from Mosul. He traveled by himself in Turkey and took steps to reach ISIS facilitators online, using apps to mask his location, encrypt his messages and hide his web browsing history. He sent a direct message to a suspected recruiter nicknamed Mad Mullah and created a Twitter account with the handle iAGreenBirdiA. Radical Islamists believe green birds carry the souls of martyrs to paradise if they die waging violent jihad, according to trial testimony.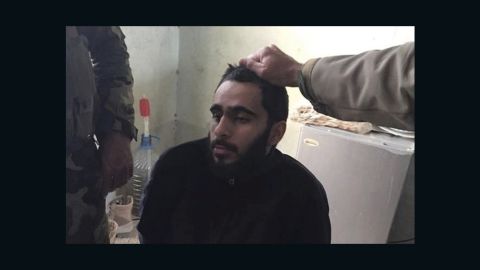 In Turkey, Khweis received a call at midnight instructing him to leave his hotel room and get in a taxi to cross the Syrian border. He shared a ride with ISIS recruits from France who allegedly praised the mass shooting and suicide bombings the terror group carried out in Paris. The driver told the passengers that they were going to have to walk part of the way. They were also advised to look out for landmines and other explosives along the road.
Khweis is one of five US citizens or legal residents who have been taken into custody as terror suspects after traveling to ISIS territory between 2014 and 2017. Last month, he was sentenced to 20 years in prison for material support of a foreign terrorist group and a gun charge. His attorneys said they plan to file an appeal.
Related documents: In the sentencing document from Mohamad Khweis' defense attorneys, they suggest that five years in prison was a fitting punishment for him, explaining that he shouldn't serve longer because abandoned ISIS and cooperated with the FBI. In the government's sentencing memorandum, prosecutors argue that Mohamad Khweis should be locked up for 35 years as a deterrent and a reality check for people who may fall prey to ISIS propaganda.
In the wake of the deadly ISIS-inspired truck attack in New York, President Donald Trump called for "extreme vetting" of immigrants trying to reach the US. Khweis is an example of someone traveling in the other direction – leaving the US to fight for ISIS and other militant groups in Iraq and Syria.
At least nine American terror recruits have died in Syria and Iraq, according to Justice Department documents, court records and media reports. At peak, an estimated 100 Americans were fighting for Sunni extremist groups in Iraq and Syria, according to the International Centre for the Study of Radicalization and Political Violence at King's College in London.
One US citizen is currently being held at an undisclosed location in Iraq as an enemy combatant. The individual reportedly left ISIS and surrendered to a Syrian rebel group in September. The person's name has not been released by the Department of Defense and there's been no status update on when the individual might come to the US to face potential criminal charges.
The ACLU filed a habeas corpus petition in early October demanding that the Pentagon let the organization's lawyers contact the American. The government responded that the ACLU has no standing to send lawyers into a war zone to talk to a person whose identity and best interests are unknown to them, the government argued. The Red Cross has visited the individual twice and offered to contact family members, according to the government's brief. The ACLU fired back that the Red Cross does not provide legal advice.
The situation raises questions about what happens to other Americans who are captured in Iraq and Syria. Since 9/11, there have been debates about how to collect intelligence from detainees while respecting the rules of constitutional governance.
The Trump administration has drafted at least one version of an executive order that would allow ISIS suspects to be jailed in Guantanamo Bay, Cuba, according to the New York Times and the Washington Post. Trump's been advocating sending American detainees to Gitmo since 2014, when he tweeted "Any American who fights with ISIS should have their passport revoked. Take them to Gitmo for interrogation."
The president repeated his call for US terror suspects to be held in Cuba after eight people were killed and 12 injured when an ISIS follower ran down cyclists and pedestrians along a Lower Manhattan bike path on Halloween.
Khweis returned to the US before Trump took office. He was extradited in June 2016 after spending nearly three months in a Kurdish prison. Khweis claimed the guards beat him, sexually humiliated him, subjected him to mock executions and pushed him down into a puddle of his own urine. He slept on a cold floor. Kurdish officials testified that no one abused Khweis, although they acknowledged he had been slapped once and a guard yelled at him when he asked for a second serving of food. His cell had a pile of blankets rather than a cot. Other details about the detention facility are classified, they said.
Defense attorneys said the FBI interrogated Khweis at least 11 times before reading him his Miranda rights. Weeks of solitude and a sense of desperation to get home led him to make incriminating statements to the FBI, according to the defense.
"Mr. Khweis, a US Citizen, was held in a secret detention in Erbil, Iraq, for over two months for US interrogations," Khweis' defense attorneys wrote in a court motion. "Before interrogations began, a consular from the US State Department advised Mr. Khweis that his right to remain silent and the presumption of innocence were not present in Iraq. Then, for the first set of interrogations, Mr. Khweis was not Mirandized…During each interrogation, Mr. Khweis begged, pleaded, and wept, imploring the agents to bring him back home, even if it meant returning home to face criminal charges."
"Though the interrogations reports indicate that Mr. Khweis recounted no abuse, it is also important to note that that Mr. Khweis was permanently in the presence of a Kurdish official. The Kurdish were omnipresent, and he was never out from under their critical eye," Khweis' attorneys wrote.
In response, prosecutors said the first set of interviews centered on collecting classified intelligence about the inner workings of ISIS. A separate team came in later to gather info for a criminal case.
Khweis is the first US citizen to go on trial and take the stand to describe how and why he traveled to Syria. He testified that he went as a citizen-investigator of sorts. He envisioned embedding himself with Islamic State fighters to learn about daily life in the caliphate, a la Vice News, according to his defense attorney. The ISIS propaganda and 9/11 image recovered on his phone were research, he said.
"When I saw…what was going on in Syria on the news, I was kind of interested to find out a little bit more, like what's going on and stuff like that," said Khweis, on the witness stand, according to court documents. "I actually wanted to see both sides…to see the Syrian regime side and then the opposition side. After watching videos posted… by like the Islamic State showing like those nonviolent videos, showing people just living a normal life, people going to like the shopping center, going to restaurants, and going shopping, just playing sports outside, I felt like I could blend in and wanted to check that."
He didn't blend in. After the taxi took Khweis and his fellow recruits to the border and they crossed on foot, a black SUV picked them up along the way and took them to Raqqa. Khweis wasn't dropped off on a street corner so he could see the sights, as it were. He went straight to intake, where he surrendered his passport and filled out an enlistment form, providing the name of his father, clothing size, shoe size, blood type and occupation before Jihad. His reponse: "hotel receptionist." He later had his blood drawn to test for sexually transmitted diseases. He chose a Kunya (ISIS nickname), Abu Omar al-Amriki, according to court documents.
Instead of exploring Raqqa as a truth seeker, he took on the role of manservant in dilapidated safehouses, making dinner for militants and performing other menial tasks, according to defense attorneys. Khweis said he missed many Sharia classes and sermons because the drinking water made him sick throughout his time with ISIS.
"When you listen to this evidence, you will hear not that Mohamad fired a weapon, but that he took out the trash," said Khweis' attorney, Jessica N. Carmichael, during opening statements. "Not that he planted a bomb, but that he bought groceries for the people at his house. And you will hear not that he encouraged other people to join ISIS or espoused ISIS ideology, but that he bought a guy lunch."
Prosecutors said that Khweis' behavior prior to entering Syria suggests he didn't go there as a neutral observer. He quit his job, sold his car, lied to his parents and used tradecraft to conceal a one-way trek to Raqqa. He booked his flight about a month after the Paris terror attack on November 13, 2015.
"'Mohamad Khweis turned his back on his own country by joining the most lethal terrorist organization in the world, renowned for its brutality and murderous agenda, and offered himself as a suicide bomber," prosecutors wrote in a sentencing memorandum. "The defendant's desire to join ISIS involved considerable planning and a deliberate execution of his plan.'"
Khweis insisted he never intended martyr himself. He's not religious. He drinks and smokes, both forbidden under Sharia law. On the witness stand, he claimed he was partying at bars in Turkey when he made a drunken decision to take a quick side trip to Syria. His secret detour could make for a story he'd one day share with his grandchildren.
Ultimately, Khweis wound up sharing his story with a jury at a Virginia courthouse in June. Hours after closing arguments wrapped up, he was convicted on all counts. On October 27, he was sentenced to 20 years in prison.
His defense attorneys had argued against a lengthy sentence because Khweis abandoned ISIS and cooperated with authorities.
"He risks death by informing on ISIS even now, that's going to be public," said Khweis' lawyer, John K. Zwerling, during closing arguments. "The government often says, 'You need to convict these people, you have got to send a message.' What is the message to other people who make this kind of stupid mistake, find themselves in an incredibly awful situation where they need to either be executed by ISIS or execute others through use of firearms or explosives, or escape? We should want them to escape. He chose to escape. He chose not only to escape, but to assist our country in fighting ISIS. He told them what he could. And it was very valuable information."