Story highlights
Trump will face a bombastic anti-American leader in the Philippines
Vietnam and the US are building an alliance years after the end of the Vietnam War
US President Donald Trump may have left China for the final leg of his Asia tour, but the specter of Beijing will loom large over his discussions with Southeast Asian nations on the issues dominating the region.
At the core of much of what Trump will do, and what those nations hope he will accomplish during his visit, will depend on America's ability to counter China's growth and its ambitions.
China's used development aid, closer diplomatic ties with nations like the Philippines, and its military expansiveness to spread its footprint in the region. How Trump decides to respond to this will be evidenced during a series of key meetings.
On Friday, Trump will come face-to-face with the outwardly anti-American president of the Philippines, Rodrigo Duterte at the APEC summit in Danang, Vietnam. The US president will then participate in the Asia-Pacific Economic Cooperation Leaders' Meeting, before delivering a speech at the APEC CEO Summit, the White House has said.
On Saturday, he will travel to Hanoi for an official visit and bilateral meetings with Vietnamese President Tran Dai Quang and other senior Vietnamese officials.
'America has lost now'
Being an American ally has been in the DNA of the Philippines for decades, says Alexander Neill, a Shangri-La Dialogue Senior Fellow for Asia-Pacific Security at the International Institute for Strategic Studies in Singapore. The former American colony is the oldest partner the United States has had in the region, but it is a tumultuous history the two nations share, with political, defense and economic challenges that have at times caused friction that has brought them to the brink of diplomatic divorce.
"It's a relationship that, if handled in the right way, could be promising," Neill told CNN. "As a businessman, Trump is going to be wanting to convince the Philippines of the risks of putting too many eggs in the Chinese basket."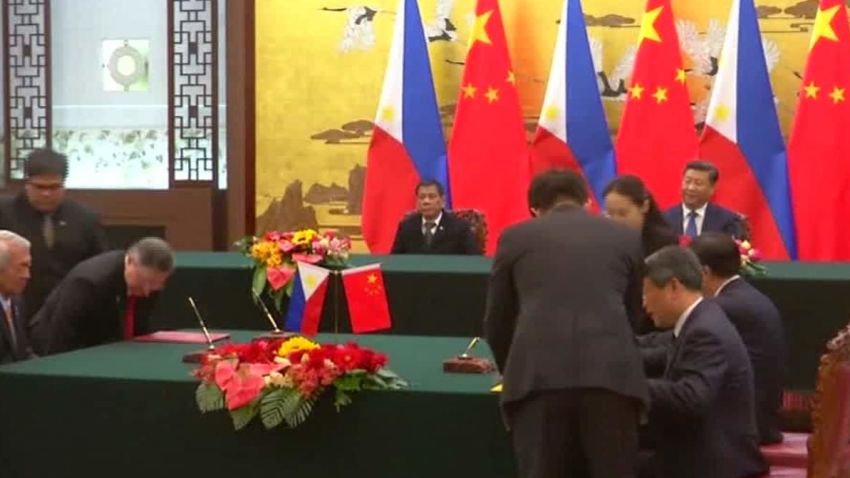 Philippines' Duterte pivots towards China
It was this time last year that Philippines' Duterte announced in Beijing that "America has lost now. I've realigned myself in your ideological flow." He told his Chinese hosts that he may also "go to Russia to talk to (President Vladimir) Putin and tell him that there are three of us against the world: China, Philippines and Russia. It's the only way."
Duterte, known for speaking brashly later backtracked on his comments, insisting what he'd referred to in Beijing was not "a severance of ties," and that he wasn't cutting diplomatic relations. "What I was really saying," he told reporters, "was a separation of foreign policy."
Whether this so-called "separation" bears out will likely depend on Duterte and Trump's personal relationship. Duterte, whose savage dislike of former President Barack Obama was well known, has promised to "deal with President Trump in the most righteous way," when the two meet in Manila. Though he has also said he will "listen to him, what he has to say."
That the two leaders are personalities are essentially confrontational, and in that respect similar, may in fact bode well, said Neil.
"If you're going to do a character analysis Trump and Duterte are a perfect match," said Neil. "These two guys see eye to eye and I think there's evidence to suggest that all of this animosity and rhetoric between the US and the Philippines has died down quite considerably."
Trump, in a phone call to the Philippines leader in May, told Duterte he was doing an "unbelievable job on the drug problem," referring to the 14-month long crackdown on the drug trade in the Philippines which human rights groups claim thousands of people have been killed, many without due process. Duterte has rejected international criticism of the campaign.
Duterte's anti-American feelings
But it is also possible that the two leaders' personal dynamic could become damaging, says Aaron Connelly from the Lowy Institute.
"Duterte is a lot like Trump, he's sort of an unpredictable character and clearly the leaders who work best with Trump are the ones who are sort of willing to bury their ego and do things that appeal to Trump's ego," Connelly said. As examples, he pointed to French President Emmanuel Macron's hosting Trump during Bastille Day celebrations, or Japanese Prime Minister Shinzo Abe's gifting of a golden golf club that helped mollify the American president.
Duterte may not be able to overcome his animosity towards the United States, Connelly said. "He's the first Philippines president from Mindanao and he brings with him all the baggage that involves," he said.
"He grew up with his grandmother telling him stories of American atrocities on Moro during the colonial period. One of Duterte's grandparents was Muslim and some of his grandchildren are Muslim, and he regards himself as half Muslim because he's half-Moro, so he has some real anti-American feelings and he's very loathe to acknowledge any of the assistance the US has provided in Marawi," added Connelly, referring to the embattled city where US forces have helped Philippine security forces battle ISIS fighters.
And he has turned to China most effusively, joining the One Belt, One Road trade and investment initiative Beijing launched earlier this year, which offers billions in funding to developing countries. He has also reportedly muted his opposition of China's claims in the disputed South China Sea, even as the US beefs up its maritime presence in the region.
Vietnam's pivot to the West
In contrast, Vietnam, which since the Clinton administration has been the subject of back-and-forth diplomacy, is now viewed as a key partner for Washington and worthy of a more sustained relationship.
President Bill Clinton's visit to Hanoi was the first by a sitting US president since the end of the Vietnam War. It paved the way for a meeting in 2015 between President Obama and the general secretary of the Vietnamese Communist Party, Nguyen Phu Trong. The meeting violated protocol, the Atlantic reported, because the general secretary was not a head of state. "But the goals trumped decorum: Obama wanted to lobby the Vietnamese on the Trans-Pacific Partnership – his negotiators soon extracted a promise from the Vietnamese that they would legalize independent labor unions – and he wanted to deepen cooperation on strategic issues."
The Obama administration officials also reportedly said that Vietnam would "one day soon host a permanent US military presence to check the ambitions of the country it now fears most, China."
US destroyer sails near China-claimed island
Trump pulled the US out of the Trans-Pacific Partnership trade deal but military cooperation with Hanoi continues. Defense Secretary James Mattis told his Vietnamese counterparts in August to expect a visit from a US aircraft carrier next year, the first such visit since the Vietnam War ended in 1975.
Vietnam's growing closeness to the United States is an increasing irritant to China, says Connelly.
"For the Vietnamese, the threat has always come from the north. They would say 'we've been aggressively visited by many great powers over the course of our history, whether it's the French or the US, but the longterm strategic concern has always been China,'" he said.
These concerns are underscored by the two countries' ongoing dispute over islands in the South China Sea. China's claims to the South China Sea stretch roughly 1,000 miles from its southern shores, and include energy rich areas also claimed by Vietnam.
In July of this year, Vietnam suspended oil drilling in contested waters in the South China Sea, after alleged threats from China.
"Over the course of a millennia they (the Vietnamese) were able to maintain their independence from China throughout that period, and they're incredibly proud of that," added Connelly. "For them, having partners like the US to help them build up their maritime abilities and to continue to make sure the US is engaged in the region is really important."
An opportunity for Trump to exploit
During the Vietnamese prime minister's visit to the White House in May, the two countries signed $8 billion worth of commercial deals and discussed the transfer of a decommissioned US Coast Guard cutter to the Vietnamese coast guard which is designed to patrol coastal waters. The US has also transferred six patrol boats to Vietnam.
Washington has relaxed its arms embargo against Hanoi and its solidifying relationship with the Vietnamese stands in marked contrast to Hanoi's seemingly deteriorating one with Beijing.
In June representatives from Vietnam and China met in Hanoi, but the gathering finished early when Chinese officials broke off the summit reportedly over Vietnam's outreach to Japan and the US, as well as its objections to China's continued buildup of disputed islands in the South China Sea.
"The Sino-Vietnamese relationship is quite fraught in many ways, but that said, I think the business community and potential investors and cross-border trade, it's a huge relationship there," said Alexander Neill.
"China's economic weight is on Vietnam's doorstep, but the military to military relationship is not good at the moment. If the US decides to exploit that to some degree it will serve as an irritant to President Xi Jinping and the People's Liberation Army."