CNN —
Looking to document your next biking trip, mountain hike or beach day? You might want to invest in a camera that's designed to capture you in motion.
We can't get enough of the awesome GoPro videos on the Internet. With these mountable cameras (such as the GoPro HERO5), athletes and adventure-seekers can shoot footage while cycling, running, surfing and more.
Other times, we're glued to fun family videos of small children experiencing the beach for the first time. For capturing these kinds of shots, especially if you're a parent running after little ones, you'll want something light and compact that you can slip into your pocket when your hands are full.
We've found cameras for every outdoor adventure — no matter how intense the activity or conditions. These options can best withstand the elements, shoot true HD-quality video and have long-lasting battery life. There's even a couple that you can mount on your bike, surfboard or helmet, so you can capture footage while also testing your physical limits.
Note: The prices below reflect the listed retailer's price on the date this article was published.
High-quality LCD screen
Olympus Stylus TG-4 digital camera ($429.99; jet.com)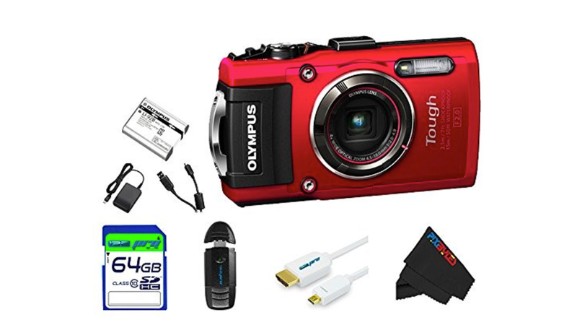 Jet.com
Searching for a camera that can withstand the elements? Look no further than the Stylus TG-4, which was rated the No. 1 outdoors action camera by Consumer Reports for its waterproof design that resists freezing temperatures, crushing force, shocks and dust. With a 4x optical zoom and image stabilizer, this 16-megapixel camera was made for your next adventure.
Hands-free filming
Veho VCC-005-MUVI-HD10 Mini Handsfree Action Camera ($114.99; amazon.com) 
Amazon
Imagine how convenient it would be to go your vacation without having to juggle holding your camera. That's the case with this Amazon best-seller from Veho, which allows you to effortlessly  capture hands-free footage. With several mounting options, including a flat mount, helmet-side mount, body clip and helmet strap, this mini action cam captures HD-quality footage while you focus on the task at hand. For outdoor activities, we'd recommend buying a waterproof case so that your camera is protected. For this model, Veho designed an affordable waterproof case ($16.99; amazon.com).
Durable and sharp images
Nikon Coolpix AW130 Digital Camera ($386.95; amazon.com)
Amazon
If you're partial to Nikon, you'll love this Wi-Fi enabled camera with a 5x optical zoom lens. It has a durable design that's water-, freeze- and shockproof. The camera also is GPS-enabled, has an electronic compass and built-in mapping capabilities to ensure you're extra prepared for your next adventure.
Intense sports and action
GoPro Hero5 Black ($399.99; amazon.com)
Amazon
A top-rated camera by Consumer Reports, the GoPro HERO5 was made for action and outdoor activities — no matter how extreme your adventure. This nifty gadget responds to voice commands for taking hands-free photos, is waterproof up to 33 feet of water and an easy-to-use touchscreen interface. Most notably, the HERO5 has an image stabilizer so that you can count on sharp images and video when working with adequate lighting.
Budget-friendly option
YI-4K Action Camera with Waterproof Case ($249.99; amazon.com)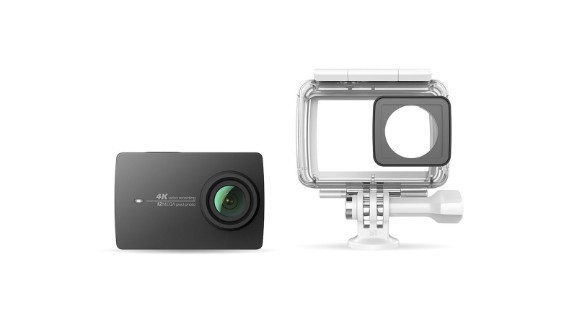 Amazon
For those on a budget, the YI-4K is a powerful action camera that comes at a reasonable price. This particular model captures ultra-high-definition footage and has an image stabilizer for extra crisp images. For those looking to film all day, this camera has a long-lasting battery so that you can leave it on for a full 120 minutes while shooting. And, when placed in its water-resistant casing, this camera can survive submersion in up to 131 feet of water.
Sharp video quality
Sony FDRX3000/W Underwater Camcorder ($368, originally $399.99; amazon.com)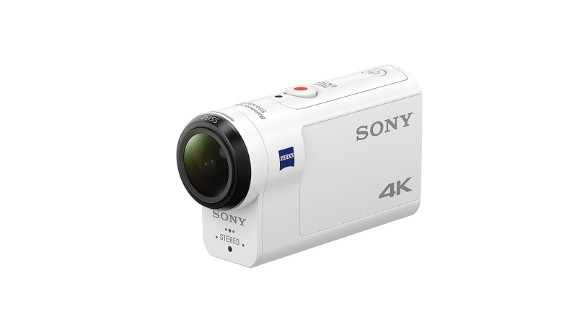 Amazon
When seeking professional-grade video quality, this underwater camcorder from Sony is a top-notch choice. With a professional-grade image stabilizer that shoots 4K footage, this camera delivers silky-smooth video with a waterproof design, high-quality audio, built-in Wi-Fi, Bluetooth and a mic jack. This Sony model is the first action cam to feature Sony's BOSS System (Balanced Optical Steadyshot) technology, which allows the camera's lens and image sensor to move together, diminishing camera shake.