Story highlights
We reviewed the GLO Science Teeth Whitening Device, which provides effective at-home whitening.
(CNN) —
If you're after a white smile, here's a major pro tip for an at-home whitening method you can actually afford.
These days, brightening your smile in a dental office is on the pricey side. According to Yourdentistryguide.com, the average cost for in-office whitening is $650, which some consider a steep price to pay for vanity.
What if you could get professional-grade teeth-whitening results at home for a third of the cost? We know, sounds too good to be true, right? We thought so too before being introduced to the GLO Science Teeth Whitening Device ($220, sephora.com).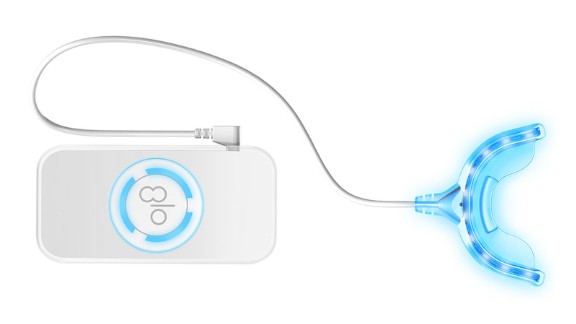 Glo Science
With this best-selling whitening kit from Sephora, you can help erase away yellowing and dullness that stem from everyday habits (think: coffee, smoking, and dark-colored foods) straight from home. Promising a brighter smile in just five day's time, the G.L.O. (guided light optics) involves four treatments per day, lasting just 8 minutes.
When using the GLO Brilliant Whitening Device, the process is simple. All's you have to do is apply a thin layer of the provided whitening gel to the fronts of your teeth before inserting the blue-light mouthpiece, which then gently heats the hydrogen peroxide to whiten teeth. After each treatment is finished, your device will blink and shut down to signal completion. Easy peasy.
Designed to provide impressive results and whiten with ease, GLO Science promises long-lasting results in an efficient manner — and with little to no teeth sensitivity. But, don't just take their word for it. This product has won awards and was most notably named a four-time winner for innovation and design from the Edison Awards. Since being sold through Sephora, it's already garnered over 200 5-star reviews from satisfied customers who mainly noted its user-friendly design, effective performance, and comfortable fit when in use.
Another cool feature regarding this product: GLO Science whitening gels are all vegan, safe for people with penicillin allergies, and made without gluten, soy, nuts, or latex. Plus, it's easy to charge the device with a USB cable that plugs straight into your computer or wall outlet charger.
And with that, we're sold. Here's to a whiter smile thanks to this genius (and affordable) GLO Science teeth-brightening technology.
Note: The prices above reflect the listed retailer's price on the date this article was published.