Eight people were killed and about a dozen were hurt Tuesday when a 29-year-old man drove a rental truck into crowd, mowing down pedestrians and cyclists in what officials are calling the deadliest terror attack in New York City since 9/11.
Here's what we know – and don't know – so far.
What happened?
Video shows bike path after NYC truck incident
What we know:
A man drove a rented truck around 3:05 p.m. onto the West Side Highway bike path in New York's lower Manhattan, hitting bicyclists and pedestrians.
About a mile down the path, the truck collided with a school bus, injuring two adults and two children. The driver, identified by two law enforcement sources as Sayfullo Habibullaevic Saipov, exited the truck with a pellet gun and a paintball gun.

A police officer shot him in the abdomen.

One official said Saipov followed ISIS instructions "for carrying out such an attack" almost to the letter. The terror group has posted instructions on its websites and on social media. Saipov told investigators he was inspired by Islamic State videos, in particular one showing ISIS leader Abu Bakr al-Baghdadi, and began planning an attack a year ago, a federal criminal complaint states.
What we don't know:
What was the attacker's precise motive, and were there others involved or who have information? An Uzbek national is being questioned in connection with the attack, law enforcement sources say. The individual, previously identified as Mukhammadzoir Kadirov, may have pertinent information and is possibly an associate of Saipov, one source says.
The victims
New York witness: Bodies had tire tracks
What we know:
Hernán Diego Mendoza, Diego Enrique Angelini, Alejandro Damián Pagnucco, Ariel Erlij and Hernán Ferruchi were killed while celebrating the 30th anniversary of their graduation from their high school in Rosario, Argentina.

A Belgian mother of two, Anne-Laure Decadt, was also killed, according to her husband. She was traveling with her sisters and mother at the time of the attack.

Also killed were Darren Drake, 32, of New Milford, New Jersey, and Nicholas Cleves, 23, of New York, said a source with knowledge of the investigation.

Another Argentine who was part of the group was injured in the attack, as was a German woman who was not with the group.

Of the injured, nine remain hospitalized. Four of those are in critical but stable condition, officials said.

Injuries included a bilateral amputation and trauma to the neck, head, chest and back.
The police officer
NYC mayor on attack: Cowardly act of terror
What we know:
His name is Ryan Nash, 28. He was "on post near the location" at the time of the attack and apprehended Saipov, Police Commissioner James O'Neill said

He's been with the New York Police Department since 2012 and works in the city's 1st precinct.

O'Neill says he "stopped the carnage" by shooting Saipov in the abdomen.

Nash told reporters he was just doing his job, but was thankful for public recognition of what officers did in response. "I just want to thank my family and friends for their support and all the responding officers who assisted me," he said.
What we don't know:
Whether Nash is one of the officers with whom Saipov spoke after he was shot, and if so, what did Saipov tell him?
The suspect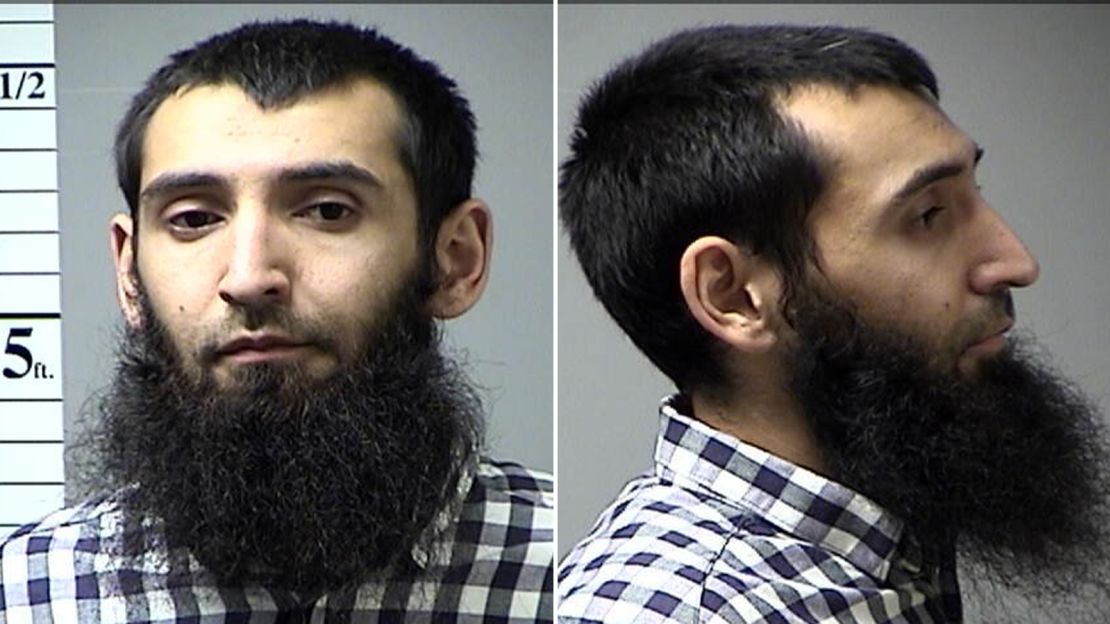 What we know:
The suspect appeared in court Wednesday but did not enter a plea to charges of providing material support to ISIS and violence and destruction of motor vehicles.

Saipov decided to conduct a truck attack "to inflict maximum damage against civilians" and said that he specifically chose to strike on Halloween "because he believed there would be more civilians on the street for the holiday," the federal complaint says.

Saipov has been linked to social media accounts containing ISIS-related material, and a note found near the truck used in the attack claimed the action was taken in the name of the terror group, authorities say. The crux of the note, one official said, is that ISIS will endure forever.

The suspect had planned the attack for weeks, said John Miller, NYPD deputy commissioner for intelligence and counterterrorism.

Saipov came to the United States in 2010 from Uzbekistan through the Diversity Immigrant Visa program, commonly known as the green card lottery. He has since become a legal permanent resident. He apparently spent time in Tampa, Florida, at some point.

Investigators plan to search the crime scene, including his car that is parked at a Home Depot where he rented the truck used in the attack.

One of Saipov's cellphones reviewed by law enforcement contained approximately 90 videos, "many of which appear to be … ISIS-related propaganda." The phone also had almost 4,000 images, many of which were ISIS propaganda, the FBI said in the complaint.

The 29-year-old recently lived in New Jersey and worked as an Uber driver there in the past six months, the company told CNN. Uber says he passed a background check and the company received no complaints about him.

He was once arrested in Missouri for failing to appear in court on a misdemeanor charge. He posted bond and failed to appear again in November 2016.

He married Uzbek national Nozima Odilova, 19, in Cuyahoga Falls, Ohio, in 2013. He has three children, according to multiple law enforcement officials. He registered two companies in Ohio, in 2011 and 2013.

Investigators have spoken with his wife and she is providing them with information, multiple law enforcement officials said.
What we don't know:
What exactly is Saipov's connection to ISIS, if there is one?

Evidence suggests the suspect acted alone, but authorities said it was "all very preliminary."

Why did Saipov move to the US?

He listed his occupation as a truck driver on his marriage license, but we don't know much about his previous employment.

How he was "radicalized domestically," per the claim from Gov. Andrew Cuomo.
CNN's Eliott C. McLaughlin, Brynn Gingras and Shimon Prokupecz contributed to this report.