CNN —
Scenario: You're out sightseeing while on vacation when your shoes begin to hurt your feet. In this situation, you often do one of two things: You either dart into the nearest shoe store and buy a new pair, or you deal with the discomfort and hobble around the rest of the day.
Either way, we're not fans of those solutions. The first means throwing money away on a pair of shoes you haven't researched and the latter means you're spending your vacation walking around in pain.
So stop those last-ditch practices. Here's a list of supportive walking shoes to help ensure you're prepared to go the distance — pain-free — on your next vacation.
We've rounded up a variety of walking shoes for most every lifestyle, activity and outdoor excursion. In making our picks, we carefully compared each style with the Mayo Clinic's list of recommended features when choosing comfortable walking shoes. And we also kept style in mind, so there are plenty of fashionable (and functional!) options in the mix.
Note: The prices below reflect the listed retailer's price on the date this article was published.
Walking shoes for men
The Converse Chuck Taylor All Star x Nike Flyknit ($79.97, originally $110; store.nike.com)
Nike
Prior to 2015, Converse hadn't changed up its shoemaking formula in about 100 years. Then came the Chuck II, a more comfortable take on the Converse that features a Nike Lunarlon insole for added cushioning and support. Suddenly, this stylish classic became a functional choice, in addition to being a fashionable one. With this hybrid, Nike took the Converse design a step further and completely revamped the shoe's looks. This sporty take on the shoe features Nike Flyknit material on its upper and has the same comfy sole found in the Chuck II. With this model, those loyal to Converse have a more comfortable option for their everyday walking shoe.
Asics GEL-Nimbus 19 ($120, originally $160; asics.com)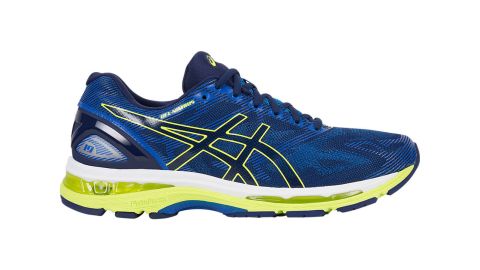 Asics
The GEL-Nimbus 19 offers an extremely cushioned step because of the new and improved Asics FlyteFoam technology. Even though the Nimbus offers maximal cushioning, the shoe still feels lightweight and provides enough support to protect your knees and other joints. Available in several different colors, the Gel-Nimbus 19 is also a great walking shoe option for women ($120; asics.com) that can also be used for the gym.
Brooks Men's Adrenaline GTS 17 ($89.95, originally $120; amazon.com)
Amazon
Brooks refers to the Men's Adrenaline GTS 17 as a shoe offering equal parts "plush cushioning, stability and fit" for a smooth ride with maximum support. These are clearly made for active folks, and those who choose them for walking shoes can also use them as multipurpose shoes for the gym.
Walking shoes for women
The Brooks Addiction Walker ($120; zappos.com)
Nordstrom
The Brooks are known as a popular (and supportive) shoe choice by many runners. That same support has been targeted toward those who put in major steps each day by way of walking. This particular pair has all the cushioning to help guarantee a smooth ride.
Adidas Superstar Sneakers ($79.95; nordstrom.com)
Nordstrom
First introduced in 1969, the Adidas Superstar Sneakers have been a hit among both men and women over the past couple of years. Now available at Nordstrom, these comfy sneaks earned 5-star reviews from 366 satisfied customers. While not the most cushioned shoe on the market, they're a go-to for those who value fashion, fit and function. These shoes come in unisex sizing and run big, so be sure to order the next size down.
Asics MetroLyte ($70; asics.com)
Asics
Available in four colors, the latest Metrolyte model by Asics is specifically designed for walking. This lightweight shoe has a supportive insole with a contoured arch for a plush walking experience. With a full-length memory foam sock liner and a convenient heel tab for slipping the Metrolyte on and off, the shoe was designed for those with style and function in mind.
Women's New Balance for J. Crew 620 ($80; jcrew.com)
J.Crew
For over 100 years, New Balance has produced tennis shoes with a goal of creating improved shoe fit. Now that the company has it down in the comfort department, it's releasing new trendy options that make great walking shoes. New Balance created a women's version of the iconic men's 620 sneakers for J. Crew. This shoe, which for years was only available in Japan, is one of the most sophisticated sneaks we've seen.
Since this sneaker is selling fast, we hunted down other similar (and equally stylish!) options. You can shop these now directly from Nordstrom.