For many women, getting a professional salon blowout is a luxury. In major cities, salon patrons will pay  $45 to $50 or more to have their hair styled by blowout specialists. While the hairstyle can last up to six days, depending on a person's hair type, that's still a pretty steep price to pay on a regular basis. These in-and-out salons are convenient, but the price of regular blowouts is too high for some.
Here's our solution to expensive salon blowouts: the Dyson Supersonic Hair Dryer ($399; sephora.com). This state-of-the-art Dyson dryer is a best-seller on Sephora and was named Best of Beauty Breakthrough for 2016 and Readers' Choice Breakthrough for 2017 by Allure magazine. With 346 satisfied Sephora customer reviews and over four years of research backing this technology, this sleek drying device promises top performance over other hair dryers on the market.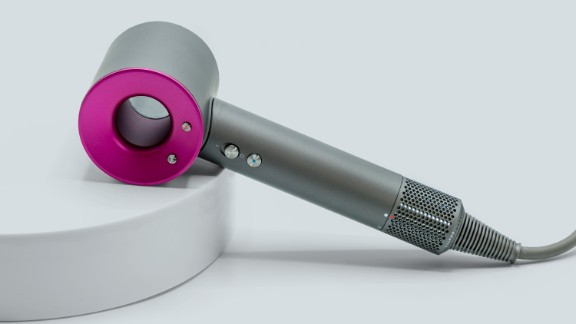 How it works: Dyson's tech lab committed its team to researching how hair responds to heat. With that knowledge, the company created the Supersonic, which has intelligent heat control technology to protect the hair's natural shine. In addition to protecting against damage, this powerful dryer moves 13 liters (about 3.5 gallons) of air per second, which creates high pressure and dries hair six times faster on average. The added bonus of this compact device is that it weighs less than other dryers, meaning your arm won't grow tired as you style your hair.
Beauty editors and other testers of the Dyson Supersonic frequently comment on the gorgeous aesthetic and unique design. Beyond looking great, its surfaces were created with heat shield technology so that its surfaces don't get too hot as you handle the device. With a removable filter that notifies you when it needs to be cleaned and a two-year warranty on all parts and labor, this hair dryer practically maintains itself.  
The price of the Dyson Supersonic, $400, is on the steeper side. But when you compare that to the aforementioned weekly blowouts ($45 x 52 weeks a year comes to $2,340 annually), this dryer is actually a cost-effective purchase. According to a review of the Dyson Supersonic by Sophia Panych, the deputy digital beauty director of Allure, this is a worthy investment "if you care about the health of your hair — or if your hair is extremely damaged or fragile — or if you want something that is durable and easy to use."
Note: The price above reflects the listed retailer's price on the date this article was published.