CNN —
You can finally pull the trigger on that Instant Pot you've been wanting. Right now, the Instant Pot LUX Mini 3 Qt 6-in-1 Multi-Use Pressure Cooker is on sale for just $44.99 down from $59.95. But you'll have to act fast, since this offer is only available through August 28.
What makes this device worth the investment? In addition to acting as a pressure cooker, the Instant Pot also cooks rice, steams, sautés, and has multiple single-key operations that can cook a variety of foods, including porridge, soup, poultry, meat, stew, beans, chili, and more — all at the push of a button.
This stainless steel cooking tool is pretty impressive when compared with other kitchen gadgets in that it can intelligently adjust its temperature as it cooks to achieve your desired result.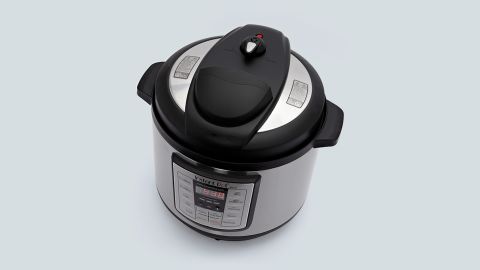 Getty Images/CNN
How does the Instant Pot know which cooking settings will produce the best results? The maker says its intelligent design was developed after thousands of experiments. According to the Instant Pot website, this device can sense which cooking methods (the proper temperature and cooking duration) will work best, based on a number of factors. When cooking rice, for instance, the Instant Pot can sense the pressure inside its chamber and measure how long it takes for water to preheat. Then, based on that information, the Instant Pot adjusts during the various stages of "soaking, blanching, steaming, and braising" to perfectly cook your rice. We know, it's pretty cool.
Beyond being a smart cooking device, the Instant Pot can be scheduled 24 hours in advance for delayed cooking. It has an automatic keep-warm setting that maintains the temperature of your food until you are ready to serve it. And it's noiseless and leaks zero steam, making it a low-maintenance appliance to keep on your kitchen countertop and use daily.
Note: The prices above reflect the listed retailer's price on the date this article was published.