CNN —
We know a picture says a thousand words, but can a regular phone camera photo communicate just as much? Surprisingly, you can imitate professional photography techniques with a simple smartphone camera, as long as you have a few "add-ons" on your side. 
When we say add-ons, we're referring to mini fisheye lenses, 360-degree video cameras (that attach to your phone), small lighting kits and more. These innovative gadgets attach directly to your cellular device and make it easy to manipulate smartphone images and video without investing in a new camera. 
We rounded up several useful and fun camera phone accessories and sorted them by price. There's something for everyone, no matter your budget. 
Whatever you choose, you're about to have a lot more range when shooting smartphone photos and video footage. 
Note: The prices below reflect the listed retailer's price on the date this article was published.  
Budget friendly 
Qiaya Selfie Ring Light ($10.99; amazon.com)
Amazon
An Amazon best-seller, this Qiaya selfie ring light has a unique design that clips right onto your cell phone or laptop. It's priced affordably and easy to use. You'll be glad you invested in this light, which has three dimming options so that each photo is appropriately lit. 
KobraTech Mini Phone Tripod Stand ($17.99; amazon.com) 
Amazon
The KobraTech mini phone tripod makes taking hands-free photos a simple process. With flexible legs that can stand on flat surfaces or wrap around and be secured to objects, this smartphone stand allows for taking steady shots from most any angle. A best-selling product on Amazon, the KobraTech Mini has been purchased by hundreds of customers who gave this cell phone stand a 4-star average rating. 

Super Wide Angle Photo Lens ($16.99; amazon.com) 
Amazon
Want to experiment with wide-angle photos, but don't have the budget for a professional-grade wide-angle lens? This mini lens made for your phone is affordable, stylish and clips directly to your mobile device so that you can switch your camera shots on the go. 
Mobile Lens Kit ($34; urbanoutfitters.com) 
Urban Outfitters
For a mix of lenses that are easily portable, we turned to Urban Outfitters. Online and in stores, UO sells a cool mix of tech accessories that run the gamut when it comes to brands and pricing. This lens kit is inexpensive, considering it comes with three lenses: fisheye, wide-angle and macro. 
Affordable 
Imvio Protective Case and Optics Kit ($29.99; amazon.com) 
Amazon
Imvio promises professional-grade quality when it comes to the lenses included in this "Sand Kit." The iPhone case protects your device against shock. With the kit's comfortable grip and texture, your phone will sit easily in your hand as you shoot on-the-go footage. The kit also includes wide-angle and fisheye lenses so you can experiment with your shots.
Insignia Mobile Photography Kit ($99.99; bestbuy.com) 
Best Buy
Setting up an impromptu photo shoot is a cinch with this kit. With a 4.2-star rating from over 100 Best Buy customers, this comes with everything you need to capture high-quality footage and photos, including lenses, lighting, microphone and tripod. 
Worth the splurge 
Olloclip Active Lens Set ($119.99; amazon.com) 
Olloclip
This set for the iPhone 7/7 Plus and 8/8 Plus is the newest of the active lens series from Olloclip and one of the company's best sellers. Why are we excited about this interchangeable lens system? For starters, this kit includes a telephoto lens with a 2x optical zoom so that you can zoom in and out without sacrificing quality as you would with your smartphone zoom function. Additionally, there's an ultrawide lens that expands your field of view, making it easier to shoot farther and wider with your smartphone. 
Insta360 Nano 360 Degree Dual 3K lens VR Video Camera ($199; amazon.com) 
Amazon
The Insta360 Nano is one of the coolest camera phone accessories we've seen. With 360-degree video shooting capabilities, Insta360 users can attach this nifty little gadget to their phones and get to work shooting in fisheye, 360-degree and VR. This device can be used alone or with the iPhone 6 or newer. An added plus: All videos are instantly saved to a microSD so that you can swap memory cards and keep shooting without having to delete precious footage. According to one PCMag review, this option is worth considering for those who "want to record 360-degree video without spending too much." 
Hasselblad True Zoom Camera ($299.99; motorola.com)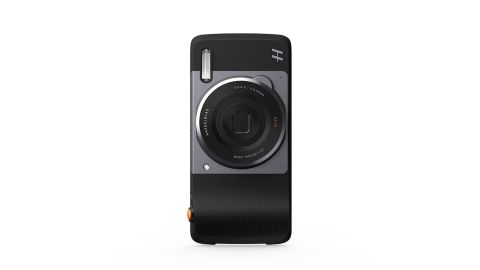 Motorola
According to CNET, the Hasselblad True Zoom Camera is so advanced that it "makes your Moto Z feel like a real point-and-shoot." That's saying a lot considering camera phones often don't measure up to professional gear. With this sleek, slim design and powerful zoom, you can capture crisp images without losing resolution.