Story highlights
The right kitchen tools make it easier to create restaurant-quality meals like steaks, hearty stews and moist cakes, from the comfort of your own kitchen.
As you grow up, so should your kitchen.
Stocking up on basic supplies like pots and pans is a solid first step, but it's investing in durable staples like cast iron skillets and Dutch ovens that feels like more of a rite of passage as an adult. These items make it easier to create restaurant-quality meals like perfectly cooked steaks, hearty stews and moist cakes, from the comfort of your own kitchen.
Cooking at home reaps impressive benefits.
First and foremost, you can control what goes into your body and limit your intake of processed foods, which could be hurting your overall health goals.
And if that isn't enough of a reason to make a lifestyle change, the United States Department of Agriculture found that millennials spend about $2,921 annually on dining out. To make it simple, investing in proper cookware will not only enable you to create tasty meals, but could help you stay healthier and save you serious cash in the long run.
And that sounds pretty grown-up to us.
We've rounded up nine of the most important products every mature at-home chef should have available. Granted, you don't have wait until you're 30 or feel bad if you've passed that age to add these items to your kitchen arsenal. They make a difference no matter how old you are.
Note: The prices below reflect the listed retailer's price on the date this article was published.
CNN
A cast iron skillet is like the Swiss army knife of the kitchen. It can withstand extreme heat, making it usable on almost any surface. It grills perfect steaks, bakes mouthwatering country biscuits and even can help you make a mean shakshuka. And because cast iron retains seasoning, the pan itself is the flavor gift that keeps giving. Factor in its almost 75-year lifespan (if taken care of properly), and that's pretty hard to beat. If you'll be using your cast iron for primarily grilling, Vremi ($24.99; amazon.com) offers a pan that's been rated at an impressive 4.9 out of 5 stars by consumers. But if you're looking for a cast iron that's more versatile — think frittatas, biscuits and roast chicken — and won't leave grill marks, then Lodge's Logic Skillet ($18.84; walmart.com) is ideal. We'll let the product's almost near-perfect consumer ratings across multiple retailers speak for themselves.
CNN
A good set of knives can make or break your cooking experience. A sharp knife needs less force to cut food, meaning more delicate ingredients like herbs can retain their look and flavor instead of wilting. But the real difference is in the prep time. Better knives mean you'll spend less time preparing your food and more time eating it. Since not all knives are equal, a 5-star rated knife block like Chicago Cutlery's 19-Piece Knife Set ($149.99; wayfair.com) will ensure you're always covered no matter what you're cutting. An Amazon top-rated sharpener from KitchenIQ ($5.99; amazon.com) will help your knives continue to work at optimum levels.
CNN
As handy as pre-ground spice containers are, freshly ground spices astronomically improve the quality of dishes. Deep flavors and aromatics surface immediately after spices are ground. Making the switch to whole spices also will ensure your pantry stays as fresh as possible, since they keep their freshness longer than the prepackaged variety. We recommend Ninja's top-rated Coffee & Spice Grinder ($24.99; target.com). This small device will make a large difference in the freshness of your spices.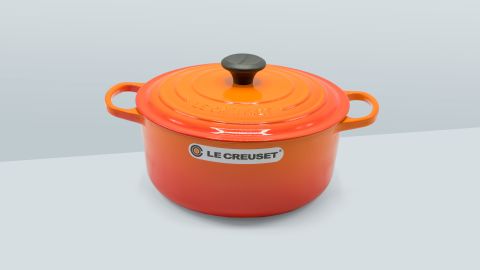 CNN
Ask any Le Creuset owner and they'll likely say it is worth the price. The French label was founded in 1925 and has been perfecting cookware for almost a century. Le Creuset is best known for its Dutch ovens (starting at $130; lecreuset.com), large, heavy cooking pots that can go head to head with the versatility of a cast iron skillet. It's perfect for creating stews, soups and roasts. While Le Creuset's products usually aren't cheap, you can take comfort in the fact that not only are they virtually indestructible, but they also come with a lifetime guarantee. You know, just in case.
CNN
If baking is your forte, a standing mixer might just be your go-to cooking companion. It allows you to be hands-free during the prep process and provides more power, less mess and faster results than other forms of mixing. That being said, stand mixers are not just for bakers. Additional attachments allow at-home chefs to make pasta from scratch, juice fresh fruit and vegetables, stuff sausages, and even make ice cream. If you're looking to add this device to your cooking routine, invest in a KitchenAid ($299; amazon.com). Its 5-quart mixer has been one of the highest-rated models from independent tester Consumer Reports for the past few years.
CNN
The sous vide cooking method isn't new (professional chefs have been using it since the 1970s), but it has been finding increasing popularity at home. Translating to "under a vacuum," sous vide requires you to place food in a sealed bag and then cook it at a precise temperature in a water bath. It may seem a bit complicated at first, but once you try it for yourself, it might be hard to imagine being without it. That's because sous vide tends to yield consistent, restaurant-quality results. Unlike other sous vide devices available online, Anova ($149; amazon.com) has integrated its model with smart technology, creating a device that allows you to control the cooking process on your smartphone or tablet.
CNN
Having resources around you to help you explore a variety of culinary worlds is a no-brainer. But the most important factor while shopping for a cookbook is thinking about how often you will use it. "The Kitchen Shelf" ($27.16; target.com) focuses on 10 key pantry essentials — like a can of chickpeas and a bag of pasta — and turns them into crafty dishes that won't require the purchase of specialty items you may only use once. With the addition of a few other fresh ingredients, these recipes turn these seemingly simple foods into stunning dishes.
CNN
An adult kitchen requires an adult coffee maker. For those who enjoy pour-over coffee, Osaka has created a sustainable device that enhances the natural flavor of your favorite beans. Its Pour-Over Coffee Dripper ($39.99; amazon.com) is one of the top-rated drip brewers as ranked by Amazon customers. By getting rid of the need to use paper filters, the gadget helps retain your coffee's natural essential oils, resulting in a rich-tasting and balanced brew. And as a bonus, its minimalist design will help make any kitchen look that much more modern.
CNN
Sure, a baking steel probably isn't as necessary as a KitchenAid or cast iron, but it is a fun addition to any kitchen, especially if you're a pizza lover. Sur La Table – a 45-year-old company focused on selling chef-quality cookware – sells Baking Steels ($99.95; surlatable.com) made to create pies at home that can compete with pizzerias. Most conventional ovens max out around 500-550 degrees Fahrenheit. This poses an issue if you're attempting to create Neapolitan-style crusts at home, since the pizza should be cooked at almost double that temperature. Baking steels, however, have a high thermal conductivity. In layman's terms, the steel can create a surface hotter than the oven. It's the ideal tool to create crisp pizza crusts or loaves of bread with a traditional oven. Because why spend money on takeout pies when you can make one yourself?