CNN —
If you travel by plane, you know the adverse effects flying can have on the human body. Depending on a number of conditions, including varying altitudes and air pressure within the aircraft, passengers often experience drowsiness, dry skin, dehydration and fatigue (aka jet lag) — just to name a few.
Luckily, for those who fly often, there are ways of making the in-flight experience more comfortable, healthier, and even enjoyable. All that's required to greatly improve your experience following takeoff are a few smart in-flight essentials.
Since many people experience dry skin due to dry, recirculated air when flying, experts recommend applying essential oils or facial spray to help maintain a moisturized complexion. And there are several strategies to bolster your immune system, maintain your health and keep you feeling good while riding inside crowded aircraft,. For instance, Laurie Steelsmith, a licensed naturopathic doctor and acupuncturist, tells WebMD that passengers can benefit from avoiding sugar-laden foods and drinks and carrying bottles of water to stay hydrated.
Beyond that, there's a whole host of other factors that can play into your travel experience. To help you alleviate in-flight discomfort and leave your flight feeling refreshed, we pulled together a list of carry-on items for a more enjoyable travel experience. In fact, some of these products are so luxurious (think plush eye masks and neck pillows), we'd venture to say that you'll feel as though you're flying first-class — even if your ticket reads "economy."
Note: The prices below reflect the listed retailer's price on the date this article was published.
Cabeau Evolution Travel Pillow ($39.99; amazon.com)
Amazon
Many people have issues sleeping on planes, but this 360-degree head and neck support pillow can help. An Amazon best-selling travel accessory with over 2,000 satisfied customer reviews, this pillow from Cabeau is well worth the investment. Made from memory foam and with raised sides for maximum neck support, this high-quality, velour pillow makes for your most comfy travel nap yet.
Flight 001 Fitness Kit ($40; nordstrom.com)
Nordstrom
Deep vein thrombosis, or DVT, is a condition defined as blood clots deep in a vein. This condition, also known as "economy-class syndrome," can be brought on by long periods of immobility, such as a long, cramped plane ride. To prevent this air travel risk, experts from the American Heart Association recommend finding ways of staying active during and in between flights. This portable kit is essentially a gym in a bag. With resistance bands and a jump rope, you can get moving before boarding your flight.
Hydro Flask Water Bottle (starting at $44.95; amazon.com)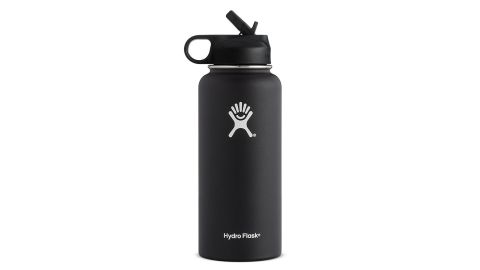 Amazon
No, you can't bring liquids through TSA security checkpoints, but you can bring water bottles. The Mayo Clinic stresses the importance of drinking plenty of water, since dry cabin air has dehydrating effects on the human body. Since airport prices tend to be extra expensive, we'd recommend filling up this stainless steel, leak-proof bottle before boarding. And, since this bottle is BPA-free and a heavily reviewed and rated product on Amazon, you can feel more confident about the investment.
Bose Quiet Comfort 25 Acoustic Noise Cancelling Headphones ($349.95; bose.com)
Target
When takeoff time comes, you'll already be in a Zen state while wearing these noise-canceling headphones. Bose, an industry-leading tech brand known for high-quality headphones and speakers, designed this particular pair so the user can listen to music in peace.
Eargasm High Fidelity Earplugs ($28.88, originally $34.95; amazon.com)
Amazon
Sometimes you just have to block out the cries of screaming children and talking adults — especially when you desperately need to nap. This advanced earplug set, an Amazon best-seller with hundreds of satisfied reviews, cuts out excess sound so that you'll feel more energized upon landing at your destination.
Tempur-Pedic Sleep Mask ($29.59; amazon.com)
Amazon
Straight from the mattress experts, this comfortable sleep mask from Tempur-Pedic helps you block out light while napping on a plane. BestReviews.com named this option the top sleeping mask of 2017 after testing its innovative memory foam design, which contours to your face for a comfortable fit that stays in place better.
Lavender Essential Oil (15ml) ($17.59; jet.com)
Jet.com
The National Sleep Foundation recommends using certain scents, including lavender, to help relax and lull yourself to sleep. When hunting around for TSA-approved, lavender-scented products, we landed on this minibottle of lavender-scented oil. It's small enough to keep it in your carry-on and dab it on your skin for relaxing effects that will promote calmness (and better sleep) while flying.