Story highlights
Three killings within 11 days have a Tampa, Florida, neighborhood on edge
Police say they have very few clues so far
(CNN) —
Tampa police released a new video on Thursday showing a "person of interest" seen running away from the first of three recent homicides that have baffled investigators and prompted fears of a serial killer.
The video, taken at different angles, shows the same person seen in the historic Seminole Heights neighborhood in an earlier video released by police.
"I've come up with four reasons why this person is running," interim Tampa Police Chief Brian Dugan told reporters. "One, they may be late for dinner. Two, they're out exercising. Three, they heard gunshots and, number four, they just murdered Benjamin Mitchell."
The 22-year-old Mitchell became the first victim when he was shot and killed in front of his home on October 9.
The second victim, Monica Hoffa, 32, was killed two days later. Her body was found by a city employee in a vacant parking lot half a mile from where Mitchell died.
Then a week ago, Anthony Naiboa, 20, who had just graduated from high school, became the third victim when he accidentally got on the wrong bus after leaving work and ended up in the southeast Tampa neighborhood, police said.
Police posted a link to the video on Twitter.
No clues, no motive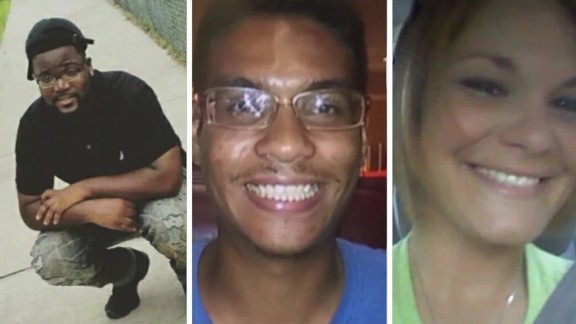 Tampa Police
Dugan said the person in the video is not considered a suspect in the string of shootings, but he may have answers.
"He may have seen something or heard something," the chief said of the person seen flipping what appears to be a cellphone in their right hand while walking.
"That might be a habit of this person," Dugan said of the phone flip. "At this point, everything is a clue, everything is a speculation."
In the video, the person is seen walking in one direction, then running the opposite way seconds after Mitchell was shot.
"We believe this person has ties to this neighborhood and we want to speak to them," Dugan said.
Police have been swarming the Tampa neighborhood amid fears that a serial killer could be on the prowl.
Days into an investigation, Tampa Mayor Bob Buckhorn said officials don't have many leads on who is responsible for three fatal shootings that are believed to be linked. Nor do authorities have a motive for the seemingly random acts, he said.
Investigators believe the three deaths are linked, as all three victims were alone and all were found within about a half-mile of each other, interim Tampa Police Chief Brian Dugan said.
Few clues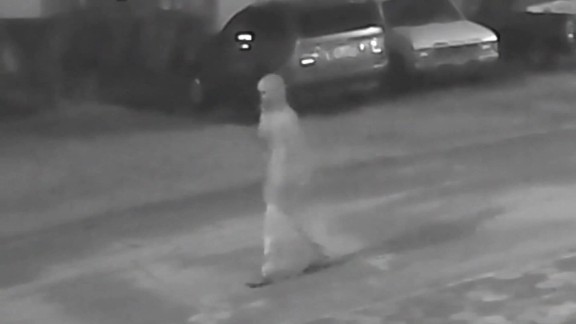 To this point, clues have been hard to come by. Police have released a surveillance video of a person walking in the area around the same time and are asking for any information, no matter how innocuous, on that person.
Mayor Buckhorn said they didn't have any description of a suspect or suspects and could not even say if the suspect was a man or woman.
"We don't have a lot to work with right now," he said.
Officials said police have so far avoided calling the suspect a serial killer.
"We're not using the word 'serial killer' yet because we just don't have enough evidence," Buckhorn said. "We're not afraid of that word – if we think that that's true, we'll be happy to say it. But we've got to connect the dots."
On Sunday, hundreds of residents held candlelight vigils for the victims, according to CNN affiliate WFLA.
"We won't be afraid," Casimar Naiboa, the father of one victim, told the crowd. "[The killer] will not get away with it. No way. We are standing right here. We are not scared of them."
Heightened police presence
As the investigation goes on, Dugan said there will be a large police presence in Seminole Heights. Children were being escorted by police to school buses Monday, and police were actively questioning people on the streets.
Dugan encouraged people in the neighborhood to turn on their porch lights and keep an eye on the streets. Buckhorn added that the city was cutting undergrowth, clearing alleys and adding streetlights to better get eyes on possible suspects.
"We are hunting this person down and we're not gonna stop and we're not gonna leave that neighborhood until we find him," Buckhorn said.
Dugan said the neighborhood was "on edge," particularly with Halloween trick-or-treating coming up. Still, police said they were determined to remain there and solve the killings.
"I'm not gonna let someone take over this neighborhood," Dugan said. "I'm not gonna let this community be locked inside their houses."
CNN's Kaylee Hartung, Chandrika Narayan and Alaa Elassar contributed to this report.