The beginning of Donald Trump's presidency began with a threat from activists to unseat any Democrat, in any position, who crossed party lines or failed to keep a hard line of liberal resistance against the new administration.
Those calls, along with an ongoing and testy internal fight over the direction of the party, seemed to boost the prospects of a bloody 2018 primary season.
But somewhere along the way, the grim reality of Democrats' position in Washington came into focus – perhaps it was the travel ban, or the solidarity created during the longer battle to protect Obamacare – and the party, at least on the federal level, settled into a period of electoral détente.
The promised rebellions faded as progressive Sen. Bernie Sanders, the Vermont independent, rededicated his "political revolution" to grassroots campaigns and organizing. And even moderate "blue dog" incumbents, like West Virginia Sen. Joe Manchin, stuck with the base through 2017, deflating his progressive challenger's campaign before it could gain any traction.
Still, there is a lot worth watching as Democrats sort out their candidates, and priorities, ahead of the November 2018 elections. Here are a few races, some big and others probably below the radar, that could give us a hint about where the party is headed.
1. California: Feinstein vs. de León vs. the field
No, it's not technically a Democratic primary – California throws everyone, whatever their party ID, onto the same ballot for an open primary, with the top two finishers advancing to the fall election.
That said, the California Senate race figures to be the most compelling Democratic intra-party contest of the coming year, with California state Senate leader Kevin de León the early favorite to advance to a November showdown with incumbent Sen. Dianne Feinstein, who is all but a lock to finish top in the June primary. (This system locked Republicans out of the 2016 general election Senate ballot, too.)
De León comes in to Feinstein's left but will likely split some of the spring vote with other liberal challengers. Billionaire activist Tom Steyer hasn't ruled out a run. Same for another (less) wealthy activist, Joe Sanberg, who is also considering it. Progressive groups are floating some long shot candidates of their own and David Hildebrand, a self-described Democratic socialist, could attract support from the left.
2. Illinois governor: Two familiar names and one outsider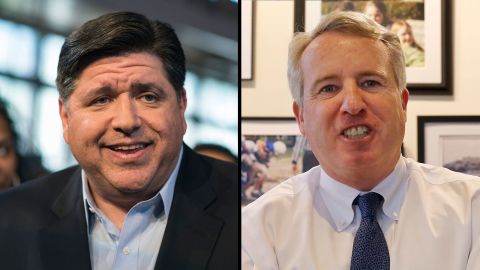 A billionaire, a Kennedy, and a little known, progressive state senator are the three to keep an eye on as Democrats gear up for a fight with the wildly wealthy incumbent Republican Gov. Bruce Rauner.
J.B. Pritzker is the Hyatt heir and venture capitalist with a name familiar to everyone in the region (and a sister who served as President Barack Obama's commerce secretary). Chris Kennedy, son of the late Robert Kennedy, had some practice jabbing at Rauner, assailing his "so-called turnaround agenda" as a sleight of hand, and "part of the narrative that government doesn't work so he has to privatize it," in remarks at the Democratic convention in 2016.
Kennedy is the early, if narrow, favorite, but Pritzker's overstuffed pockets will allow him to spend (and spend and spend) all the way up to the vote.
State Sen. Daniel Biss might be the most interesting (and left-most) of the three, but his campaign is struggling to break through. In part, that's a money issue. Pritzker and Kennedy are awash in it. Biss is not, and he tripped out of the gate when he brought on Chicago Alderman Carlos Ramirez-Rosa as his running mate, then promptly parted ways with him after Ramirez-Rosa's support for the Boycott, Divestment and Sanctions movement against the Israeli government grabbed some headlines. The decision dampened Biss' progressive cred – Ramirez-Rosa, a Democratic Socialists of America member, never hid his support for BDS – and raised questions about the campaign's vetting process.
3. Iowa governor: A big, rowdy tent
Perhaps the widest open of the big ticket Democratic primaries, the Iowa race was also the least likely, one year ago, to turn into a national pressure point. If Trump had not tapped the state's now former Republican governor, Terry Branstad, to become his ambassador to China, the field would surely be much smaller.
Instead, there are – right now – seven candidates vying for the nomination. And while there's no reliable public polling at this point, the early buzz is with candidates like Andy McGuire, the former state party chairwoman, John Norris, an Iowa political fixture who ran Jesse Jackson's 1988 campaign there, State Sen. Nate Boulton, and Cathy Glasson, a nurse and union leader who is working overtime to court the Berniecrat crowd. She recently nabbed an endorsement of Iowa Citizens for Community Improvement Action Fund, a progressive group close to Sanders.
Activist Jon Neiderbach, former Iowa City Mayor Ross Wilburn and businessman Fred Hubbell are also in the mix.
But the tone of the debate could be as important as its results. As the Des Moines Register's Jason Noble put it back in May, "a crowded and dynamic primary could help the (state) party clarify its message."
4. Illinois-3: Blue Dog under attack
One of the few incumbent Democrats facing a serious primary challenge on the federal level, Rep. Dan Lipinski, a "blue dog" now vying for an eighth term in the House, is generally regarded as one of the party's most conservative elected officials. He is anti-abortion and voted against Obamacare in 2010. This year, he opposed the GOP repeal plan but voted in the House for "Kate's Law," a controversial bill that would crackdown on undocumented immigrants who repeatedly enter the country illegally after being deported. In a district Hillary Clinton won comfortably in 2016, a challenge seemed inevitable.
On the flip side, Marie Newman has a profile more in line with the party's recent liberal shift. She was endorsed by the Daily Kos, the liberal online activist hub.
"The 3rd District is beyond solidly blue," Newman told columnist Ted Slowik in July. "We have this Republican in Democrat's clothing inside the district acting as our voice in Congress."
Lipinski, though, has deep roots in the state political establishment – his father, preceded him in Congress before becoming a lobbyist – and has fended off a primary challenge before. He also figures to outspend Newman.
5. Oklahoma governor: It's not impossible!
Yes, there are Democrats in deep red Oklahoma. And with Republican Gov. Mary Fallin a term-limited lame duck, they won't have an incumbent to take on in 2018. History suggests it's not a lost cause either, as Fallin's predecessor, the Democratic Gov. Brad Henry, also served two terms.
What was a three-way race featuring former state Attorney General Drew Edmondson, State Rep. Scott Inman and Connie Johnson, a former state senator and DSA member – by far the most liberal of the group – was cut down to two on Wednesday, when Inman abruptly dropped out and announced plans to resign his current post next year.
Edmondson belongs to one of the best known and most powerful families in Oklahoma politics. His father was a US congressman, his uncle a governor and US senator, and brother James is now on the state Supreme Court.
But progressives will be interested to see how Johnson fares – especially after Inman's departure. An unabashed progressive, she spent nearly a decade in the state senate and, in 2014, became the first woman and African American to win her party's nomination for the US Senate out of Oklahoma.
6. New York: Who's going to take a run at Cuomo?
It's been a difficult year, but Gov. Andrew Cuomo is still liking his odds in what could yet be a contentious primary.
Syracuse Mayor Stephanie Miner, a Cuomo ally turned antagonist who has taken public issue with his strategy for aiding financially pressed smaller cities, is among those mulling a challenge. In August, The Wall Street Journal reported that actress and activist Cynthia Nixon, of "Sex and the City" fame, was doing the same. She's yet to make a decision, but her name recognition could help build some quick momentum.
Former Democratic state senator Terry Gipson is another potential opponent. He too – sensing a theme here? – could attract support from liberal activists and, in an interview with The Auburn Citizen's Robert Harding earlier this month, took a shot at Cuomo, saying, "I am continuing to be frustrated that we live in one of the bluest states in the country and our state government continues to govern as if we live in Oklahoma."
Bottom line: a tougher-than-expected 2018 primary race could take a potential 2020 presidential bid off the table for Cuomo – and augur trouble for similar, more moderate blue-state Democrats around the country.
7. Rhode Island: Progressives keep chipping away
State Rep. Aaron Regunberg jumped into the lieutenant governor's race in Rhode Island on Tuesday, setting up a showdown with incumbent Democrat Dan McKee.
The 27-year-old Regunberg supported Sanders in 2016 and will have the Working Families Party, one of the progressive organizations that helped lead the successful statewide charge to expand sick leave in the state, boosting his bid. (Regunberg sponsored the House version of the leave bill.)
Gov. Gina Raimondo, a moderate Democrat, is expected to win her 2018 re-election bid, so victory for Regunberg, viewed for now as a narrow underdog, would create an interesting dynamic in Providence – and a chance to see if the party's two poles can get along and run a state government.
8. Maryland governor: Slow start to a big race
Unlike New York, Maryland's gubernatorial primary is both crowded and wide-open. Incumbent Gov. Larry Hogan is a Republican and Democratic voters don't yet have a clear handle on his would-be challengers.
The most familiar names nationally, former NAACP president and CEO Ben Jealous and Maya Rockeymoore Cummings, a policy consultant married to Maryland Rep. Elijah Cummings, haven't broken through on the state level, according to a Goucher Poll survey released last month. Former state attorney general Doug Gansler, who registered the most potential support, took himself out of the running a week before the poll came out.
After him, Prince George's County Executive Rushern Baker scored best, with 21% saying they would consider voting for him. Fourteen percent said the same for Jealous; Rockeymoore Cummings fell short of double-digits, at 9%. Mostly though, voters said they needed more info, with 7 or 8 out of 10, depending on the candidate, saying they "don't know enough to judge."
Jealous' fate will attract the most national attention. Already known for his time running the NAACP, he was among the most prominent of Sanders' big-name backers in 2016. He is a former board member for Our Revolution, the political organization spun out of that campaign. Jealous has their endorsement and that of the Maryland Working Families Party in 2018.
9. Florida-7: A lefty longshot
Down in Florida's 7th congressional district, former ACLU of Central Florida board president and Air Force veteran Chardo Richardson is seeking to outflank incumbent Rep. Stephanie Murphy on the left.
Richardson is a longshot still and Murphy has a significant fundraising advantage, but he comes on the scene with the backing of the Justice Democrats, a progressive group launched by Cenk Uygur of The Young Turks. California Rep. Ro Khanna, the young organization's most prominent backer, won his seat in 2016 by knocking off a fellow Democrat, incumbent Mike Honda.
An upset here would signal a big shift – in the direction of the party's progressive wing – for Sunshine State Democrats.