Story highlights
"Catalonia cannot accept this attack," Catalonia's president says
The region's succession could have dire economic effects for Spain
The Spanish government aggressively moved to squash Catalonia's growing independence movement Saturday when Prime Minister Mariano Rajoy announced plans to dissolve the regional government, remove elected leaders as soon as possible and hold new elections.
As nearly half a million people protested in Barcelona, Catalonia's biggest city, Catalan president Carles Puigdemont denounced Rajoy's decision and said, "The Catalan institutions and the people of Catalonia cannot accept this attack."
He called for the regional parliament to discuss "the attempt to liquidate our self-government and our democracy, and act accordingly," but Puigdemont stopped short of declaring regional independence, as he threatened to do earlier in the week.
Earlier in the day, Puigdemont joined the throngs, which police estimated at 450,000 people, that took to the streets after Rajoy announced his government would invoke rarely used constitutional powers to remove Catalonia's leaders, including Puigdemont.
Demonstrators shouted, "Freedom! Freedom! Freedom!" and "Rajoy, Rajoy, so you know we are leaving!"
The constitutional measures – intended to end Catalan leaders' independence bid – fall under Article 155 of the Spanish constitution and would allow the national government to suspend the autonomy of the Catalan regional administration. Rajoy said the measure would be sent to the Spanish Senate within the next week.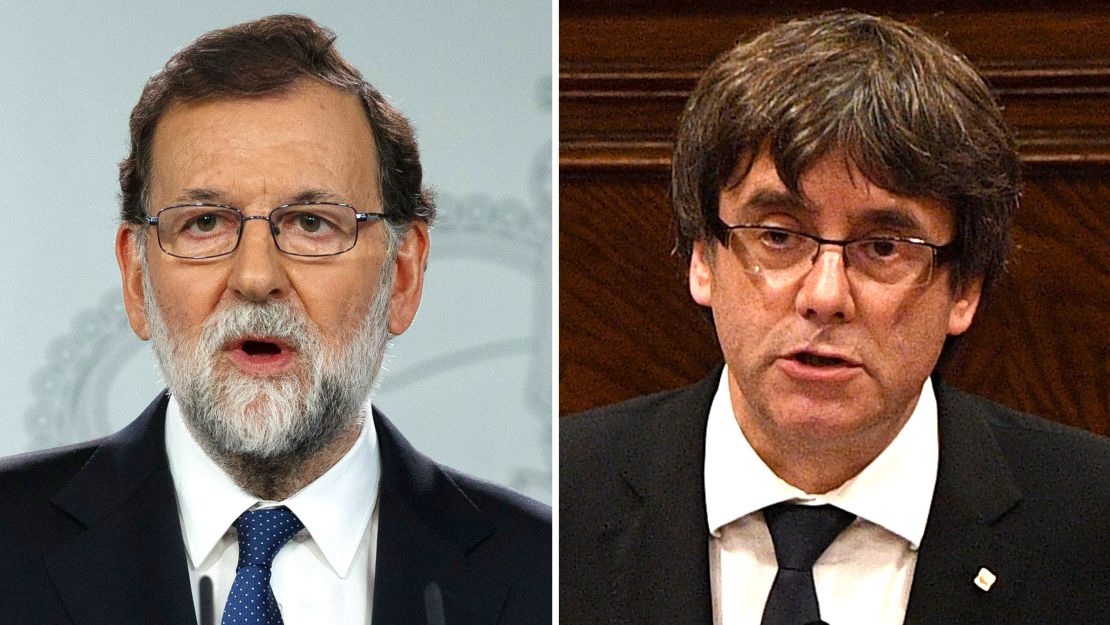 The move followed weeks of division triggered by a contested independence referendum October 1.
Nearly 7.5 million people live in Catalonia, an economic powerhouse in the northeast of Spain. Spain's population is almost 49 million.
Ouster in Senate's hands
Under the measures proposed Saturday by Rajoy, Puigdemont, his vice president and ministers would be suspended and replaced by the administration in Madrid, where necessary.
"The government had to enforce Article 155. It wasn't our desire, nor our intention. It never was," Rajoy said. "But in this situation, no government of any democratic country can accept that the law is ignored."
In undertaking these steps, the government has four goals, Rajoy said. These are to return to legality; to restore normality and coexistence in Catalonia; to continue the region's economic recovery; and to hold elections under normal conditions.
READ MORE: Spain loses 20% of its economy if Catalonia splits
New elections should be called for Catalonia within six months, Rajoy said, adding that he wants it to happen as soon as possible.
Rajoy's Popular Party holds a majority in the Senate. Two Spanish opposition parties, PSOE and Ciudadanos, have also said they will back the Article 155 measures, Rajoy said.
Senate Vice President Pedro Sanz said the Senate would hold a session Friday morning to vote on Article 155.
Spain's national prosecutor's office told CNN it is preparing to file charges of rebellion if Catalan authorities make a declaration of independence. It did not name Puigdemont or any other officials as possible defendants.
'Incompatible with the rule of law'
The crisis threatens to fracture Spain, one of the European Union's principal members.
The campaign for independence in Catalonia represents fundamental European values, Puigdemont said in his televised speech, and he likened Catalonia to other European nations.
"What you are fighting for at your home, we are also fighting for in Catalonia, and we will continue to do so," he said.
Puigdemont harshly criticized Rajoy, saying that "imposing a form of government not chosen by citizens and without a parliamentary majority that supports it is incompatible with the rule of law."
The big question Saturday was whether Puigdemont would declare regional independence.
Thursday, he said that if Madrid kept blocking dialogue, the Catalan parliament reserved the right to formalize a declaration of independence that was suspended October 10.
Instead, he called for a parliamentary discussion on Saturday. Catalonians will "defend our institutions as we have always done, in a peaceful and civilized way, but with dignity and reasons," he said.
Contested referendum
Puigdemont has said Catalonia earned the right to become an independent republic in its October 1 referendum, which was held despite being banned by Spain's Constitutional Court. Violent scenes unfolded as national police sought to prevent people from casting their ballots.
More than 2.25 million people turned out to vote, with the regional government reporting that 90% of voters favored a split from Madrid. But the turnout was low – around 43% of the voter roll – which Catalan officials blamed on the central government's efforts to stop the referendum.
Puigdemont suspended the effects of the vote to allow for talks with the Spanish government.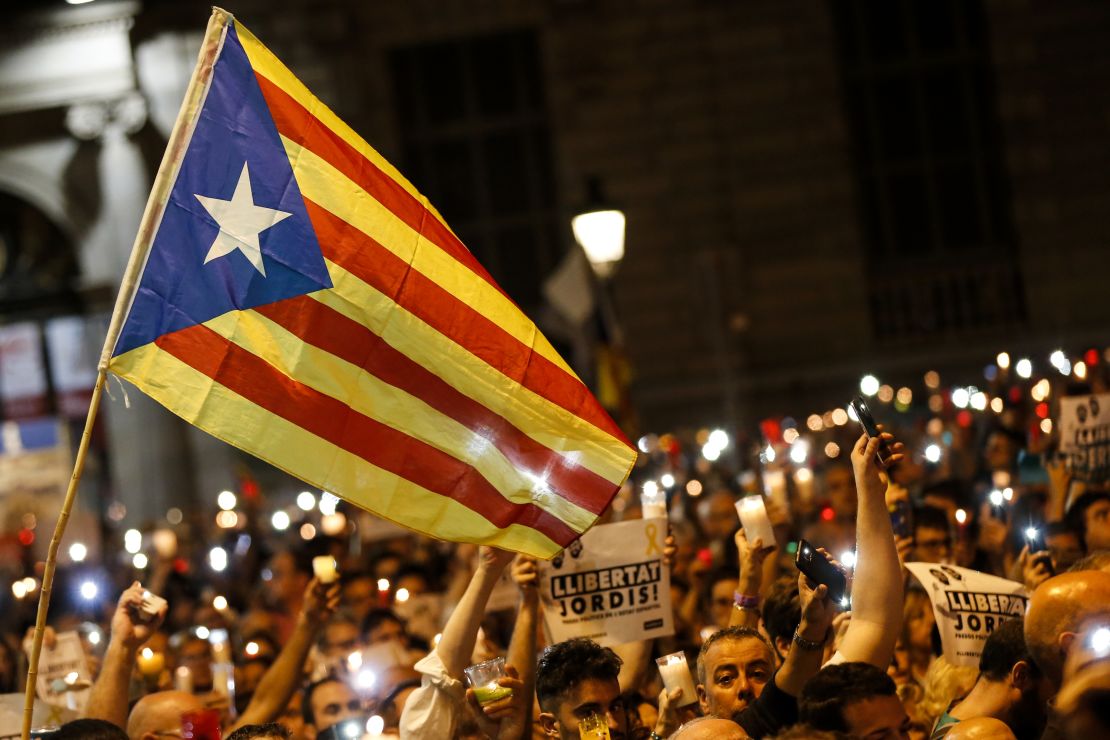 Puigdemont also demanded Spain end its "repression" of Catalan separatist leaders, two of whom were taken into custody on suspicion of sedition earlier in the week.
Other Catalan politicians were defiant.
"Today President Rajoy, in an act of enormous political irresponsibility, trespassed all limits. He announced a de facto coup d'etat with which he aims to take over Catalan institutions," said Catalan Parliamentary leader Carme Forcadell.
Barcelona Mayor Ada Colau tweeted: "Rajoy has suspended the Catalan self-government for which so many people fought. A serious attack against the rights and freedom of many, here and everywhere."
READ MORE: Political crisis is scaring away tourists from Barcelona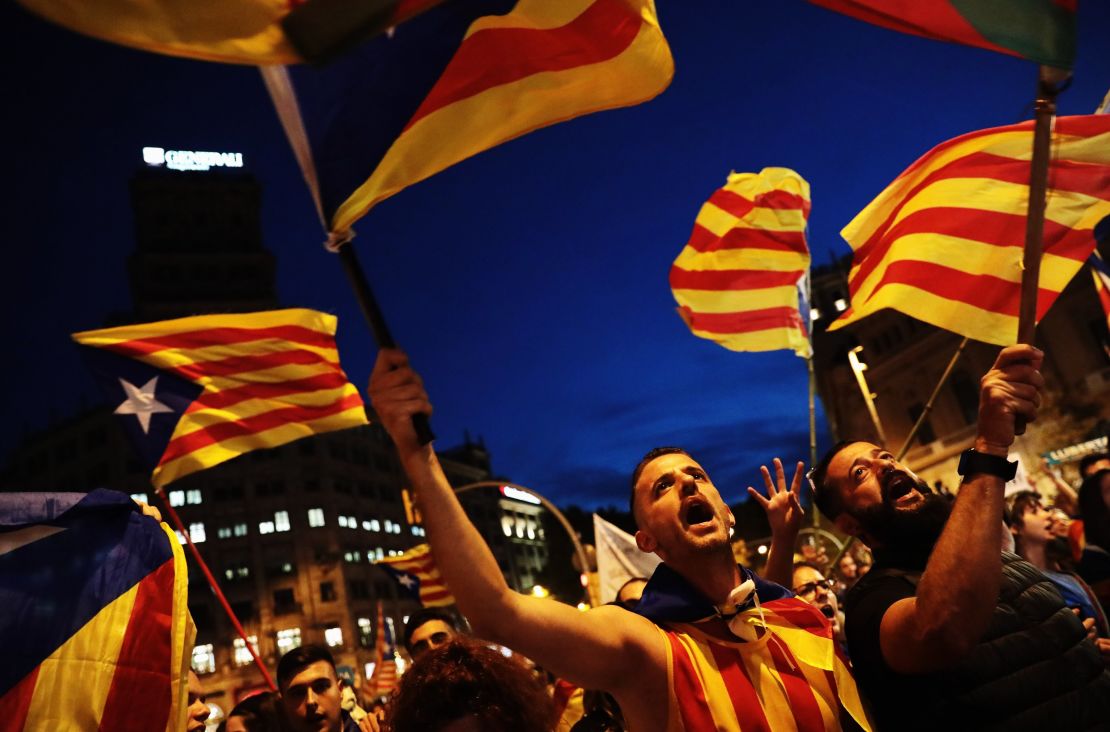 Rajoy urges unity
Rajoy said Saturday that Puigdemont had repeatedly rejected opportunities to talk to Madrid before calling the banned referendum and insisted his own government was acting to protect the interests of all Spaniards, especially Catalans.